Melvil Dewey
From Academic Kids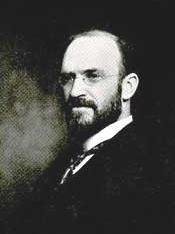 Melvil Dewey (December 10, 1851–December 26, 1931) was the inventor of the Dewey Decimal Classification system for library classification.
Dewey was born Melville Louis Kossuth Dewey in Adams Center, New York in the United States. He attended Amherst College, graduating in 1874. It was while working as an assistant librarian at Amherst from 1874 until 1877 that Dewey devised his decimal system.
He moved to Boston where he founded and edited The Library Journal, which became an influential factor in the development of libraries in America, and in the reform of their administration.
With his friend and fellow librarian Charles Ammi Cutter, he helped found the American Library Association (ALA); both men spoke at the tenth Annual ALA Conference held in Boston, Massachusetts in 1876.
In 1883 he became librarian of Columbia College, and in the following year founded there the Columbia School of Library Economy, the first institution for the instruction of librarians ever organized. This school, which was very successful, was removed to Albany, New York in 1890, where it was reestablished as the New York State Library School under his direction; from 1888 to 1906 he was director of the New York State Library and from 1888 to 1900 was secretary of the University of the State of New York, completely reorganizing the state library, which he made one of the most efficient in America, and establishing the system of state travelling libraries and picture collections.
He was an advocate of English language spelling reform and is responsible for, among other things, the "American" spelling of the word Catalog (as opposed to the British Catalogue). He changed his own name from Melville Louis Kossuth Dewey to simply Melvil Dui. He is also credited with the invention of the vertical office file.
Dewey was a great enthusiast of nature, one-time owner of a lodge in the Adirondack Mountains, which he named the Adirondak Loj.de:Melvil Dewey fr:Melvil Dewey