Alan Bean
From Academic Kids
Missing image
Alan_bean.jpg
Alan Bean (born March 15, 1932 in Wheeler, Texas) is a former NASA Astronaut.
He graduated from Paschal High School in Fort Worth, Texas; received a bachelor of science degree in aeronautical engineering from the University of Texas at Austin in 1955 and after a four year tour as a fighter pilot trained as a Navy Test Pilot where his instructor was his future Apollo 12 Commander Pete Conrad. He was awarded an honorary doctorate of science from Texas Wesleyan College (http://www.txwesleyan.edu/) in 1972, and was presented an honorary doctorate of engineering science degree from the University of Akron (Ohio) in 1974.
Bean was selected by NASA as part of group 3 in 1963 but was unsuccessful in securing an early flight assignment. When fellow astronaut Clifton Williams was killed in a training accident a space was opened for Bean on the back-up crew for Apollo 9.
Captain Bean was the lunar module pilot on Apollo 12, the second lunar landing. In November 1969, Captain Bean and Captain Pete Conrad landed in the moon's Ocean of Storms—after a flight of 250,000 miles. They explored the lunar surface, deployed several lunar surface experiments, and installed the first nuclear power generator station on the moon to provide the power source. Captain Richard Gordon remained in lunar orbit photographing landing sites for future missions.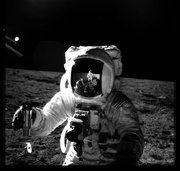 Captain Bean was also the spacecraft commander of Skylab 3, the second manned mission to Skylab, July 29 to September 25, 1973. With him on the 59-day, 24,400,000 mile world record setting flight were scientist-astronaut Dr. Owen Garriott and Marine Corps Lieutenant Colonel Jack Lousma. During the mission Bean also tested a prototype of the Manned Manouvering Unit and led three space walks totaling 13 hours.
On his next assignment, Captain Bean was backup spacecraft commander of the United States flight crew for the joint American-Russian Apollo-Soyuz Test Project.
Captain Bean retired from the Navy in October 1975 but continued as head of the Astronaut Candidate Operations and Training Group within the Astronaut Office in a civilian capacity.
Bean resigned from NASA in June 1981 to devote his full time to painting. Many of his paintings reside on the walls of space enthusiasts. He said his decision was based on the fact that, in his 18 years as an astronaut, he was fortunate enough to visit worlds and see sights no artist's eye, past or present, has ever viewed firsthand and he hopes to express these experiences through the medium of art. He is pursuing this dream at his home and studio in Houston.
He is married and has two grown children, a son and a daughter. An entire episode of the miniseries, From the Earth to the Moon was narrated from Bean's perspective; in this episode, he was portrayed by Dave Foley.
Rock band Hefner have a song called Alan Bean, featuring the lyrics "Everyone will forget soon, The fourth man on the moon, But I've got it in my mind."
External links