William Makepeace Thackeray
From Academic Kids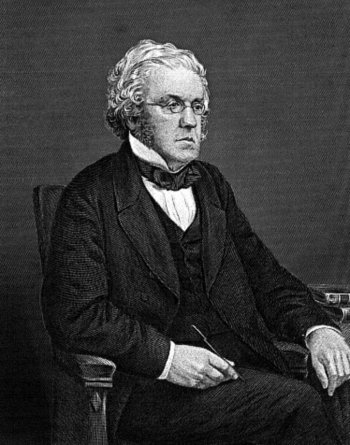 William Makepeace Thackeray (July 18, 1811 – December 24, 1863) was an English novelist of the 19th century. He was famous for his satirical works, particularly Vanity Fair, a satire of middle-class English society.
He was born in Calcutta, India, where his father worked for the British East India Company, but his family returned to England in 1817.
Thackeray was prolific and wrote under a number of amusing pseudonyms: "Charles James Yellowplush, a footman"; "Michael Angelo Titmarsh"; and "George Savage Fitz-Boodle". In addition, he worked as a widely travelled journalist, who met many celebrities of his time, for example Goethe. Charlotte Bront๋ was one of his fans and dedicated the second edition of Jane Eyre to him.
Thackeray's connection with Tunbridge Wells is of special interest and value from the fact that The Wells figures largely in his famous Novel "The Virginians" and also that in "Roundabout Papers", one of his sketches entitled "Tonbridge Toys" describes his visits here and his early and later impressions of the place.
The house 'Rock Villa' at which he stayed in 1860 still stands and preserves its original features. It bears a placque denoting his visit there and is known as Thackeray's house, having a brass plate to that effect attached to its gate pillar.
His first visit as a boy was in 1823 when he travelled by coach from London to this Town arriving at a small house on the Common where his parents were staying for a time.
When he paid his final visit to The Wells in 1860 he was accompanied by his daughter Lady Ritchie. He was then Editor of The Cornhill Magazine and wrote "Tonbridge Toys" and "de Gwentive" at Rock Villa. It has also been stated that a part, if not all, of "The Virginians" was written here.
Novels
External link
he:ויליאם מייקפיס תאקרי nl:William Makepeace Thackeray sv:William Thackeray