Jane Eyre
From Academic Kids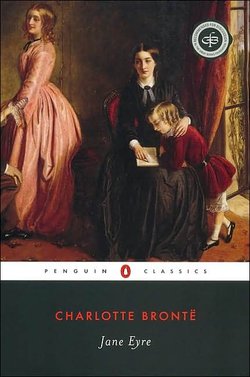 One of the most famous novels of all time, Jane Eyre, An Autobiography was written by Charlotte Brontė and published in 1847. The novel has engendered numerous adaptations and dramatisations, including several films and television adaptations.
Charlotte Brontė first published Jane Eyre under the pseudonym Currer Bell, and it was an instant success, earning the praise of many reviewers, including William Makepeace Thackeray, to whom Charlotte Brontė dedicated her second edition.
The story is that of a governess, Jane Eyre, who, despite her plainness, captures the heart of her enigmatic employer, Edward Rochester, only to discover that he is already married to a woman who, although alive, is entirely insane.
Plot Summary

The narrator and main character, Jane Eyre, is a poor orphan. The opening chapters introduce the reader to her joyless life as a child. Her wealthy relatives have agreed to take care of her after her parents' deaths. However, the widowed Mrs. Reed and her three spoiled children are unkind to Jane and never fail to emphasise how Jane is below them. Jane is a plain, quiet, and intelligent girl with a passionate soul and an occasional tendency to inappropriate honesty and direct outbursts. This, combined with the fact that she sometimes has "visions" or very vivid dreams, certainly does not help to secure her relative's affections. (See also Brontė's novel Villette, in which Lucy Snowe shows similar tendency to visions/the supernatural or possibly hysterics.)
Tensions escalate, and Jane is sent to Lowood, a boarding school run by the inhumanely strict Mr. Brocklehurst. Jane is branded a liar, which hurts her even more than malnutrition and cold. But she is later cleared of these charges by Ms. Temple, the headmistress Jane admires. She also finds a friend in Helen Burns, who is very learned and intelligent, has a patient and philosophical mind, and believes firmly in God. While Jane responds to the injustices of the world with barely contained burning tempers, Helen accepts earthly sufferings, including her own premature death, with calmness and martyr-like attitude.
After a serious epidemic, the conditions in Lowood improve; Jane slowly finds her place in the institution and becomes a teacher. When Ms. Temple marries and moves away, Jane decides to change careers. She is desperate to see the world beyond Lowood. She advertises and soon secures a position as a governess in Thornfield Hall.
Life at Thornfield is very quiet at first. Jane teaches a young French girl, Adele, and spends time with the old housekeeper, Mrs Fairfax. But everything changes when the owner of the manor -- brooding, Byronic, fiery Mr. Rochester -- arrives. He and Jane slowly get to know and respect each other. Mr. Rochester creates an elaborate set-up by seemingly courting a proud local beauty, Ms. Blanche Ingram. Finally, after suffering over this in silence, Jane protests; Mr. Rochester then admits to her that his courtship of Ms. Ingram was a ruse to arouse Jane's jealousy and that it is Jane whom he truly loves. Jane returns his feelings, and she and Mr. Rochester get engaged despite their differences in social status, age, and experience. Jane is young and innocent at 19 years old, while Rochester is nearly 40, worldly, and thoroughly disillusioned. But they complement, respect, and bring out the best in each other. Jane is detemined to stay modest, plain, and virtuous, and Rochester is almost equally determined to offer her expensive presents and finery. Jane has the moral high ground, though, and the weeks before the wedding are spent mostly as she wishes.
The wedding ceremony is famously interrupted by a lawyer who declares that Mr Rochester is already married. His mad wife Bertha Mason, a Creole from Jamaica, lives in the attic of Thornfield Hall, and her presence explains all sorts of mysterious events that have taken place during Jane's stay in Thornfield. Repentant, Mr. Rochester offers to take Jane abroad to live with him anyway, but Jane is not willing to sacrifice her morals or self-respect for earthly pleasures, let alone the status of mistress, even though Rochester insists Jane will break his heart if she refuses him. Torn between her love for Rochester and her own integrity, Jane flees Thornfield in the middle of the night, with very little money and nowhere to go.
She wanders for a few days and finally finds safe haven, under an alias, with a vicar, St. John Rivers, and his two sisters. They bond, and in due course Jane is given a position as village school teacher. She finally leads an independent life in her own little house. Later, St. John learns Jane's true identity, and, in an incredible coincidence, it transpires that St. John and his sisters are actually Jane's cousins. Jane also conveniently inherits a large sum of money from an uncle who lived abroad. The cousins are left without inheritance because of an old family feud, but Jane promptly splits the money so that all four of them are now financially secure. This gives St. John the means to pursue his true calling, to go to India as a missionary. He asks Jane to marry him and to accompany him to India. Now Jane has the opportunity to choose a husband of high morals, but she knows St. John does not truly love her. This is the opposite of the situation she had with Mr. Rochester. Pressured by St. John, Jane nearly succumbs to his proposal, but at the last minute, she hears Rochester's voice calling her in the wind, and she feels she must respond to that call.
She travels immediately to Thornfield Hall, only to find it abandoned and ruined by a devastating fire. She learns that Mr. Rochester, who lost a hand, an eye, and the sight of the other eye as a result of trying unsuccessfully to save Bertha from the flames, lives nearby at a house called Ferndean. Jane goes to him, they reconcile, and she marries him. She writes in the perspective of ten years after their marriage and tells of their firstborn son. Eventually Mr. Rochester gains part of one eye's sight back and is able to see the child. Jane's long quest to find love and a sense of belonging is finally fulfilled.
Themes
There are several recurring themes in the novel. Relations between social classes and genders are crucial; ultimately, Jane overcomes obstacles on both fronts. It is clearly indicated that her marriage to Rochester is a union of equals. When they first met, this was not possible - they were equals in spirit and strength of feeling but not in social position or experience. Jane's emotional growth and the change in her financial situation, however, combined with Rochester's dimished physical capabilities and loss of his manor, turn the initial situation almost upside down. Now Jane is one with options and independence.
Religion is another important theme. Jane meets three religious authorities: Mr. Brocklehurst, Helen Burns, and St. John Rivers. They represent different religious ideals, but Jane subsequently abandons all these models in favour of her own approach.
Jane Eyre is also addresses themes of love, responsibility, and the conflict between personal integrity and the desire to fulfill the wishes of others.
General
The early sequences, in which the orphaned Jane is sent to Lowood, a harsh boarding school, and witnesses the death of a close friend, Helen Burns, are based on the author's own experiences: two of her sisters died in childhood as a result of the conditions at their school, the Clergy Daughters School at Cowan Bridge. These chapters contain what is considered by many to be some of the most devastating prose in the English language.
As an aside, some speculate that Rochester's wife, Bertha, the daughter of a Jamaican planter, is emphatically characterised as being in an advanced stage of syphilitic infection: e.g. "her vices sprang up fast and rank," "her excesses had prematurely developed the germs of insanity," etc. This would necessarily entail that Rochester was also syphilitic, a train of logical consequences which Brontė fails to follow to the conclusion. However, others think that the "mad wife" is merely a plot contrivance, in place to force Jane to make a very difficult decision and to teach her a valuable lesson about herself ("I have no family or friends, who cares what happens to me? Who cares if I breach moral and ethics? -- I care. I matter."). Bertha Mason is more a powerful symbol than an actual medical case. Also, it is clearly stated that Bertha was not faithful in her marriage.
Despite this, and other incoherences within the novel, it is nevertheless a compelling novel which has risen to a position proximate to the pinnacle of English literature. The narrative voice is very strong, passionate, and convincing, and Jane is an unconventional protagonist, in thought, appearance, and action.
As already mentioned above, this novel has many thematic and stylistic similarities with Villette. One is the protagonist's prejudice against French schoolgirls, who are contrasted with English girls (described as morally and intellectually superior).
The chilling scenes featuring Rochester's first wife have inspired many mystery writers, one of the most obvious spin-offs being Daphne Du Maurier's Rebecca. A thematic "prequel" about Bertha Mason, Wide Sargasso Sea (1966), was the most successful novel by Jean Rhys. Another, more recent, use of Jane Eyre has been in The Eyre Affair by Jasper Fforde. In 2002, Sharon Shinn published a science fiction novel adapted from the plot of Jane Eyre, Jenna Starborn.
The novel's plot also served as the basis for the 1943 horror movie I Walked with a Zombie.
Quotes
"I am glad you are no relation of mine. I will never call you aunt as long as I live." (Ch 4)
"Women are supposed to be very calm generally; but women feel just as men feel; they need exercise for their faculties and a field for their efforts as much as their brothers do; they suffer from too rigid a restraint, too absolute a stagnation, precisely as men would suffer; and it is narrow-minded in their more privileged fellow-creatures to say that they ought to confine themselves to making puddings and knitting stockings, to playing on the piano and embroidering bags. It is thoughtless to condemn them, or laugh at them, if they seek to do more or learn more than custom has pronounced necessary for their sex." (Ch 12)
"I think he was swearing, but am not certain; however, he was pronouncing some formula which prevented him from replying to me directly." (Ch 12)
"It's a mere rehearsal of Much Ado about Nothing. Ladies, keep off, or I shall wax dangerous.'" (Rochester, Ch 20)
"Because," he said, "I sometimes have a queer feeling with regard to you--especially when you are near to me, as now: it is as if I have a string somewhere under my left ribs, tightly and inextricably knotted to a similar string situated in the corresponding quarter of your little frame. And if that boisterous Channel, and two hundred miles or so of land, come broad between us, I am afraid that cord of communion will be snapped; and then I've a nervous notion I should take to bleeding inwardly." (Rochester, Ch 23)
"My bride is here," he said, again drawing me to him, "because my equal is here, and my likeness" (Rochester, Ch 23)
"I care for myself. The more solitary, the more friendless, the more unsustained I am, the more I will respect myself." (Ch 27)
"'I scorn your idea of love,' I could not help saying, as I rose up and stood before him, leaning my back aginst the rock. 'I scorn the counterfeit sentiment you offer; yes, St. John, and I scorn you when you offer it.'" (Ch 34)
"I recalled the voice I had heard; again I questioned whence it came, as vainly as before; it seemed in me--not in the external world. I asked, was it a mere nervous impression--a delusion? I could not conceive or believe: it was more like an inspiration." (Ch 36)
"Reader, I married him." (Ch 38)
External links