WestJet
From Academic Kids
Template:Infobox Company WestJet Template:Tsx Template:Airline codes is a Canadian low-cost carrier based in Calgary that flies to most major cities in Canada and ten cities in the United States.
History
Begun in 1996 by Clive Beddoe, Mark Hill, Tim Morgan, David Neeleman, and Donald Bell, WestJet tried to follow the same path as Southwest Airlines and Morris Air, a low-cost carrier. Morris Air, however, was purchased by Southwest shortly after WestJet was created.
On February 29, 1996 the first WestJet flight (a Boeing 737) departed. At that time, the airline served Calgary, Edmonton, Kelowna, Vancouver, and Winnipeg. By 1997, they had included Regina, Saskatoon, and Victoria. In 1998 service to Abbotsford was added.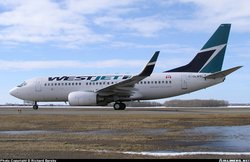 In 1999 a milestone was reached when WestJet was able to offer its first public sharing at 2.5 million shares, and in 2000, the airline expanded to Canada's eastern region, reaching Hamilton, Moncton and Ottawa, and choosing Hamilton as the airline's eastern region hub. That year, Beddoe, Hill, Morgan and Bell were given the Ernst & Young entrepreneur of the year award in Canada for their contribution to the Canadian airline industry. In 2001, expansion continued, to include Thunder Bay, Fort McMurray and Comox, and to the subsequently pulled cities of Sault Ste. Marie, Sudbury, Thompson and Brandon. The airline's four creators also received another entrepreneurship award. In 2002 the airline added two new eastern Canadian destinations, the cities of London and Toronto. In April, 2003, Westjet added Windsor and Montreal as destinations. Halifax, St. John's, and Gander were also been added.
In April, 2004, WestJet moved its eastern hub from Hamilton to Toronto. All of the flights between Ottawa and Hamilton and Montreal and Hamilton were moved to Toronto, a move that brought WestJet more fully in to the lucrative Toronto-Ottawa-Montreal triangle.
In 2004, a number of U.S. destinations were added or announced. These included San Francisco, Los Angeles, Palm Springs, Phoenix, Tampa, Fort Lauderdale, Orlando, New York (LaGuardia). A second wave of U.S. destinations was added in 2005, including Ft. Myers, Las Vegas, and San Diego.
WestJet's transborder flights fly non-stop from Calgary (WestJet's main hub), as well as Edmonton, Kelowna, Montreal, Toronto, Vancouver, and Winnipeg.
In April 2005, they announced new service to Charlottetown for the summer season.
Also in April, 2005, WestJet ceased service to Gander. In June, 2005, the airline announced it was ceasing service to Windsor, Ontario, effective October 30, 2005 and shifting capacity to nearby London.
Current status
During a second quarter conference call in 2004, Clive Beddoe, announced that Westjet would finally be going south of the border. On September 20, 2004 Westjet commenced the first phase of its transborder flights by flying from Calgary and Toronto to Los Angeles International Airport as well as Toronto to New York LaGuardia. However, in May, 2005, Westjet cancelled service to New York (LaGuardia), citing an inability to secure gates at the airport, effective July 4, 2005.
Soon after, the airline announced new service from Calgary to Fort Lauderdale; Edmonton to Las Vegas; Kelowna to Las Vegas; Toronto to Fort Myers and Phoenix; Montreal to Fort Lauderdale; Winnipeg to Los Angeles, Las Vegas, and Phoenix; and Vancouver to Las Vegas, Palm Springs, and Phoenix.
WestJet Airlines entered into a two-year agreement with Air Transat in August, 2003, whereby Westjet Next Generation Boeing aircraft would be filled by Transat's two main tour operators, World of Vacations and Air Transat Holidays. The planes are operated by WestJet crews. Some of the destinations that WestJet planes can be found at are the Dominican Republic, Puerto Vallarta, Panama City (Panama), Cancun, Mazatlan, Varadero, Cuba and St. Martin. There are also weekly charter flights run year-round to Las Vegas, Nevada, from Calgary and Edmonton on behalf of Signature Vacations; this charter agreement is set to expire in the Fall of 2005.
The airline flies a fleet that consists exclusively of Boeing 737s, taking a cue from the successful single operating type model pioneered by Southwest Airlines. The operating fleet now consists of 55 aircraft; Thirty-seven of those aircraft are now Next Generation Boeing aircraft. WestJet continues to slowly retire the older 737-200 aircraft while they grow their overall fleet with Next Generation Aircraft consisting of -600, -700, and -800 series models from the 737 class. The first deliveries of 737-600 and 737-800 aircraft are due in 2005.
It was announced early in 2005 that the 737-200 fleet would be retired within the year, to be replaced by newer, more fuel-efficient aircraft. This will enable WestJet to further enjoy a lower-cost structure. However, with the abrupt end of operations by discount rival Jetsgo on March 11, 2005, the retirement of the 737-200 fleet will possibly be delayed as WestJet plans to add flights to fill Jetsgo's void.
Current destinations
This successful low-cost carrier currently flies to 34 North American cities.
Domestic departures
Transborder departures
Transborder flights originate from Calgary, Edmonton, Kelowna, Montreal, Toronto, Winnipeg, and Vancouver.
Copyright note
Photo owned by, and courtesy of, Mr. Richard Barsby.

External links