Washington Metro
From Academic Kids
The Washington Metro is the public transportation system of Washington, D.C., and neighboring suburban communities in Maryland and Virginia, both inside and outside the Beltway. It is owned and operated by the Washington Metropolitan Area Transit Authority (WMATA), a multijurisdictional agency funded by the District of Columbia, Maryland, and Virginia.
Officially, both the Metrorail (metro) and Metrobus (bus) services are considered part of the Washington Metro; however, the expression "Washington metro" usually refers to Metrorail exclusively.
Metrorail network
Missing image
Washington_DC_metro_map.png
Since opening in 1976, the subway has grown to five lines. It was designed with a spoke-hub distribution paradigm, which makes the subway ideal for getting from a suburb to any part of the city, or vice versa, but unattractive for suburb-to-suburb travel. It is also noteworthy as a system with a limited number of lines that nevertheless makes extensive use of interlining (running more than one line on the same track).
There are five lines, described from the north or west towards the south or east:
History
During the 1960s, there were plans for a massive freeway system in Washington. However, opposition to this freeway system grew and the funds to construct it were reallocated toward construction of the Metro system.
Construction on the subway began in 1969, with groundbreaking on December 9. The system opened March 27, 1976 with 4.2 miles available on the Red Line with five stations from Rhode Island Ave to Farragut North. The final 103-mile, 83 station system was completed with the opening of the Green Line segment to Branch Ave on January 13, 2001. This does not mean the end of the growth of the system, however: a 3.22-mile extension of the Blue Line to Largo Town Center and Morgan Boulevard stations opened on December 18, 2004, the first in-fill station (New York Ave-Florida Ave-Gallaudet U on the Red Line between Union Station and Rhode Island Ave-Brentwood) opened November 20, 2004, and plans are being discussed for an Orange Line extention to Dulles Airport. There is also consistent talk of a possible Georgetown stop; however, nothing has come of this up to this point.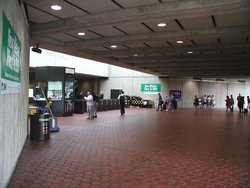 The system began in the District of Columbia, with Arlington, Virginia being linked to the system on July 1, 1976; Montgomery County, Maryland on February 6, 1978; Prince George's County, Maryland on November 20, 1978; and Fairfax County, Virginia and Alexandria, Virginia on December 17, 1983.
The highest ridership for a day was June 9, 2004, with 850,636 trips. Thousands of people went to Washington to view the funeral procession of Ronald Reagan, and to the U.S. Capitol to view his body as it lay in state. Also, since many streets in Washington were closed that day, many people may have felt it wiser to use Metro just to get around. The previous recordholding days were January 20, 1993 (the inauguration of Bill Clinton) and October 16, 1995 (the Million Man March).
In 2002, plans were formalized to bring a 23-mile extension to the Orange Line from the West Falls Church station to Route 772 in Loudoun County. This would mean a mass transit connection from Washington proper to the important business centers of Reston and Tysons Corner, and most importantly, provide a link to Dulles Airport. On June 10, 2004, the Federal Transit Administration approved the first phase of the project to begin. See DCRTP.
Controversy has attended proposals to build a Purple Line, linking Bethesda and Silver Spring, Maryland, thereby connecting the two spurs of the Red Line to the north of the city. This line has been conceived as a light rail line traveling along a private right-of-way for at least some portion of its length. The proposal has met fierce opposition from some of the residents along the certain areas of the line. Others have noted difficulties in obtaining the funds to build it.
Rolling stock
Missing image
Rohr_train.jpg
Metro's rail fleet consists of 952 rail cars, delivered in five shipments. The original order of 300 Metro cars was manufactured by
Rohr Industries
, with delivery in 1976. These cars are numbered 1000-1299, and were rehabilitated in the mid-1990's. The second order of 76 cars was ordered through
Breda Costruzioni Ferroviarie
(Breda), with delivery in 1982. These cars are numbered 2000-2075, and were rehabilitated in 2003 and 2004 by
Alstom
in Hornell, New York. The third order consisted of 290 cars, also ordered from Breda, with delivery in 1987. These cars are numbered 3000-3289 as originally delivered, and are currently undergoing rehabilitation by Alstom in Hornell, New York. The fourth order consisted of 100 cars from Breda, numbered 4000-4099. These cars were delivered in 1991. The fifth order consisted of 192 rail cars from
Construcciones y Auxiliar de Ferrocarriles
(CAF) of Spain. These cars are numbered 5000-5191, with delivery beginning in 2001. Most recently, Metro has ordered 182 rail cars from
Alstom
, the same company that is rehabilitating the Breda cars. Delivery is expected to begin in late 2005.
Signalling and Operation
During normal operation on revenue tracks, trains are controlled by an automatic train control system (ATC) which accellerates and brakes the train automatically without operator intervention. However, all trains are manned with train operators who opeate doors and supervise their train. The operator can switch a train into manual mode and drive by hand if need should arise.
Fixed signals are only present at interlockings. They show a red over red aspect for "Stop and Stay", a lunar (white) aspect for "proceed" and a flashing lunar aspect for "proceed on diverging route" (Only present on newer interlockings, older interlockings are updated with signals that show this aspect). Tracks are divided into block sections, which can only be occupied by one train at a time, a method to protect against collisions used by most railway systems worldwide, but there are no fixed signals to protect block sections. (Virtual) signal aspects are transmitted to the train by a cab signalling system and displayed to the operator in the cab, as well as transmitted to the ATC system. Entering of an occupied block is prevented by an automatic train protection system (ATP), which supervises both manual and ATC operation and stops the train well before it would enter an occupied block.
Non-revenue tracks (storage tracks, yard tracks) are not equipped with ATC. Green signs with letters reading "START ATC" and "END ATC" mark the beginning and ending respectively of ATC (Automatic Train Control) territory.
At switches entering into pocket tracks in a direction reverse to the normal operating dirction, there is a "P Signal", which in its lit state allows the operator to manually set the switch and enter the pocket track.
Two trackside signs exist: The "S"-Sign is posted at revenue tracks and indicates to the operator that a station is ahead. It is located at a distance no greater than 1200' (365,75m) before a station platform. The "TB"-Sign is posted to indicate to the operator that an eight-car train is clear of an interlocking when the train front is flush whith the sign, and that the train can turn back in the direction from which it came on the opposite track.
Accidents
Missing image
I22913-2004Nov03L.jpg
There have been only three collisions reported on the Metrorail system since its opening. On 13 January 1982, three people were killed and many more were injured when a train backed up and derailed at an interlocking near the Smithsonian Station. Coincidentally, this accident occurred on the same day as Air Florida Flight 90 crashed into the 14th Street Bridge during a snowstorm. On 5 January 1996, a train operator was killed when a train overran the Shady Grove Station and crashed into a parked train. On 3 November 2004, an out-of-service train lost its brakes, rolled backwards into the Woodley Park-Zoo/Adams Morgan Station, and hit a revenue train servicing the station. No one was killed, but 20 people were injured. The 2004 accident reinforced the finding from the 1996 accident of the tendency of Metro rail cars built or rehabilitated prior to 2001 to telescope when involved in a head-on collision.
Suicide
The system is not immune from passenger suicide. The most recent suicide occurred on 5 February 2005, when a woman jumped in front of a Red Line train at Brookland-CUA and was killed instantly, closing the station for a few hours. Another instance (http://www.washingtonpost.com/wp-dyn/articles/A17621-2004Dec21.html?sub=AR) was 18-year-old Victor Zoubak, who lay on the trackbed of the Orange Line in Metro Center in 2004 until a train came, which struck and killed him. According to Zoubak's sister, the young man would lose consciousness and would be dazed and disoriented when he returned to his normal state of mind. Officials later determined that he did not know what he was doing at the time. There have been other deaths at the Union Station and Brookland stations.
Intermodal transport
Missing image
Glenmont.jpg
WMATA has a stated goal of integration of its rail and bus networks. In 2004, SmarTrip readers were installed on all buses, enabling paperless transfers between lines and with the rail system.
In December 2001 Metro initiated a relationship with Flexcar, a private company which operates car sharing networks in several North American cities. A competitor, ZipCar, began service in the region contemporaneously. With either service, cars are parked at major Metrorail stations and made available for rental on an hourly basis, with the goal of reducing car dependency and increasing transit ridership.
Metrorail connects with both commuter rail and intercity rail systems.
Metrorail's Yellow and Blue Lines serve Ronald Reagan Washington National Airport. Express bus service from L'Enfant Plaza and Rosslyn is provided to Washington Dulles International Airport. Baltimore-Washington International Airport is served by express bus from Greenbelt, and by rail from Union Station by MARC and Amtrak.
Additionally, several Metrorail stations offer connections to HomeRide, a bus service which connects Virginia Tech, Radford, JMU, and the University of Virginia to the northern Virginia area. Many students at these schools are originally from the northern Virginia area, and especially for freshmen and other students without cars, HomeRide offers an attractive method for getting home on weekends.
New additions
Missing image
Washington_DC_metro_station_largo_town_center.jpg
The original ARS (Adopted Regional System) was completed in 2001, even though it was scheduled to open in 1990. Since then, the WMATA had made plans of expanding their system. In 2000, plans were made to create a fill-in station, New York Avenue, which opened in November 2004. Plans were also made to create a blue line extension, creating two more stations, Morgan Boulevard (also known as Summerfield) and Largo Town Center, known to residents simply as Largo, which opened on December 18, 2004. WMATA has also recently again begun seriously considering an extension of the Orange Line to Dulles International Airport, which may have to be funded through a moderate rate hike on all lines.
Other plans
Rumors have abounded for years about transit service out to Dulles and points west either by Metro or other systems. There was even a study in the early 1990s that proposed a series of civil tiltrotor stations as a possible commuting option from places such as Reston, Manassas, Leesburg, Columbia, and other points in the greater Washington area. Like many other plans, this stopped at the initial assessment stage for fiscal and political reasons. Light rail systems and express bus lines have also been floated as a possibility within the District or Northern Virginia. Plans to extend Metrorail to Dulles have been in the works since the beginning of the system's construction. A test station was built at the airport around 1970 and was located some 28 feet below the parking lot area [1] (http://www.clouse.org/metro.html#Dulles%20Airport%20Rail%20Tunnel.), but rail service along the Dulles Corridor is not yet a reality [2] (http://www.dullescorridorrail.com/default.htm).
A line that would encircle the district, connecting the ends of the main lines with each other, has been occasionally proposed. One such current proposal is the Purple Line proposal (http://www.sierraclub.org/dc/sprawl/purple-line/) from the Sierra Club.
See also
External links