Ununoctium
From Academic Kids
Predicted properties
Name, Symbol, Number
Ununoctium, Uuo, 118
Chemical series
Presumably noble gases
Group, Period, Block
18, 7, p
Appearance
Unknown, probably colourless
Atomic weight
[293] amu (a guess)
Electron configuration
[Rn] 5f14 6d10 7s27p6
(a guess based upon radon)
e-s per energy level
2, 8, 18, 32, 32, 18, 8
State of matter
presumably a gas
Ununoctium is the name of an—as yet undiscovered— chemical element in the periodic table that has the temporary symbol Uuo and atomic number 118. If discovered, it would probably share the properties of its group, the noble gases, resembling radon in its chemical properties; as such, some research has referred to it as "eka-radon". It would only be the second radioactive gaseous element and the first standard semiconductive gas.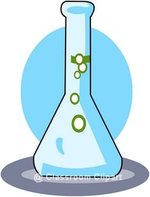 Ignoring the effect of its radioactivity, it would be expected to be much more chemically reactive then xenon and likely would form oxides (UuoO3 etc) as well as chlorides and fluorides.
History
In 1999, researchers at Lawrence Berkeley National Laboratory announced the discovery of elements 116 and 118, in a paper published in Physical Review Letters. The following year, they published a retraction after other researchers were unable to duplicate the results. In June 2002, the director of the lab announced that the original claim of the discovery of these two elements had been based on data fabricated by principal author Victor Ninov.
Ununoctium is a temporary IUPAC systematic element name.
External links
See Also
In the fictional universe of Star Trek: The Next Generation, the episode "Rascals" depicted a trans-periodic table, which depicted element number 118 as being named accurentum.