Ununhexium
From Academic Kids
Predicted properties
Name, Symbol, Number
Ununhexium, Uuh, 116
Chemical series
Presumably poor metals
Group, Period, Block
16, 7, p
Appearance
Unknown, probably a metallic
and silvery white or grey color
Atomic weight
[292] amu
Electron configuration
[Rn] 5f14 6d10 7s27p4
(a guess based upon polonium)
e-s per energy level
2, 8, 18, 32, 32, 18, 6
State of matter
presumably a solid
Ununhexium (eka-polonium) is the temporary name of an unconfirmed synthetic superheavy element in the periodic table that has the temporary symbol Uuh and has the atomic number 116. Some research has referred to it as "eka-polonium".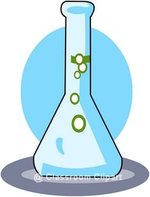 History
In 1999, researchers at Lawrence Berkeley National Laboratory announced the discovery of elements 116 and 118 (see ununoctium), in a paper published in Physical Review Letters. The following year, they published a retraction after other researchers were unable to duplicate the results. In June 2002, the director of the lab announced that the original claim of the discovery of these two elements had been based on data fabricated by the principal author Victor Ninov.
In January, 2001 the Joint Institute for Nuclear Research, Dubna, published results [1] that described the decay of the isotope 292Uuh, which was produced in the reaction of 248Cm with 48Ca. It has a half-life of about 0.6 milliseconds (0.0006 seconds) and decayed into 288Uuq. On May 112001, the institute reported synthesizing a second atom, and that the properties confirmed a region of "enhanced" stability (see Island of stability): confirmation of these results is still pending.
Ununhexium is a temporary IUPAC systematic element name.
Ununhexium in popular culture
In the world of UFO conspiracy theory culture during the 1980s and 1990s, Bob Lazar asserted that ununpentium functioned as "fuel" for UFOs, being "stepped up" to ununhexium under "particulate bombardment," and that the ununhexium's decay products would include antimatter. These processes are considered implausible in terms of nuclear physics.
References
Y. T. Oganessian, et al., Observation of the decay of(292)116, Phys. Rev. C 63, 011301 (2001).
External links