U.S. presidential election, 1976
From Academic Kids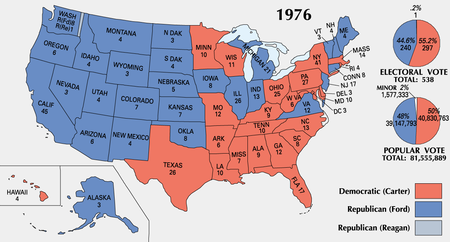 The U.S. presidential election of 1976 followed the resignation of President Richard M. Nixon in the wake of the Watergate scandal. It pitted incumbent President Gerald Ford against the relatively unknown former governor of Georgia, Jimmy Carter. Ford was saddled with a slow economy and paid a political price for his pardon of Nixon. Carter ran as an outsider and a reformer and narrowly eked out a victory.
Nominations
Democratic Party nomination
During a primary season with a long list of candidates, Carter rose from being unknown nationally to become the frontrunner, with Udall coming second in a number of close primaries. Carter won primaries first in his native Georgia, then in Alabama and Indiana, and quickly had a national campaign suitable of defeating challenges from Jackson and Church, and a late challenge from Jerry Brown.
Republican Party nomination
Incumbent president Ford, appointed to the vice presidency after the resignation of Spiro Agnew and then elevated to the presidency by the resignation of Richard M. Nixon, was the only U.S. President never to have been elected president or vice president. His policy goals were frustrated by Congress, heavily Democratic after the 1974 mid-term election and infuriated by his decision to pardon Nixon for any criminal acts he committed or may have committed as part of the Watergate scandal.
Reagan and the conservative Western wing of the Republican Party faulted Ford for failing to do more to assist South Vietnam (which finally collapsed in April 1975 with the fall of Saigon), and for his signing of the Helsinki Accords, which they took as implicit acceptance of Soviet domination over Eastern Europe. Conservatives were also infuriated by Ford's continuation of negotiations to withdraw from the Panama Canal.
Reagan openly criticized Ford starting in the summer of 1975, and formally launched his campaign in the autumn. Ford narrowly won the New Hampshire primary, and enough overall delegates to secure the nomination, but not before Reagan too had won enough delegates to drive the agenda of the Kansas City convention. Unable to overcome fears he was too inexperienced and too conservative, Reagan withdrew from the race at the end of the convention, but was permitted to address the delegates—virtually overshadowing Ford's own speech—and convinced Ford to drop the liberal incumbent Vice President, former New York Governor Nelson Rockefeller, in favor of Kansas Senator Bob Dole.
General election
Campaign
Jimmy Carter ran as an honest outsider and reformer, which many voters found attractive in the wake of the Watergate scandal. President Ford, although personally unconnected with Watergate, was seen by many as too close to the discredited Richard Nixon administration, especially after Ford granted Nixon a presidential pardon.
Carter led consistently in the polls as Ford was never able to shake voter dissatisfaction following Watergate. Ford was seen as the winner of the first debate, looking more presidential, but during the second debate Ford made an important blunder when he stated that "there is no Soviet domination of Eastern Europe and there never will be under a Ford administration". In the end, Ford eliminated most of Carter's lead in a dramatic surge, but Carter still narrowly won the election. Carter was the first Democrat since John F. Kenndey in 1960 to carry the states of the Deep South, and the first since Lyndon Johnson in 1964 to carry an unquestionable majority of southern states; in fact, he carried all but Virginia. It would be 16 more years before any Southern state (minus Georgia) endorsed a Democrat for president when Bill Clinton, a fellow Southerner, ran for president in 1992.
The election was held on November 2, 1976.
Had Ford won the election, he would have been disqualified by the provisions of the 22nd amendment from running in 1980 because he served more than two years of Nixon's term.
Results
Template:Start U.S. presidential ticket box Template:U.S. presidential ticket box row Template:U.S. presidential ticket box vp rowspan Template:U.S. presidential ticket box subrow Template:U.S. presidential ticket box row Template:U.S. presidential ticket box row Template:U.S. presidential ticket box row Template:U.S. presidential ticket box row Template:U.S. presidential ticket box other Template:End U.S. presidential ticket box (a) A rogue Republican elector from Washington State gave Ronald Reagan one electoral vote.
(b) The running mate of McCarthy varied from state to state, possibly in an effort to attract local voters similar to that tried by the Whigs in 1836, but this reasoning is an unverified theory.
(c) Wikipedia research has not yet determined whether Anderson's home state was Tennessee or Texas at the time of the 1976 election.
Source: U.S. Office of the Federal Register (http://www.archives.gov/federal_register/electoral_college/scores.html#1976)
See also