Starbucks
From Academic Kids
For other meanings of the name "Starbuck", see Starbuck. Template:Infobox Company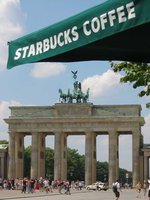 Starbucks Template:Nasdaq is a large multinational chain of coffee shops, often serving desserts, with a reputation in the US as a center for socializing, particularly among students and young urban professionals. The corporate headquarters are in Seattle, Washington. The company was named after Starbuck, a character in Moby-Dick, and its mascot is a stylized cartoon siren. As of January 2005, Starbucks had 8,949 outlets worldwide: 6,376 of them in the United States and 2,573 in other countries. 861 of them are drive-through outlets.
Company history
The first Starbucks was opened in Seattle in 1971 by three partners and teachers, Jerry Baldwin (English), Zev Siegel (History), and Gordon Bowker (Writer) wanting to sell high-quality coffee beans and machines, for they loved fine coffees and exotic teas, at its still-operating location across from Pike Place Market. Entrepreneur Howard Schultz joined the company in 1982 and inspired by the Italian espresso bars, started the Il Giornale coffee bar chain in 1985. A few years after the original owners took the opportunity to purchase Peet's Coffee and Tea, they sold the Starbucks chain to Howard Schultz, whose Il Giornale outlets were rebranded as Starbucks in 1987. Starbucks opened its first locations in Vancouver, British Columbia (at Waterfront Station) and Chicago, Illinois in 1987. Its first location outside of North America was opened in Tokyo, Japan, in 1996, and now Starbucks has outlets in 30 additional countries. There are currently 8,569 locations worldwide.
By the time of its initial public offering on the stock market in 1992, it had grown to 165 outlets. In April 2003 Starbucks added 150 new outlets in one day, by completing the purchase of Seattle's Best Coffee and Torrefazione Italia from AFC Enterprises. As of May 2003, Starbucks operated more than 6,400 locations worldwide. Stung by criticism of the conditions in which its coffee was grown, the company introduced a line of fair trade products; although the majority of its sales are not certified fair trade, Starbucks pays its producers some of the highest rates per pound in the world. Starbucks is also known for providing even part-time employees with healthcare benefits and stock options.
Starbucks' success in the US market has not always been replicated around the world, as it has faced stiff competition in locations where existing coffee shops and restaurants already serve a variety of high-quality coffees, and from a number of retailers which emulate Starbucks' business model (often adding a local twist).
This rapid proliferation of the company has been the subject of much comment and occasional parody, for instance in the Austin Powers films, The Simpsons, South Park and Shrek 2. An article in the satirical newspaper The Onion announced that "Starbucks begins sinister phase II of operations." Starbucks had indeed started an expansion plan known as "Phase II".
In 2000 San Francisco cartoonist Kieron Dwyer was sued by Starbucks for copyright infringement after creating a parody of its famous mermaid logo. Dwyer won the suit but was prohibited by the judge from selling items bearing his version of the trademark.
Labor disputes
On May 17, 2004, Starbucks' workers at the 36th and Madison store in midtown Manhattan organized for the first Starbucks barista union in the United States of America. The 12 workers, with assistance from the Industrial Workers of the World IU/660 submitted union cards to the National Labor Relations Board (NLRB) for a certification election. The baristas complain that a starting wage of $7.75 an hour is not a living wage in New York City and that Starbucks refuses to guarantee regularity of hours per week, which leads to extreme precarity.
On July 22, 2004, the Retail Workers' Union IU/660 filed an unfair labor practice charge against Starbucks for allegedly making threats of wage cuts, giving bribes, and selectively enforcing no-distribution policies to alter the results of the barista's union vote. The IU/660 has also joined with Global Exchange in calling on Starbucks to purchase at least 5% of the store's coffee from fair trade certified sources. Currently only 1% of Starbucks' coffee is fair trade.
On January 14, 2005 charges stemming from a march at the 2004 Republican National Convention were dropped against Starbucks' baristas' union co-founder Daniel Gross. Witnesses allege Starbuck's managers coordinated with the NYPD to single out Daniel Gross and another union activist from a crowd of 200 peaceful protesters. Witnesses also claim to have incontrovertible video tape evidence that shows the arresting police officer(s) fabricated evidence including filing a false police report. The dismissal charges came two weeks after the National Labor Relations Board issued a complaint against the company [Starbucks] alleging that management made threats, gave bribes, and created an impression of surveillance in a failed effort to defeat the first-ever union of Starbucks café workers in the United States. [1] (http://www.iww.org/unions/iu660/starbucks/Starbucks18.shtml)
Starbucks' logo
Missing image
Starbucks1.JPG
The siren (sometimes referred to as a mermaid, but is more likely to be a melusine since it has two tails) in the Starbucks' logo changed over the years due to political reasons. In the first version she had naked breasts. In the second, streamlined version, they were covered by hair, but the navel was still visible. In the current version, the navel is not visible anymore. See also: The Mermaid (http://www.endicott-studio.com/jMA03Summer/theMermaid.html)
Starbucks and globalization
Starbucks has pursued an ambitious campaign of expansion in international markets beyond its North American base. As such it has come to be regarded, particularly by the anti-globalization movement, as a flagship of globalization and a prime example of the ills some feel globalization carries. Several on-line campaign groups maintain websites decrying the company, criticizing its fair-trade policies, labor relations, environmental impact, and holding it as a paragon of what they see as US cultural and economic imperialism. Branches of Starbucks have been attacked during protests, including those against the WTO meeting in Seattle, and the theme is picked up in fictional media: the movie Fight Club depicts anti-corporatist guerillas destroying a chain coffee house (clearly a thinly-veiled Starbucks).
Frappuccinos in the Holy Land
Israel is currently the only country in the world where Starbucks has entered the market and failed miserably. This is attributed to the fact that the move was made during the Second Intifada, at a time when most people weren't leaving their homes. Although, in recent years, several Israeli coffee chains and one US (Coffee Bean & Tea Leaf) have been so successful, that rumor has it Starbucks is planning to quietly re-enter the Israeli market.
Starbucks' focus over the years
Of Starbucks' many drinks, such as the latte, frappucino, mocha, espresso, Tazo teas, and juices, the Starbucks Espresso was the company's first focus. Howard Schultz had suggested that the company should focus on coffee, espresso, and cappucino after his trip to Milan, but the owners said no. Starbucks was a retailer, not a restaurant or bar. The owners thought that serving drinks would put them into the beverage business instead of the focus of a coffee store.
Hear Music
Hear Music is the brand name of Starbucks' retail music concept. Hear Music began as a catalog company in 1990 and was purchased by Starbucks in 1999.
The Hear Music brand currently has three components: the music that each location plays and accompanying XM radio channel (XM 75); in-store CD sales, including Starbucks exclusives; and specially-branded retail stores.
As of May 2005, there are two Starbucks Hear Music Coffeehouses: Santa Monica, California on the Third Street Promenade and Miami, Florida in South Beach. There is also a Hear Music Store in Berkeley, California. Forty-five Starbucks locations also have a Hear Music "media bar", a service which uses tablet-based PCs to allow customers to create their own mix CDs. The media bars are currently located in Seattle and in Austin, Texas.
Currently, Starbucks is one of the top 40 music-oriented retailers and has flourished selling music. Its biggest success was Ray Charles' Grammy-winning "Genius Loves Company", where 2.86 million records were sold in total; 25% of those were sold at Starbucks.
In 2005, Starbucks announced a partnership with singer/songwriter Alanis Morissette. In an exclusive six-week deal, Morissette announced that she would retail an acoustic version of Jagged Little Pill in Starbucks stores only. The acoustic version was released on June 13, 2005 in order to celebrate the groundbreaking album's tenth anniversary.
In response to this move, HMV stores launched a boycott against Morissette, removing all of her music from their catalogue and returning it to Maverick Records. The boycott is expected to end after Starbuck's exclusive six-week contract ends on July 26, 2005.
The music section in Chapters, a Canadian retail chain, is also called Hear Music, but the two brands are unrelated.
See also
External links
fr:Starbucks no:Starbucks ko:스타벅스 he:סטארבקס io:Starbucks id:Starbucks ja:スターバックス zh:星巴克