From Academic Kids
Missing image
Schoenefeld_Landsat.jpg
Schönefeld International Airport (Flughafen Berlin-Schönefeld) is an international airport located on the south-eastern outskirts of Berlin, Germany, near Brandenburg, Germany. Its IATA airport code is SXF, and its ICAO airport code is EDDB. It is referred to as "The Holiday Airport", as it has mostly international charter flights. Schönefeld was once the major civil airport of East Germany (and only airport of East Berlin).
It is further from the city than the other two Berlin airports, Tegel International Airport and Tempelhof International Airport, and therefore is not as much a source of noise pollution.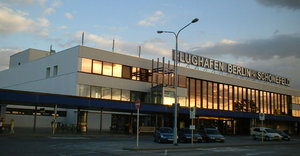 Schönefeld is slated to be transformed into Berlin Brandenburg International Airport. Once the new expansion of the terminal starts construction, Tempelhof airport will close (initially slated for October 30, 2004, but still open for the time being). Six months after the airport is renamed and the new section opened, Tegel airport is to close (effectively sometime in 2007).
The airport is served by the Flughafen Berlin-Schönefeld railway station. This station is the terminus of line S9 of the Berlin S-Bahn, and is served by mainline railways as well.
The following airlines fly to Schönefeld International Airport:
History
Berlin-Schoenefeld airport started on 15 October 1934 with the building of the Henschel aircraft plant (MLG) in Schoenefeld. Up until the end of the Second World War over 14.000 airplanes were built there. On 22 April 1945 MLG was occupied by Soviet troops. The equipment for the aircraft construction was dismantled or blown up, and up until 1947 railways were repaired and agricultural machinery was built and repaired on the site. In 1946 Soviet air forces moved from Johannisthal to Schoenefeld, and Aeroflot started operating there. In 1947 the Soviet military administration of Germany approved the construction of a civilian airport at the site in SMAD instruction NR. 93.
Aeroflot Tu-144 aircraft began operating from the airport in the 1970s. A Tu-144 crashed on approach to the airport on 12 December 1986 killing 69 of the 81 passengers. Between 1947 and 1990 the airport was renamed several times and became the central airport of the GDR. Because of its location outside of the city boundaries of Berlin, German aircraft (usually of the GDR airline Interflug, before German Lufthansa of the GDR) could take-off and land from Schoenefeld (unlike than in Tegel and Tempelhof) despite the fact that Berlin was surrounded by the Iron Curtain at this time. With the reunification of Germany and Berlin the airport this was no longer an advantage for Schoenefeld.
External links