East Berlin
Missing image
Flag_East_Berlin.gif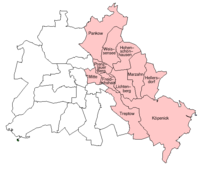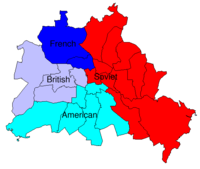 East Berlin was the name given to the eastern part of Berlin between 1949 and 1990. It consisted of the Soviet sector of Berlin that was established in 1945. The American, British and French sectors became West Berlin, a de facto part of West Germany.

East Berlin was the capital of East Germany. From August 13, 1961 until November 9, 1989 it was separated from West Berlin by the Berlin Wall. The East Germans called East Berlin just "Berlin" or sometimes "Berlin, Hauptstadt der DDR" (Berlin, capital of the GDR).
East Berlin comprised the boroughs of
On October 3, 1990 West Germany and East Germany were united, thus formally ending the existence of East Berlin.
See also
External link
Template:Germany-geo-stubcs:Vżchodnķ Berlķn da:Ųstberlin de:Ost-Berlin id:Berlin Timur it:Berlino Est ja:東ベルリン nl:Oost-Berlijn pl:Berlin Wschodni sr:Š˜ŃŃ'Š¾Ń‡Š½Šø_Š'ŠµŃ€Š»ŠøŠ½ sv:Östberlin