Saipan
Missing image
SaipanTinianAquijan.PNG
Saipan is the largest island and capital of the United States Commonwealth of the Northern Mariana Islands of the western Pacific Ocean, with a total area of 120 km² (46.5 sq mi). The 2000 estimated population was 62,392.
Located at Template:Coor dm, about 200 km (120 mi) north of Guam, Saipan is about 20 km (12.5 mi) long and 9 km (5.5 mi) wide. The western side of the island has beaches and a coral reef, while the eastern side is mostly rugged rocky cliffs. Its highest point is the extinct volcano Mount Tapochau at 474 m (1,554 ft). Unlike Guam, with its limestone aquifers, and although Saipan has 80-100" of rain per year, the utility company is unable to deliver 24-hour-a-day potable water to its customers. As a result, several of the large hotels use desalination plants to produce fresh water for their customers and most homes and small businesses have cisterns to store water.
Spain originally claimed Saipan as part of the Marianas. Around 1815, many Carolineans from atolls near Chuuk (formerly Truk) settled in Saipan. Saipan was under German rule from 1899 to 1914, when the Japanese took over the island. The Japanese developed both fishing and sugar industries, and in the 1930s garrisoned Saipan heavily, with nearly 30,000 military on the island by 1941.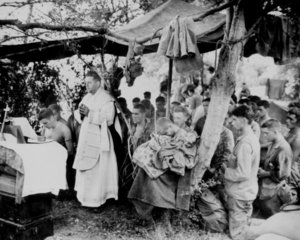 During World War II, the U.S. Marines landed on June 15, 1944, on the beaches of southwestern side of the island, and spent more than three weeks in hard fighting to secure it in the battle of Saipan.
Despite its status as a U.S. Commonwealth, Saipan is exempt from some federal laws, including key labor and immigration laws. As a result, a number of garment factories with wages around half of the U.S. minimum wage have been set up on the island to supply the U.S. market. Goods manufacured in U.S. Commonwealths, including Saipan, may be labeled "Made in the USA".
In January 1999, a coalition of U.S.-based pressure groups and labor unions began a class action on behalf of around 30,000 garment workers whom they claimed had been mistreated in such factories, being submitted to what was in effect indentured servitude. In April 2003, a settlement worth $20 million was reached with 27 garment manufacturers and 27 leading retailers, such as Gap, Tommy Hilfiger, and Polo Ralph Lauren. The firm of Levi Strauss & Co. refused to settle, however; in January 2004, the case against this company was dismissed.
External links