Para rubber tree
From Academic Kids
This article is about the main commercial source of latex. For the common ornamental plant, see Ficus elastica.
Missing image
Latex_dripping.JPG
The Pará rubber tree (Hevea brasiliensis), often simply called rubber tree, is a tree belonging to the family Euphorbiaceae. It is of major economical importance because its sap (known as latex) can be collected and is the primary source of natural rubber.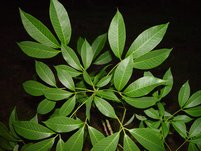 The tree can reach a height of over 30m. The white or yellow latex occurs in latex vessels in the bark, mostly outside the phloem. These vessel spiral up the tree in a righthanded spiral which forms an angle of about 30 degrees with the horizontal. Once the trees are 5-6 years old, the harvest can begin: incisions are made orthogonal to the latex vessels, just deep enough to tap the vessels without harming the tree's growth, and the sap is collected in small buckets. Older trees yield more latex.
The Pará rubber tree initially grew only in tropical South America, in the Amazon region. Increasing demand and the discovery of the vulcanization procedure in 1839 lead to a boom in that region, enriching the cities of Manaus and Belém. The name of the tree derives from Pará, the Brazilian state that contains Belém.
There had been an attempt made, in 1873, to grow rubber outside Brazil. After some effort, twelve seedlings were germinated at the Royal Botanic Gardens, Kew. These were sent to India for cultivation, but died. A second attempt was then made, some 70,000 seeds being sent to Kew in 1875. About 4% of these germinated, and in 1876 about 2000 seedlings were sent, in Wardian cases, to Ceylon, and 22 sent to the Botanic Gardens in Singapore. Once established outside its native country, rubber was extensively propagated in the British colonies. By 1898, a rubber plantation had been established in Malaya, and today most rubber tree plantations are in Southeast Asia and some also in tropical Africa. Efforts to cultivate the tree in its native South America were unsatisfactory.de:Kautschukbaum pl:Kauczukowiec simple:Rubber tree