Romanesque architecture
From Academic Kids
Missing image
St_michaelis.jpg
The name Romanesque, like many other stylistic designations, was not a term contemporary with the art it describes but an invention of modern scholarship to categorize a period. The term "Romanesque" attempts to link the architecture, especially, of the 11th and 12th centuries in medieval Europe to Roman Architecture based on similarities of forms and materials. Romanesque is characterized by a use of round or slightly pointed arches, barrel vaults, cruciform piers supporting vaults, and groin vaults. The great carved portals of 12th century church facades parallel the architectural novelty of the period—monumental stone sculpture seems reborn in the Romanesque.
Romanesque seems to have been the first pan-European style since Roman Imperial Architecture and examples are found in every part of the continent. One important fact pointed out by the stylistic similarity of buildings across Europe is the relative mobility of medieval people. Contrary to many modern ideas of life before the Industrial Revolution, merchants, nobles, knights, artisans, and peasants crossed Europe and the Mediterranean world for business, war, and religious pilgrimages, carrying their knowledge of what buildings in different places looked like. The important pilgrimage routes to Santiago de Compostela in Galicia, modern north east Spain, may have generated as well as spread some aspects of the Romanesque style.
Surviving Romanesque buildings
Listed below are examples of surviving Romanesque buildings in modern
France
,
Germany
,
Spain
,
Ireland
,
Italy
,
England
,
Netherlands
,
Scandinavia
and
Central Europe
.
France
Missing image
Romanesque_church_inside,_Saint-Saturnin,_Auvergne,_France.jpg
Missing image
Jumièges.jpg
Germany
Spain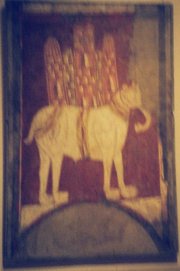 Ireland
Italy
England
In England, Romanesque architecture is often termed 'Norman architecture'.
Netherlands
Sint Servaas, Maastricht
Onze-Lieve-Vrouwe, Maastricht
Munsterkerk, Roermond
Janskerk, Utrecht
Pieterskerk, Utrecht
St. Plechelmus, Oldenzaal
Chapel, Lemiers
Reformed church, Oirschot
Belgium
Scandinavia
Central Europe
See also
External links
da:Romansk stil de:Romanik es:Arte románico eo:Romaniko fr:Architecture romane he:×¨×•×ž× ×¡×§ ja:ロマネスク建築 nl:Romaanse stijl pl:Architektura romańska pt:Estilo românico sv:Romansk arkitektur