Nobuo Uematsu
From Academic Kids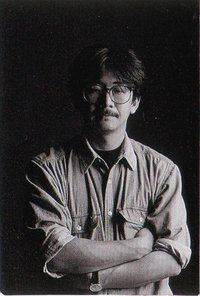 Nobuo Uematsu
(植松 伸夫;
Uematsu Nobuo
, born
March 21
,
1959
) is a
Japanese
composer
of
video game music
, and one of the most well-known, prolific, and versatile in the field. He has composed music for many games produced by
Squaresoft
including the
Final Fantasy
series of games, and some of the pieces for
Chrono Trigger
.
King's Knight
is the first
video game
he ever composed music for.
Biography
The bulk of the following information comes from the profile on Uematsu's official website. (http://www.square-enix-usa.com/uematsu/profile/index.html)
Born in Kouchi City, Kochi prefecture, Japan, Uematsu began to play the piano when he was twelve years old (his greatest role model early in life was Elton John) and is self taught. After graduating from Kanagawa University, he composed music for commercials before joining Square Co., Ltd. (now Square Enix Co., Ltd.) in 1986. He went on to compose music for over thirty game titles, including the award-winning FINAL FANTASY series. The FINAL FANTASY franchise has developed into one of the best-selling video game series across all platforms, selling over 60 million units worldwide (as of March 2004). Uematsu's soundtracks were a key element in the success of the series, carrying the deep storylines with sweeping emotional scores. In October 2004, Uematsu formed SMILE PLEASE Co., LTD. and continues to compose for Square Enix along with several other works. The style of his compositions range from stately classical-like pieces, to subtle, mysteriously beautiful sorts of music sometimes described as "New-Age", to hyper-percussive techno-electronica, similar in sound to some music by the band Emerson, Lake and Palmer, one of his stated influences, to the occasional instance of some completely different and unexpected category. Uematsu is a renowned composer who has been touted as increasing the appreciation and awareness to the advancements made in videogame music. A prime example is the FINAL FANTASY VIII theme song, "Eyes on Me," composed and produced by Uematsu. The theme song featured Hong Kong pop diva Faye Wong and sold a record 400,000 copies. It then went on to win "Song of the Year (Western Music)" at the 14th Annual Japan Gold Disc Awards in 1999-- the first time music from a video game won the honor.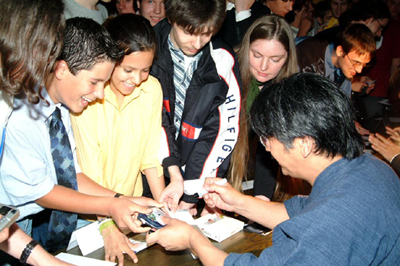 The music from the game series has grown to such notoriety, Nobuo Uematsu was named as one of the "Innovators" in Time Magazine's "Time 100: The Next Wave - Music" feature. Uematsu's approach to FINAL FANTASY music is diverse, encompassing many styles. This diversity along with the popularity of the music has resulted in a variety of musical performances including classical symphonies, rock and acoustic. After a string of successful concert performances in Japan including a six-city, seven-show concert series titled "Tour de Japon – music from FINAL FANTASY–," the first stateside concert, "DEAR FRIENDS -music from FINAL FANTASY-," followed May 10, 2004 at the Walt Disney Concert Hall in Los Angeles, Calif. selling out in 3 days. The performance featured music from world-renowned FINAL FANTASY video game series, performed by the acclaimed Los Angeles Philharmonic and the Los Angeles Master Chorale. Due to the positive reception for this performance and clamor from fans for more, a concert series was recently announced for North America.
In 2003 Uematsu expanded his horizons yet again when he formed The Black Mages, and released an album of new versions of his classic Final Fantasy pieces. The Black Mages, in which Uematsu himself played keyboards are a group of technically accomplished rock musicians who reinterpreted and expanded on the original compositions found in the popular role-playing game series. In the same year, for the first time ever his music from Final Fantasy was performed in a Symphonic Game Music Concert outside of Japan. It took place as the official opening ceremony of Europe's biggest trading fair for video games, the GC Games Convention in Leipzig, Germany. Another concert featuring Final Fantasy music took place one year later in Leipzig, Germany again.
While he is best known for his work in video games, Uematsu's work spans a wide-range of outlets. Some of those works include composing the theme song for the animated film "Oh! My Goddess" and writing music for top Japanese vocalists such as Emiko Shiratori and Rikki.
It is not just Uematsu's musical talents that fans are drawn to. Uematsu is known for his down to earth personality and openness with his fans in diary columns online and in print. His column "Nobuo Uematsu no Minna Sounano?" has appeared in the popular Japanese gaming magazine Weekly Famitsu for over two years. Two compilations of the columns have been released. Additionally, Uematsu signed to finish the Chrono Trigger soundtrack after his friend, Yasunori Mitsuda, contracted stomach ulcers ([1] (http://www.chronocompendium.com/wiki/index.php?title=Power_Up_Excerpt)).
Uematsu's music has been a large part of the Final Fantasy franchise's great popularity in the United Kingdom and the United States. In the 2004 Summer Olympics, the United States synchronized swimming duet of Alison Bartosik and Anna Kozlova won the bronze medal using two of his pieces from Final Fantasy VIII in the second half of their routine.
As of 2004, Nobuo Uematsu lives in Japan with his wife Reiko and his dog Pao.
In early 2005, Nobuo's rock band, the Black Mages released it's second album titled, The Skies Above. Remixes included FFVIII's "The Man with the Machine Gun" and FFX's "The Skies Above".
His company, Smile Please, will compose music for various video game companies, including Square Enix and Mist Walker.
Video game soundtracks
Derivative works
Other works
Final Fantasy: Pray (1990) - With Risa Ohki
Phantasmagoria
Final Fantasy: Love Will Grow (1995) - With Risa Ohki
20020220: Music from Final Fantasy (Orchestrated)
Over the fantasy - With Ueda Kana
External links
es:Nobuo Uematsu fr:Nobuo Uematsu hr:Nobuo Uematsu it:Nobuo Uematsu ja:植松伸夫 pl:Nobuo Uematsu sv:Nobuo Uematsu