Monty Python
From Academic Kids
Missing image
MontyPythonCastSmall.png
Monty Python, or The Pythons, were the creators and stars of Monty Python's Flying Circus, a British television comedy series which first aired on October 5, 1969. As a television series it consisted of 45 episodes over 4 series. However, the Python phenomenon was much greater, spawning stage tours, four films, numerous audio recordings, several computer games and books, as well as launching the members to individual stardom.
The television series, broadcast by the BBC from 1969 to 1974, was conceived, written and performed by Graham Chapman, John Cleese, Terry Gilliam, Eric Idle, Terry Jones and Michael Palin. Loosely structured as a sketch show, but with an innovative stream-of-consciousness approach (aided by Terry Gilliam's animations), it pushed the boundaries of what was then considered acceptable, both in terms of style and content.
The group's influence upon comedy has been compared to that which the Beatles had on music. While their influence all over the British comedic spectrum has been apparent for years, in America it is especially evident in much recent absurdist television programming like Adult Swim, South Park, and bits from the Conan O'Brien show.
The name was chosen because they thought it was funny. They basically sat round in a room making up names and eventually settled on this one. It has no real relevance to anything.
In a 2005 poll to find The Comedian's Comedian, three of the six members were voted amongst the top 50 greatest comedy acts ever by fellow comedians and comedy insiders. Michael Palin was at number 30, Eric Idle was voted to number 21 and John Cleese was at number 2, just beaten to the top by Peter Cook.
History (pre-Python)
Missing image
CleeseChapman1948Show.jpg
Missing image
JonesPalinIdle.jpg
Palin and Jones first met at Oxford University, while Cleese and Chapman met at Cambridge University. Idle was also at Cambridge, but started a year after Cleese and Chapman. Cleese met Gilliam in New York while on tour with A Clump Of Plinths.
Chapman, Cleese and Idle were all members of the famous Cambridge Footlights comedy revue club, which at that time also included future Goodies Tim Brooke-Taylor and Bill Oddie and the feminist icon Germaine Greer.
Variously, the Python members appeared in and/or wrote for the following shows before being united for Monty Python's Flying Circus:
Several of these programmes also featured other important British comedy writers and/or performers, including Ronnie Corbett, Ronnie Barker, Tim Brooke-Taylor, Graeme Garden, Marty Feldman, David Jason and the satirist David Frost.
Following the success of Do Not Adjust Your Set among the adult demographic, ITV offered Palin, Jones, Idle and Gilliam their own series together. At the same time, Cleese and Chapman were offered a series by the BBC, who had seen them on The Frost Report among other shows. However, Cleese was reluctant to do a two-man show, for various reasons including Chapman's difficult personality. Cleese had fond memories of working with Palin, and invited him to join the team. With the ITV series still in pre-production, Palin agreed, and brought Idle, Jones and Gilliam along. Much has been made of the fact that the Monty Python troupe is the result of Cleese's desire to work with Palin and the chance circumstances which brought the other four members into the fold.
Flying Circus and the Python style
The Pythons had a very definite idea about what they wanted to do with the series, and were a little dismayed when they saw Spike Milligan recording his series Q5, as it seemed like he'd beaten them to it. The group immediately scurried for a new style to call their own. After much debate, Terry Jones remembered an animation Terry Gilliam had done for Do Not Adjust Your Set called Beware of the Elephants which had no real theme, and was more of a stream of consciousness. Jones felt it would be a good concept to bring to the series, allowing sketches to blend into each other. Michael Palin was just as fascinated by another piece by Gilliam, called Christmas Cards. "It was absolutely brilliant," he later recalled, "with missiles coming out of church steeples. Terry's stream-of-consciousness animation was one of the examples of a way of doing things differently." As a result, the style of Monty Python was born.
The first series of the television show was originally planned as a vehicle for Cleese's career. Cleese, however, wanted to work in collaboration, and so the group was assembled in an organized and disciplined manner. Each day of writing started at 9 am and finished at 5 pm. At the start of a typical week, Cleese and Chapman worked as one pair of writers isolated from the others, Jones and Palin worked together, and Idle wrote alone. After a few days of working in this configuration, the entire group would get together with Gilliam and critique their scripts and exchange ideas. Their approach to writing was democratic. If the majority found the idea to be humorous, it would be included in the show. The casting of roles for the sketches was a similarly unselfish process, since each member viewed himself as a writer rather than an actor desperate for screen time. When the themes for sketches were finally chosen, Gilliam had free creative reign to decide for himself how to merge them together with fanciful animations, armed with his camera, scissors, and airbrush.
Several names for the show were bandied about before the title "Monty Python's Flying Circus" was settled upon. Some of the more memorable were "Owl Stretching Time" and "Bun, Wackett, Buzzard, Stubble and Boot". The members first decided they liked the idea of something ridiculous sounding, like a flying circus. Many variations then came and went. "Gwen Dibley's Flying Circus" was named after a woman at Palin's Mother's church, because Palin thought it would be funny if they named the series after someone real, who would then be utterly confused by it. "Barry Took's Flying Circus" was an affectionate tribute to the man who had brought them together. Cleese then added Python, liking the image of a slippery, sly individual it conjured up. The origin of "Monty" is somewhat confused, but Idle claims it was a popular and rotund fellow who drank in his local pub. People would often walk in and ask the barman "Has Monty been in yet?", forcing the name to become stuck in his mind.
Flying Circus pioneered some innovative formal techniques, such as the "cold intro", in which an episode began without the traditional opening titles or announcements. On several occasions the Pythons would even trick viewers by rolling the closing credits halfway through the show. Inspired by Milligan's earlier Q series, they also realised that they did not necessarily have to conclude a sketch with the traditional punchline. They experimented with ending segments by cutting abruptly to another scene or animation, walking offstage, addressing the camera, or introducing a totally unrelated event or character. A classic example of this approach was the use of Chapman's 'Colonel' character, who walked into several sketches and ordered them to be stopped because they were "too silly".
The use of Gilliam's surreal, collage stop motion animations was another innovative intertextual element of the Python style. Many of the images Gilliam used were lifted from famous works of art, and from Victorian illustrations and engravings. The giant foot, which crushes the title at the end of the opening credits, is in fact the foot of Cupid, cut from a reproduction of the Renaissance masterpiece Venus, Cupid, Folly, and Time by Bronzino. This foot, and Gilliam's style in general, have become considered the visual trademarks of the series.
The Pythons built on and extended the great British tradition of cross-dressed comedy. Rather than dressing a man as a woman for comic effect, the (entirely male) Python team would don frocks and make-up and play middle-aged women in an entirely straight manner (straight as in comedy style, rather than in a sexual preference respect). Thus a scene requiring a housewife would feature one of the male Pythons wearing a housecoat and apron, speaking in falsetto; the comic effect was accentuated by this, but the comedy itself was based on the role not the cross-dressing aspect - had a genuine woman played the role the sketch would still have had great comic effect.
Nonetheless, where sexual attraction was a required part of the sketch the Pythons were quite happy to include genuine (and usually busty) women in their sketches: the cross-dressing was reserved for roles such as housewives, waitresses, secretaries and other traditionally female roles where a sexual element was unnecessary or irrelevant.
Life after Python
Python (Monty) Pictures
Missing image
GeorgeHarrisonCash.jpg
The five surviving members of the main Monty Python team are directors of Python (Monty) Pictures Limited which was incorporated in 1973 and now manages ongoing activities resulting from their previous work together. In the accounts return, the company describes its activities as the 'exploitation of television and cinematographic productions'. In the last financial year for which accounts are available (to March 2002), the company's turnover was £3.3M (source: Bureau van Dijk's FAME).
When Monty Python's Flying Circus was shown in the USA by ABC in their 'Wide World of Entertainment' slot in 1975 the episodes were re-edited thus losing the continuity and flow intended in the originals. When ABC refused to stop treating the series in this way the members of Monty Python took them to court. Initially the court ruled that their artistic rights had indeed been violated, but on appeal they gained control over all subsequent US broadcasts of their programmes. The case also led to them gaining the rights to the programmes from the BBC once their original contracts ended at the end of 1980... a unique arrangement at the time. 5

A driving force behind Python in the late 1970s was the Beatles' George Harrison, who not only funded and appeared in Monty Python's Life of Brian as Mr. Papadopolous (though his voice is dubbed by Palin) but produced a number of their songs from that period, including the Lumberjack Song single. He also made a cameo appearance in Eric Idle's cult Beatles parody All You Need Is Cash (aka The Rutles), which incidentally united (for the most part) both Python and Saturday Night Live, and was co-produced by SNL's production company. Harrison once said in an interview, "Monty Python helped me get over the trauma of the breakup of the Beatles." 1

Going solo
Each member pursued other film and television projects after the break-up of the group, but often continued to work with one another. Many of these were very successful, such as A Fish Called Wanda (1988), starring Cleese and Palin. Palin and Cleese also appeared in Time Bandits (1981), a movie written by Gilliam and Palin, and directed by Gilliam. Palin appeared in Brazil (1985), directed and co-written by Gilliam. Idle appeared in The Adventures of Baron Munchhausen (1988), which was also directed and co-written by Gilliam. Idle had success in Nuns on the Run (1990) with Robbie Coltrane. Idle, Harrison, and Lorne Michaels' production company (mostly in conjunction with Python and the SNL cast) made All You Need Is Cash (aka The Rutles). John Cleese has had the largest solo career, having appeared in 59 theatrical movies, 22 TV shows or series, 23 direct-to-video productions, and 6 video games2.
The end?
Missing image
PythonReunion.jpg
The Pythons are often the subject of reunion rumours. The death of Graham Chapman in 1989 (on the eve of their 20th anniversary) seemed to put an end to this speculation, but in 1998 the five remaining members, along with what was purported to be Chapman's ashes, were reunited on stage for the first time in eighteen years. The occasion was in the form of an interview (hosted by Robert Klein, with an appearance by Eddie Izzard) in which the team looked back at some of their work and performed a few new skits. At one point during the event, Terry Gilliam "accidentally" knocked Chapman's urn over with his foot, and the ashes were cleared away with a vacuum cleaner.
On 9 October 1999, to commemorate 30 years since the Flying Circus' first TV appearance, BBC2 devoted an evening to Python programs, including a documentary charting the history of the team, interspersing them with new sketches filmed especially for the event.
In an interview to publicise the DVD release of The Meaning of Life, Cleese said a further reunion was unlikely. "It is absolutely impossible to get even a majority of us together in a room, and I'm not joking," Cleese said. He said that the problem was one of busy-ness rather than one of bad feelings. Eric Idle has said that he expects to see a proper Python reunion, "just as soon as Graham Chapman comes back from the dead." (This echoed a comment a surviving member of The Beatles once made, that "There can be no Beatles reunion as long as John remains dead.")
The 2003 "autobiography" The Pythons, compiled from a series of interviews with the surviving Pythons, reveals that a series of disputes in 1990 over a Monty Python and the Holy Grail sequel conceived by Idle may have resulted in the group's permanent fission. Cleese's feeling was that Monty Python's Meaning of Life was both personally difficult and ultimately mediocre, and for other reasons, didn't wish to do the film. Apparently Idle was angry with Cleese for refusing to do the film, which most of the remaining Pythons thought reasonably promising. Idle then refused to do what he saw as the Cleese-dominated reunion show a few years later.
March 2005 saw the full reunion of all cast members, minus the very dead Graham Chapman, at the premier of Eric Idle's musical Spamalot, based on the film "Monty Python and the Holy Grail." It opened in Chicago and has since opened in New York on Broadway. In 2005, it was nominated for 13 Tony Awards and won three: Best Musical, Best Direction of a Musical for Mike Nichols and Best Performance by a Featured Actress in a Musical for Sara Ramirez, who played the Lady of the Lake, a character specially added for the musical.
The Pythons
The youngest Python by a matter of weeks, Palin is often labeled 'the nice one'. He attended Oxford, where he met his Python writing partner Terry Jones. The two also wrote the series Ripping Yarns together. Palin and Jones originally wrote together, but soon found it was more productive to write apart and then come together and review what the other had written. Therefore, Jones and Palin's sketches tended to be more focused than that of the other four, taking one bizarre, hilarious situation, sticking to it, and building on it. Examples include The Spanish inquisition sketch and the Mr Creosote sketch in The Meaning of Life. These sketches take everyday situations (talking in the sitting room, dining out) but then introduce an unexpected, impossible to predict, rogue element (The Spanish Inquisition, a grotesquely overweight man). From here, Palin and Jones could play around with the newly created environment, taking it to impossible, unbelievably stupid extremes, for example, attempting to torture old ladies with cushions or having Cleese's waiter feed Mr Creosote until he actually explodes, showering the other diners in viscera.
In recent years, Palin has starred in a number of documentary travel series for the BBC in which he visits various - usually remote - locales, often along some predetermined route, for example his series Pole to Pole.
All the Pythons have an eclectic range of talents, but Terry Jones is particularly hard to compartmentalize. George Perry has commented that should you "speak to him on subjects as diverse as fossil fuels, or Rupert the Bear, or mercenaries in the Middle Ages or Modern China and in a moment you will find yourself hopelessly out of your depth, floored by his knowledge." However Jones is by no means a show off, he merely has a good natured enthusiasm. It is this same good natured enthusiasm that has led to his unflagging loyalty to the preservation of the group. As long as there is Terry Jones, there will be, in some way, a Monty Python. Jones' dedication to Python is not a recent occurrence however. As well as writing with Michael Palin, he committed himself to directing the Python films Monty Python and the Holy Grail and The Life of Brian, when it was felt that a member of the group should be in charge. Though the rest of the group appreciate such efforts, it would be a lie to say that there was not a little resentment at being bossed around by a man they viewed as an equal, especially when he acted as director. This has resulted in light hearted joking at Jones' expense: Eric Idle, for example, constantly hails him as the most boring man on the planet. Of Jones' innumerable contributions to the show, his parodic, screechy-voiced depictions of middle-aged women are among the most memorable.
Two writing partnerships were absorbed into the Pythons - John Cleese and Graham Chapman, Terry Jones and Michael Palin. That left Terry Gilliam in his own corner, a sensible position in view of the arcane nature of his work, and Eric Idle. Eric was content to be cast as the group loner, preferring to write by himself, at his own pace, although he sometimes found it difficult in having to present material to the others and make it seem funny without the back-up support of a partner. Cleese claimed that, though he often felt his position was unfair, Eric is an independent person and worked best on his own. Idle claimed, "It was easier in a show where there were thirteen in a series than with a film, where stuff was read out all the time, and you had to convince five others. And they were not the most un-egotistical of writers either." Eric studied at Cambridge, a couple of years behind John Cleese and Graham Chapman. His participation was essential to the Python synergy. His talent for verbal humor is exceptional, leading the group to dub him "master of the one liner". As a performer he can master with ease tongue twisting word plays that verge on impossibility. He is also a talented songwriter and accomplished guitarist with a real ear for lyrics and styles. This talent lent heavily to the Python's work, composing, amongst others, 'Always Look on the Bright Side of Life', which has become the group's signature tune. Idle is currently the writer of the broadway version of "Monty Python and the Holy Grail", named Spamalot.
Perhaps the best known of the Pythons, Cleese attended Cambridge (after being expelled from Clifton College, Bristol), where he met his future Python writing partner Graham Chapman. His work with Chapman was, aside from Gilliam's animations, perhaps the most surreal of the Pythons work and almost certainly the most intentionally satirical (a noteworthy achievement indeed). Unlike Palin and Jones, Cleese and Chapman actually wrote together, in the same room. Cleese claims that their writing partnership involved him sitting with pen and paper, and Chapman sitting back, not speaking for lengths at a time, but when he did speak, it was often brilliant. Without Chapman's input, the Dead Parrot sketch would have been about the duller subject of a car (it is much harder to imagine Cleese throwing about a car in the same way he threw about the parrot). Their work often involved ordinary people in ordinary situations, doing incredibly strange and surreal things. For example, Cleese and Chapman transformed the ordinary sight "a civil servant in black suit and bowler hat makes his way to work" into a bizarre, unforgettable scene; the straight faced Cleese used his writing skills and his physical potential to their full force as the crane legged civil servant performing an athletic, grotesque, utterly memorable walk to his office at the 'Ministry of Silly Walks'. This showcased Cleese's talent for physical comedy (also famously used in Fawlty Towers) and playing characters who could remain serious, even straight faced, whilst doing something utterly ludicrous. His role as Sir Launcelot in Monty Python and the Holy Grail also showcases this, as he fights his way through a castle to save a damsel in distress, much like, say, Kevin Costner in films such as Robin Hood, completely oblivious to the fact that he is actually savaging wedding guests. Another popular device used by the two was highly articulate arguments over completely arbitrary subjects, such as in the cheese shop, the dead parrot sketch or the Argument clinic. All of these roles were opposite Michael Palin, who Cleese often claims is his favourite Python to work with.
Chapman was perhaps best remembered for taking on the lead roles in The Holy Grail, as King Arthur, and The Life of Brian, as Brian Cohen. The movie roles were fairly straight, the comedy deriving from the stereotypical lead in bizarre situations, encountering eccentric characters, still being played as serious, and unflinching. These roles, however, were unusual for the Graham Chapman the public had come to know on the Flying Circus, where he figured as the tall, craggy pipe smoker who gave the impression of calmness, disguising a manic unpredictability as real in his characters as they were in reality. For behind the pipe-smoking, rugby playing exterior lay an alcoholic homosexual, with whom the rest of the Pythons often had trouble dealing. This was one of the reasons that Cleese left the television show after series three. Chapman particularly had trouble filming the Holy Grail in Scotland, where he got a case of delirium tremens, often called DTs. During his worst alcoholism, he was reportedly consuming two quarts of gin every day.3 However, by the time his definitive role of Brian arose, he was sober and continued to produce some of his best work with the Pythons. Graham Chapman died of cancer on 4 October 1989. Thanks to the nature of the other Pythons, he is now lovingly referred to as "the dead one."
Although he was primarily involved with animation, Gilliam also occasionally appeared before the camera, usually playing parts that no one else wanted to play (generally because they required a lot of makeup or uncomfortable costumes). He also co-directed the Holy Grail as well as short segments of other Python films. He was the only American Python.
Missing image
CarolCleveland.jpg
The 7th Python
Commonly referred to as the "7th Python", or the "Python Girl", Carol Cleveland was the only significant female performer in the Monty Python ensemble. Originally hired by producer/director John Howard Davies for just the first five episodes of the Flying Circus TV series, she went on to appear in nearly every episode as well as in all of the Python films. Her common portrayal as the stereotypical "blonde bimbo" eventually earned her the nickname "Carol Cleavage" by the other Pythons.
Much in the same way that many people are alleged to be the Fifth Beatle, there are also other notable contributors to the Python troupe. John Cleese's ex-wife Connie Booth, who would go on to write and star with him in Fawlty Towers, was probably the only other significant female performer. She appeared in, amongst others, The Lumberjack Song and as the "witch" in Monty Python and the Holy Grail. It has been suggested that she may also have assisted Cleese and Chapman in their writing.
Neil Innes is the only non-Python, besides Douglas Adams, to be credited with writing material for the Flying Circus. He appeared in sketches and the Python movies, as well as performing some of his songs in Monty Python Live at the Hollywood Bowl. He was also a regular stand-in for absent Pythons on the rare occasions when they appear to re-create sketches. For example, he took the place of John Cleese when he was unable to appear at the memorial concert for George Harrison. Terry Gilliam once noted that if anyone qualified for the title of the "Seventh Python," it would certainly be Innes.
Eddie Izzard, a massive fan of the group, also occasionally stands in for absent members. When the BBC held a "Python Night" in 1999 to celebrate 30 years of the first broadcast of Flying Circus, the Pythons recorded some new material with Izzard standing in for Eric Idle, who was in America. He also appeared with them "Live at Aspen" and hosted a history of the group entitled "the Life of Python."
Python media
For a more comprehensive list of Python media, including books, live shows, records, and video games, see: Monty Python mediagraphy
Television
The show that started the Python phenomenon.
Films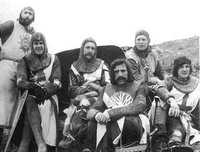 There were four Monty Python films:
A collection of re-filmed sketches from the first and second series of Monty Python's Flying Circus.
King Arthur and his knights embark on a low-budget search for the Holy Grail, encountering humorous obstacles along the way. Some of these turned into standalone sketches.
Brian is born on the first Christmas, in the stable next to Jesus'. He spends his life being mistaken for a messiah.
Live performance of skits directed by Ian MacNaughton
An examination of the meaning of life in a series of sketches from conception to death and beyond, from the uniquely Python perspective.
Theatre
Written by Eric Idle, directed by Mike Nichols, with music and lyrics by John Du Prez and Eric Idle, and starring Hank Azaria, Tim Curry, and David Hyde Pierce, SpamAlot is a musical adaptation of the film Monty Python and the Holy Grail. It ran in Chicago from December 21, 2004 to January 23, 2005, and began showing on Broadway on February 14, 2005.
Monty Python's Flying Circus - The first and only authorised stage version (of the sketch show itself) is currently touring Great Britain, and is highly successful (Terry Gilliam calling it 'better than we could manage at the time') despite its twist - the fact that it is being performed in French. It was originally performed in Paris where it was successful before being a surprise hit at the Edinburgh Fringe Festival. With the strapline 'Et maintenant pour quelque chose complètement différent!' it is titled for English audiences with similar facilities to those used for deaf or hearing impaired. Find out more here (http://www.riversidestudios.co.uk/cgi-bin/page.pl?l=1098373264).
Trivia
The September 17, 2004 episode of Jeopardy! featured Python-related category titles in the Double Jeopardy round: Monty Python, Bring Out Your Dead, Spam, Summarizing Proust, I'm A Lumberjack, and Knights Who Say "Ni"!
All of the Beatles were fans of Monty Python. Ringo Starr made a cameo appearance after the credits of the Flying Circus episode Mr. & Mrs. Brian Norris' Ford Popular, playing himself. Besides George Harrison's work mentioned above, he also appeared as a mountie during the Lumberjack Song at the Python's City Center venue. The last song on the warm-up tape before Harrison's concerts was the Lumberjack Song.1
A new species of snake was discovered in Australia in the early 1980s, of which the Latin name starts Monte Python... The full name: Montypythonsidesriversleighensis.1
The title Monty Python's Flying Circus was partly the result of the group's reputation at the BBC. Michael Mills, BBC's Head of Comedy, wanted their name to include the word "circus", because the BBC referred to the six members wandering around the building as a circus. The group added "flying" to make it sound less like an actual circus and more like something from World War I. "Monty Python" was added because they claimed it sounded like a really bad theatrical agent, the sort of person who would have brought them together.4
The Python programming language is named after the troupe, and Monty Python references are often found in sample code created for that language.
The Monty Python foot icon is used to represent the slashdot.org post category "It's funny. Laugh." [1] (http://slashdot.org/topics.shtml)
Notes
Clarkson, M. (1994). Monty Python...Facts and Trivia. Britcomedy Digest 1 (3).

IMDB (http://www.imdb.com); as of January 2005; includes pre-release items.
Anglin, A. (2004). The Alt.Fan.Monty-Python FAQ (http://www.pythonfan.com/FAQ/faq.html). Retrieved Dec. 5, 2004.

Chapman, Graham (1997). Graham Crackers: Fuzzy Memories, Silly Bits, and Outright Lies. Career Pr Inc. ISBN 1564143341.

BBC Comedy Guide (http://www.bbc.co.uk/comedy/guide/articles/m/montypythonsflyi_1299002137.shtml)

See also
External links
cs:Monty Python
da:Monty Python de:Monty Python eo:Monty Python es:Monty Python fr:Monty Python he:הקרקס המעופף של מונטי פייתון hu:Monty Python id:Monty Python it:Monty Python ja:モンティ・パイソン la:Pytho Montium nl:Monty Python no:Monty Python pl:Monty Python pt:Monty Python simple:Monty Python sv:Monty Python zh:Monty Pythons