Merseyside
From Academic Kids
Merseyside
Geography
Status:
Ceremonial and Administrative County (no county council)
Region:
North West England
Area:
- Total
Ranked 43rd
645 km²
ONS code:
2B
NUTS 2:
UKD5
Demographics
Population:
- Total (2003 est.)
- Density
Ranked 9th
1,364,212
2,115
Ethnicity:
97.1% White
Politics
Members of Parliament

Joe Benton, Ben Chapman, Claire Curtis-Thomas, Angela Eagle, Maria Eagle, Louise Ellman, Frank Field, Stephen Hesford, George Howarth, Jane Kennedy, Peter Kilfoyle, Edward O'Hara, John Pugh, Robert Wareing, David Watts, Shaun Woodward

Districts
Merseyside is a metropolitan county, created in the 1974 local government reform. It is in the north of England, on the River Mersey, composed of the metropolitan boroughs of Liverpool, Knowsley, Sefton, St Helens and Wirral.
The county was initially administered by the Merseyside County Council but this was abolished in 1986, and so its boroughs are now effectively unitary authorities.
Despite the abolition of the county council some local services are still run on a county-wide basis, now administered by joint-boards of the five metropolitan boroughs, these include the:
Merseyside still exists legally, and as a ceremonial county. It borders onto Lancashire, Greater Manchester and Cheshire.
Other districts that are part of the urban area (but not part of Merseyside) are Ellesmere Port and Neston and Halton.
Uniquely among English counties, it is traditional to express location within the Merseyside area by the pronoun on, thus "on Merseyside" as opposed to "in Merseyside" (after all, one would be "on the side of the Mersey" not "in" it). However, both expressions are common in modern usage.
Merseyside Police Authority
The Merseyside Police Authority is responsible for providing Merseyside,England with an adequate and efficient police force.
It is made up of nine local councillors, three magistrates and five independent members.
Towns and villages
See the list of places in Merseyside.
Places of interest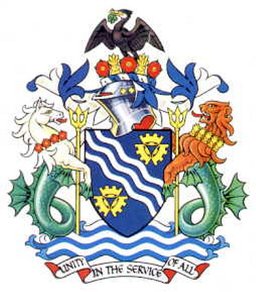 External links
de:Merseyside