Loch Leven (Highlands)
From Academic Kids
Loch Leven is a sea loch on the west coast of Scotland.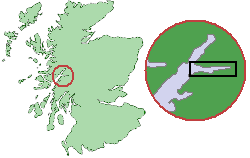 Loch Leven extends 14 kilometers, varying in width between 200 and 1800 meters. It opens onto Ballachulish Bay, part of Loch Linnhe at its western end. There are seven small islands, some rocky and covered with heather and some just smooth green grass, near the western end of the loch.
The village of Glencoe lies on its southern shore. The burial place of the MacDonald clan of Glencoe lies on an island - Eilean a' Munda, or St Mungo's Island, opposite the village. The island burial place was also shared by the Camerons of Callart on the north shore of the loch.
The village of Kinlochleven lies at the head of the loch. It originally lay on the road north to Fort William which followed the shores of the loch, but a bridge was built across the mouth of the loch at Ballachulish in 1975.
Under the Ballachulish Bridge, at the entrance to the loch, is the narrows after which Ballachulish (the settlement on the narrows) is named. There is a fast tidal stream through the narrows, running at up to seven knots at springs; it is wise, therefore, to time any passage through the narrows with the tides. Further up the loch, there are several other narrows with significant, but diminishing tidal streams. The loch is navigable as far as Kinlochleven, and was used by ships bringing bauxite to the smelter there until its closure.

There is also a freshwater Loch Leven in Perth and Kinross, the site of Loch Leven Castle.pl:Loch Leven