Kahului Airport
From Academic Kids
Kahului Airport Template:Airport codes is a regional airport of the State of Hawai'i three miles east of Kahului, Hawaii on the island of Mau'i near Haleakala. The airport codes homage aviation pioneer Bertram J. Hogg who worked for what is now Hawaiian Airlines flying aircraft ranging from 8-passenger S-38 amphibians to DC-3s and DC-9s into the late 1960s. Most flights into OGG originate from Honolulu International Airport.
Kahului Airport is currently going through several phases of expansion, authorized by the Hawai'i State Legislature. A long term goal had been set to prepare Kahului Airport for eventual elevation to permanent international airport status with potential regular service routes from Canada and Japan.
Authority
Kahului Airport is part of a centralized state structure governing all of the airports and seaports of Hawai'i. The official authority of Kahului Airport is the Governor of Hawai'i. He or she appoints the Director of the Hawai'i State Department of Transportation who has jurisdiction over the Hawai'i Airports Administrator.
The Hawai'i Airports Administrator oversees six governing bodies: Airports Operations Office, Airports Planning Office, Engineering Branch, Information Technology Office, Staff Services Office, Visitor Information Program Office. Collectively, the six bodies have authority over the four airport districts in Hawai'i: Hawai'i District, Kaua'i District, Mau'i District and the principal O'ahu District. Kahului Airport is a subordinate of Mau'i District officials.
Facilities
Kahului Airport is composed of two main runways designated Runway 2/20 and Runway 5/23 respectively. It also is host to an asphalt helipad.
Airlines
Disasters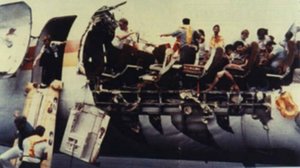 On April 28, 1988, an Aloha Airlines Boeing 737 interisland flight from Hilo Airport to Honolulu International Airport carrying 89 passengers and 6 crew members experienced rapid decompression when an 18 feet section of the fuselage roof and sides were torn from the airplane. One flight attendant was sucked out of the airplane and died. Several passengers sustained life-threatening injuries including instances of massive head wounds. The aircraft declared an emergency and landed at Kahului Airport with slight difficulty. Noise created by the rush of air rendered vocal communication useless and had to use hand signals during landing.
Investigations of the disaster, headquartered at Honolulu International Airport, concluded that the accident was caused by metal fatigue. The disaster caused almost all major United States air carriers to retire their oldest airplane models.
Expansion
Missing image
Kahuluiairportlobby.jpg
As a result of the passage of several Hawai'i State Legislature bills in 1998 and 2001, Kahului is undergoing expansion plans for new, larger facilities, lengthening of runways, increasing of fuel storage capacities, and construction of new access roads. A controversial project, it has met strong opposition from local residents who do not agree with prospects of elevating Kahului Airport to a permanent international airport. Currently, Kahului Airport only accepts a few seasonal international flights from Canada.
Expansion comes as Kahului experiences a boom of flights from the mainland United States. In the early 2000s, new service routes were created between Kahului Airport from Dallas-Fort Worth International Airport, George Bush Intercontinental Airport and Seattle-Tacoma International Airport.
Resources