Aloha Airlines
From Academic Kids
Aloha Airlines is an airline headquartered in Honolulu, Hawaii. It serves both interisland routes within the Hawaiian Islands and transpacific routes between Hawaii and airports in California and Nevada. Aloha is a Hawaiian word expressing affection or love, commonly used as a greeting.
Aloha's main hub is located at Honolulu International Airport, also the hub for competitor Hawaiian Airlines. Aloha markets some interisland routes served by partner Island Air, and its frequent flyer program, AlohaPass, is a partner of United Airlines' MileagePlus program.
The airline rates an "A" safety rating, the highest grade possible, according to Air Rankings Online (see Airline Rankings (http://www.airsafetyonline.com/safetycenter/reportcard.shtml)). Rankings are cumulatives, based on the number of fatal accidents per million flights that the carrier has flown since 1970.
In December 2004, Aloha Airlines filed for Chapter 11 bankruptcy protection in an attempt to cut costs and remain competitive with other airlines serving Hawaii.
Codes
1988 Aloha Airlines disaster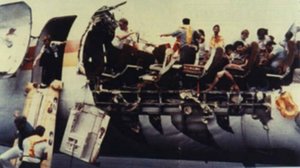 On April 28, 1988, Aloha Airlines Flight 243 Boeing 737 (N73711) interisland flight from Hilo Airport to Honolulu International Airport carrying 89 passengers and 6 crew members experienced rapid decompression when an 18 feet section of the fuselage roof and sides were torn from the airplane. One flight attendant was forced out of the airplane due to the pressure difference and died as a result. Several passengers sustained life-threatening injuries including instances of massive head wounds. The aircraft declared an emergency and landed at Kahului Airport on Maui with slight difficulty. Noise created by the rush of air rendered vocal communication useless and the crew had to use hand signals during landing.
Investigations of the disaster concluded that the accident was caused by metal fatigue. The disaster caused almost all major United States air carriers to retire their oldest airplane models.
The event was dramatised as a television movie titled Miracle Landing. It starred Connie Sellecca and Wayne Rogers.
Fleet
Aloha Airlines' jet fleet consists of two types of Boeing 737 aircraft. The mainstay of the fleet, used on interisland runs, is the 737-200; it permitted to operate by an exception granted by the Federal Aviation Administration. The newer, long-range variant, the 737-700, has wider wings and greater fuel capacity and is deployed for trips to the mainland.
External links
fr:Aloha Airlines