North American Airlines
From Academic Kids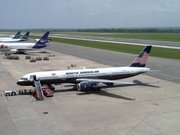 North American Airlines (IATA: NA) is an airline based at John F. Kennedy International Airport in New York.
North American's began operations in 1989, when the airline started flying charter flights on Boeing 757 aircraft. The company grew during the 1990's, adding flights to San Juan, various spots in Mexico and other destinations. North American also started a scheduled flight from Los Angeles International Airport to JFK to complement El Al's existing LAX-JFK-Tel Aviv run and provide the Israeli airline with more passengers. North American also opened operations in Newark, New Jersey at that time.
Although North American is small in comparison to many other U.S. airlines, the company has operated flights to destinations on every inhabited continent. In addition to their original 757's, North American also operates Boeing 767's for long-range, high-density charter flights.
The company's scheduled services are currently limited to flights from JFK to Santo Domingo, Dominican Republic, Aguadilla, Puerto Rico, Georgetown, Guyana, and Santiago, Dominican Republic. North American's charter operations make up the bulk of its business: resorts such as Club Med and tour operators in Hawaii and the Caribbean charter North American's aircraft on a regular basis. North American also supplied the 757 used by George W. Bush during his 2000 presidential campaign.
External links