John Peel
For other uses, see John Peel (disambiguation).
John Robert Parker Ravenscroft, OBE (30 August, 1939 – 25 October 2004), known professionally as John Peel, was a British disc jockey and radio presenter. He was one of the original DJs of Radio 1 in 1967 and the only one remaining on Radio 1 at the time of his death. Known for the extraordinary range of his taste in music and the occasional mistakes (such as playing records at the wrong speed) that marked his shows, John Peel was one of the most popular and respected DJs in the United Kingdom. His influence on alternative rock, pop, and dance music is widely acknowledged as being incalculably large.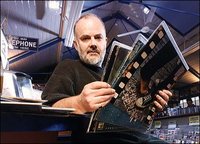 Early life
Peel was born in Heswall in the Wirral, near Liverpool, the son of an upper middle class cotton merchant, and educated as a boarder at Shrewsbury School. His housemaster, R. H. J. Brooke, whom Peel described as "extraordinarily eccentric" and "amazingly perceptive", wrote on one of his school reports:
"Perhaps it's possible that John can form some kind of nightmarish career out of his enthusiasm for unlistenable records and his delight in writing long and facetious essays."
After finishing his National Service in 1959 he went to the United States and first worked for WRR Radio in Dallas, Texas. While there he attended the arraignment of Lee Harvey Oswald shortly before Oswald's assassination. He later worked for KOMA in Oklahoma City using the name John Ravencroft and KMEN in San Bernardino, California.
"I had been working on radio in America since 1961, initially Dallas, Texas; then I got into it full time as a Beatle expert in Oklahoma City in '64/66. I was in California for a year and half in San Bernadino, came back here in '67 and was by and large unemployable at the time. I hadn't anything to come home to. Just luck really, being in the right place at the right time, music lovers might argue the wrong place at the wrong time."
Beginning of British career
He returned to England in 1967 to work for the offshore pirate radio station Wonderful Radio London. He was offered the midnight-to-two shift, which developed into a program called The Perfumed Garden (named after an erotic book famous at the time). It was on "Big L" that he first adopted the name John Peel.
"At the time I was coming to the end of a fairly catastrophic marriage ... my wife was amazingly aggressive and she hit me a lot and so I was pleased to be on the ship for two weeks out of three. ... It wasn't until [the Beatles' manager] Brian Epstein phoned [the station manager in London] ... on having the foresight to put on this excellent programme late at night and ... thought 'we had better listen to this' ... they were all slightly horrified but it had gone too far for them to stop it ... There was a play list and commercials that had to be done ... but ... after midnight I virtually did away with them ... I didn't bother to do the news or the weather or anything. Just to do two hours of records and reading other people's poetry very badly."
John Peel brought sixties culture to a generation of young Londoners through his Perfumed Garden on Wonderful Radio London, playing classic blues and folk music as he gently introduced groundbreaking music of Tyrannosaurus Rex and Captain Beefheart, esoteric performers like Ron Geesin and John Fahey, and broke new British bands like Family and Fairport Convention. His show influenced the rise of most subsequent styles of rock music.
Wonderful Radio London closed on August 14, 1967 at 3pm just before the Marine Broadcasting Offences Act became law at midnight. The new law made the offshore broadcasting illegal for British citizens serving as advertisers, suppliers, news-readers and DJs.
BBC career
BBC Radio 1
When Wonderful Radio London closed down on August 14, 1967, John Peel joined the BBC's new pop music station, Radio 1, which began broadcasting the following month. Unlike Big L, Radio 1 was not a full-time station, but a hybrid of recorded music and live studio orchestras broadcast at the same time as the talk and light music of BBC Radio Two. The pirate stations had been successful partly because they played records continuously, but the BBC was gagged by a Musician's Union and record company restriction called "needle time". While The Perfumed Garden had been spontaneously produced and introduced by John Peel, BBC regulations demanded that Peel anchor a show produced by John Walters called Top Gear. Peel recalled:
"I was one of the first lot on Radio 1 and I think it was mainly because ... Radio 1 had no real idea what they were doing so they had to take people off the pirate ships because there wasn't anybody else."
From the start Peel displayed his eclectic and avant-garde taste in music. He was largely responsible for introducing BBC listeners to punk rock, reggae and hip-hop. In 1973 he played both sides of Mike Oldfield's Tubular Bells in full, and helped establish Richard Branson's Virgin music label. He was the first English DJ to play a record twice in a row — "Teenage Kicks" by The Undertones in 1978 — though he played a record twice in the same broadcast a number of times before and after this event. Peel championed the long-running Manchester band The Fall, who played 24 sessions for the show, including one on Peel's 60th birthday. He once liked a Cocteau Twins album so much that he played a whole side, non-stop, without interruption. His avant-garde musical tastes brought him into conflict with other more conservative DJs at the BBC such as Tony Blackburn and Simon Bates, and he remained a dominant force in independent music, both in the UK and across Europe, until his death. His radio show was latterly sometimes broadcast from his home, named "Peel Acres", in Suffolk and had a homely air, with his wife, Sheila, whom he affectionately referred to as The Pig (because of her laugh) and his daughter, Flossie, often being involved or at least mentioned.
Needle Time
Peel's show featured the famous John Peel sessions which were a restriction that Peel turned into an opportunity. Due to restrictions imposed on the BBC by the Musicians' Union and Phonographic Performances Limited which represented the record companies dominated by the EMI cartel, the BBC had been forced to hire bands and orchestras to render cover versions of recorded music. The theory behind this device was that it would create employment and force people to buy records and not listen to them free of charge on the air. One of the reasons why all of the offshore broadcasting stations of the 1960s were called "pirates" was because they operated outside of British laws and were not bound by the needle time restriction on the number of records they could play on the air. However, Don Pierson who created Wonderful Radio London, stated in a 4FWS interview that EMI used to send runners to the station's offices in London to deliver the latest batches of records free of charge, while denouncing the stations in the press. Pierson said in the interview that he finally told EMI to cut out the hypocrisy or he would expose their activities in the press. (For more information about the relationship between the record industry, "pirate radio" and "needle time", see IFPI.)
The BBC employed its own house bands and orchestras and it also engaged outside bands to record exclusive tracks for its programs in BBC studios. This was the reason why Peel was able to use "session men" in his own programs. Sessions were usually four tracks recorded and mixed in a single day; as such they often had a rough and ready, demo-like feel, somewhere between a live performance and a finished recording. Many classic Peel sessions have been released on record, particularly by the Strange Fruit label. Latterly the show also regularly featured live performances, mostly from Maida Vale in London, but occasionally in the Peel Acres living room.
Peel also played many older records on his show, specifically in two sections he introduced:
"The Pig's Big 78": Sheila, John's wife, chose a 78rpm record, which he played.
"The Peelennium": broadcast over his last 100 shows of 1999, this covered the music of the 20th century. Each show covered a different year in turn—four records from the year would be played and main news stories covered.
Besides the countless bands he championed, Peel also supported the rare and the unusual, often in the form of the spoken word. If not for John Walters and John Peel, it's possible that Vivian Stanshall's Sir Henry at Rawlinson End might never have been heard.
An annual tradition of the show was the Festive Fifty—a countdown of the best tracks of the year as voted for by the listeners. Despite Peel's eclectic playlist, the Festive Fifty tended to be composed largely of "white boys with guitars," in Peel's words. This frustrated Peel somewhat, and in 1991 he went so far as to cancel the rundown. Topped inevitably by Nirvana's "Smells Like Teen Spirit", this Phantom Fifty was eventually broadcast at the rate of one track per programme, some years later. The 1997 chart was, unusually, a Festive Thirty-One.
There is a happy hardcore track entitled "John Peel is Not Enough" by the artist CLSM. Peel was so impressed by it that not only did he play it on his show several times, but dedicated an entire show to happy hardcore, in hopes that it could spawn its own show. Peel also championed a wealth of other musical genres from reggae to death metal.
Many bands and artists of many different musical styles from different decades credit Peel as a major boost to their careers, the list includes T-Rex, David Bowie, The Faces, Bolt Thrower, The Sex Pistols, The Clash, Napalm Death, The Undertones, Buzzcocks, The Cure, Joy Division, Pulp, Orbital, The Smiths and The White Stripes. Peel's reputation as the most important DJ breaking unsigned acts into the mainstream was such that in 1983 unsigned artist Billy Bragg drove to the Radio 1 studios with a mushroom biryani and a copy of his record after hearing Peel mention that he was hungry, the subsequent airplay launching his career.
Peel remained on Radio 1 for 37 years, until his death in 2004. Coincidently, the last track he played on his final show was "Time 4 Change" from the album No One's Listening Anymore (by Klute).
BBC World Service
In addition to his Radio 1 show, he broadcast as a disc jockey on the BBC World Service, 30 years on the British Forces Broadcasting Service BFBS, VPRO Radio3 in the Netherlands, and on Radio Eins in Germany. His audience also broadened to include listeners around the world listening to internet audio broadcasts.
BBC Television
In 1969, John acted as chauffeur to Captain Beefheart on his UK tour. He was an occasional presenter of Top of the Pops on BBC1 from the late 1960s until the 1990s. In 1971 he appeared not as presenter but performer, alongside Rod Stewart and The Faces, pretending to play mandolin on "Maggie May."
Peel, as the most senior and well known "alternative" DJ often presented the BBC's television coverage of music events, notably Glastonbury Festival.
Later years
In his later years Peel appeared to mellow somewhat. Between 1995 and 1997 he presented a show about children, called Offspring, on Radio 4. In 1998 Offspring grew into the magazine-style documentary show Home Truths. When he took on the job presenting the programme, which is about everyday life in British families, Peel requested that it be free from celebrities, as he found real life stories more entertaining. Home Truths was described by occasional stand-in presenter John Walters as being "about people who had fridges called Renfrewshire". He also made regular contributions to BBC TWO's humorous look at the irritations of modern life Grumpy Old Men.
In the 1970s John and his wife Sheila moved to a thatched cottage in a small village near Stowmarket in Suffolk, starting a family of four children. In the eight-acre (32,000 m²) garden, referred to on the radio as Peel Acres, he housed his record collection, estimated by then to be in the hundreds of thousands, in a number of barns and stables. In his later years Peel introduced many of his radio shows from a studio at Peel Acres.
He was also in demand as a voice-over artist for television documentaries, such as BBC ONE's A Life of Grime, and advertisements, though he reportedly refused to work on adverts for products that he didn't use himself.
Peel was 11 times Melody Maker's DJ of the year, Sony Broadcaster of the Year in 1993, winner of the Godlike Genius Award from the NME in 1994, Sony Gold Award winner in 2002 and is a member of the Radio Academy Hall of Fame. At the NME awards in 2005 he was Hero of the Year and was posthumously given a special award for "Lifelong Service To Music". At the same event the "John Peel Award For Musical Innovation" was awarded to The Others. He gained several honorary degrees including two doctorates and an honorary fellowship of Liverpool John Moores University. He was appointed an OBE in 1998, for his services to British music.
In April 2003 the publishers Transworld successfully wooed Peel with a package worth up to £1.6 million for his autobiography, having placed an advert in a national newspaper aimed only at Peel. The planned release date was in 2005.
Peel was diagnosed with diabetes in 2001 and two weeks before his death he told friend and colleague Andy Kershaw that the move of his show, in summer 2004, back an hour from a 10pm start to 11pm, caused him a lot of stress and that he felt marginalised and unappreciated.
Peel died suddenly at the age of 65 from a heart attack on October 25, 2004, on a working holiday in the Inca city of Cuzco in Peru. Shortly after the announcement of his death, tributes began to arrive from fans and supporters both in and out of public life. Among the first to pay their respects were such seminal British artists as Blur, Oasis, and New Order. Prime Minister Tony Blair also paid tribute.
On October 26, 2004 Radio 1 cleared its schedules to broadcast a day of tributes, while BBC THREE added a small and discreet caption to its logo: "Dedicated to John Peel." A stage for new bands at the Glastonbury Festival, previously known simply as 'The New Tent' has been renamed 'The John Peel Stage'.
His funeral, on November 12, 2004, in Bury St Edmunds, Suffolk, was attended by thousands from around the world including artists he had championed. Eulogies were read by his brother, Alan Ravenscroft, and DJ Paul Gambaccini. The service ended with clips of him talking about his life and his favourite song, "Teenage Kicks," was played. A private family service was held after the public funeral.
Peel often spoke wryly of his eventual death. He once said,
"I've always imagined I'd die by driving into the back of a truck while trying to read the name on a cassette, and people would say, 'He would have wanted to go that way.' Well, I want them to know that I wouldn't."
At one point, he said that if he died before his producer John Walters, he wanted the latter to play Roy Harper's "When an Old Cricketer Leaves the Crease." Another time, he said he'd like to be remembered with a gospel song. Peel's favourite single was "Teenage Kicks" by The Undertones, which was played on Radio 1 after his death was announced. In 2001 he told The Guardian that apart from his name all he wanted on his gravestone were some of the lyrics from this track: "Teenage Dreams, So Hard To Beat" [1] (http://www.guardian.co.uk/arts/news/story/0,11711,1336872,00.html).
References
Most quotations by Peel cited above come from an extensive article written by him about his own life up until 1984. It was published in 1984 as part of an anthology and diary about pirate radio history called Pirate Radio: Then and Now by Stuart Henry and Mike von Joel. Blandford Press, Dorset, UK. ISBN 0-7137-1497-2
Don Pierson's explanation about the part played by EMI in "needle time" while supplying records free of charge to the offshore stations such as Wonderful Radio London is covered in Mass Media Moments in the United Kingdom, the USSR and the USA, by Eric Gilder - "Lucian Blaga" University of Sibiu Press, Romania. 2003 - ISBN 973-651-596-6
Trivia
Peel was a fan of Liverpool Football Club.
Peel once auctioned a kidney stone for charity minutes after passing it while DJing at a student party.
Peel used aliases when checking into his laundry, including "Eddie Lee Beppaux" and "Jack Frobisher".
The last musical artist to record a Peel session was the band Hot Snakes (http://www.hotsnakes.com/) on 14 October 2004 at Maida Vale Studios, which later released the recording as a 7-inch.
External links
Official sites
Interviews
Obituaries
Tributes
Other links
de:John Peel fi:John Peel he:ג'ון פיל nl:John Peel pl:John Peel (prezenter)