Thatching
From Academic Kids
Missing image
Pub.williams.arp.750pix.jpg
Thatching is the art or craft of covering a roof with vegetative materials such as straw, reed or sedge.
Thatch is one of the oldest roofing materials and has been used by traditional builders on every continent except Antarctica. It offers excellent insulation value (generally R40) at little or no cost for materials and is relatively easy to repair.
Thatch has fallen out of favor in much of the industrialized world due to its relative inflammability and the lack of skilled thatchers. New flame retardants make thatch more competitive with modern materials but insurance companies and municipal building inspectors often discourage its use. England, which is currently undergoing a revival in thatching, has at least 30,000 thatched buildings and is widely regarded as having some of the best examples of the art.
A roof thatched with water reed (a more durable and water-resistant material than straw) will last approximately 70 years with very little maintenance. When a thatch roof is in need of repair a new layer is often placed over the old. On old buildings up to four feet of thatch can accumulate.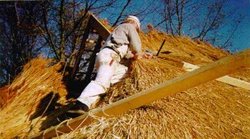 Examples of Thatched Building Forms