From Academic Kids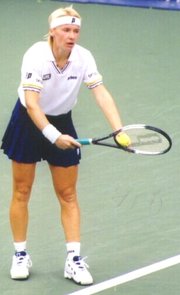 Jana NovotnŠ (b. October 2 1968 in Brno, Czechoslovakia) is a former professional tennis player from the Czech Republic. She is best remembered for winning the women's singles title at Wimbledon in 1998, and for crying on the shoulder of the Duchess of Kent after losing the Wimbledon singles final in 1993. NovotnŠ was also an outstanding doubles player who won 16 Grand Slam doubles titles.
NovotnŠ turned professional in 1986. In the early years of her career she was known primarily for her success as a doubles player. In the early-1990s, she took on four-time former Grand Slam singles champion Hana MandlŪkovŠ as her coach, and began to distinguish herself as a singles player.
NovotnŠ reached her first Grand Slam singles final in 1991 at the Australian Open, where she lost in three sets to Monica Seles 5-7, 6-3, 6-1.
Two years later, NovotnŠ reached her first singles final at Wimbledon where she faced Steffi Graf. After losing a tight first set, NovotnŠ put in an almost flawless performance to take a 6-7, 6-1, 4-1, 40-15 lead. However, with a convincing victory seemingly in her grasp, she lost her nerve and began missing easy shots, sometimes hitting the ball out by wide margins (including an infamous overhead smash that hit the back tarp). Graf took the next five games in sucession and the title. During the prize-presentation ceremony, a distraught NovotnŠ burst into tears and cried on the Duchess of Kent's shoulder. The Duchess comforted her by saying that she was sure NovotnŠ would win the title one day. But at the time, many doubted that this was likely given how dramatically she had choked against Graf.
It took four years for NovotnŠ to reach another Wimbledon final. In 1997 she faced Martina Hingis. NovotnŠ dominated the first set, which she won 6-2. But she then succumbed to the Swiss teen's accurate passing shots and lost 2-6, 6-3, 6-3. However NovotnŠ went on to win the 1997 WTA Tour Championships, and finished the year ranked a career-high World No. 2 in singles.
NovotnŠ's moment of Wimbledon glory finally arrived in 1998. After routing a young Venus Williams in the quarter-final, she avenged the previous year's loss by ousting Hingis in the semi-finals, and then angled past another veteran, Nathalie Tauziat, in the final 6-4, 7-6.
NovotnŠ also won 12 Grand Slam women's doubles titles (4 Wimbledon, 3 French Open, 3 US Open, and 2 Australian Open), and 4 Grand Slam mixed doubles titles (2 Australian Open, 1 Wimbledon, and 1 US Open). She was ranked the World No. 1 doubles player 11 times.
NovotnŠ was a member of the Czechoslovakian team which won the Fed Cup in 1988. At the Olympic Games, NovotnŠ was a women's doubles Silver medalist in 1988 and 1996, and a singles Bronze medalist in 1996.
NovotnŠ retired from the professional tour in 1999. During her 12-year career, she won 24 singles titles and 76 doubles titles (a total of exactly 100 titles). Despite winning titles on all surfaces, NovotnŠ will forever be identified with Wimbledon – the site of both her greatest failure and biggest triumph.
NovotnŠ was inducted into the International Tennis Hall of Fame in 2005.
Grand Slam singles finals
Wins (1)
Year     Championship            Opponent in Final          Score in Final
1998     Wimbledon               Nathalie Tauziat           6-4, 7-6

Runner-ups (3)
Year     Championship            Opponent in Final          Score in Final
1991     Australian Open         Monica Seles               5-7, 6-3, 6-1
1993     Wimbledon               Steffi Graf                7-6, 1-6, 6-4
1997     Wimbledon               Martina Hingis             2-6, 6-3, 6-3 

External links