Frontier Airlines
From Academic Kids
Missing image
Frontier_Airlines_logo.png
Frontier Airlines Logo


Missing image
Frontier_Airlines_plane_at_Denver_International_Airport.jpg
Frontier Airlines Template:NASDAQ is a low-cost airline based at Denver International Airport in Denver, Colorado. It operates flights throughout the United States and Mexico.
Code Data
History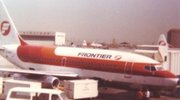 The first Frontier
The original Frontier Airlines was based at Stapleton Airport in Denver, Colorado, where it competed with Continental Airlines and United Airlines. Frontier was purchased by People Express in 1985, but the merger brought down People Express and forced the combined company to merge into Continental shortly afterward.
The second Frontier
A new Frontier Airlines was created in 1994 by former Frontier executives. Like its predecessor, it was launched using Boeing 737 jets, however as of April 2005 it has transitioned to the Airbus A319 and Airbus A318 [1] (http://www.frontierairlines.com/news/articleDisplay.asp?article=/general/1999/pr_11041999.news). Flight operations began in 1994, and like the original Frontier, it flies out of Denver and competes with two other Denver-based carriers, United Airlines and its discount subsidiary Ted. In the late 1990s, Frontier began purchasing Airbus aircraft and offering DirecTV in-flight television on its new aircraft. In mid-April 2005, Frontier officially became an all-Airbus fleet, retiring their last 737. They now have an average fleet age of less than two years, becoming one of the United States' youngest.
Frontier Airlines was the launch customer of the Airbus A318 in 2003, and now has 7 in it's fleet.
Frontier has routes extending from coast to coast and to Mexico. The vast majority of its flights are through Concourse A in Denver, although Frontier has recently begun direct service to Cancun from several other cities.
Frontier has a codeshare arrangement with Horizon Air, serving several smaller markets using CRJ-700 aircraft under the name "Frontier JetExpress".
Frontier also codeshares with regional carrier Great Lakes Airlines, connecting flights at Denver International Airport.
Fleet
Livery
An all-white fuselage with silver billboard-style "Frontier" titles on the sides of the aircraft. Frontier uses wildlife photography on the vertical stabilizers and winglets of the aircraft to produce a distinctive look, touted in their advertisements along with their slogan: "A Whole Different Animal."
The livery has also made it into Frontier's marketing as well. Animal aircraft used in their radio & television commericals include Jack the Rabbit, Grizwald the Bear, Foxy the Fox (for whom Jack has a crush), Flip the Dolphin (who always gets stuck going to cold climates instead of Florida), Larry the Lynx and Sal the Cougar. New additions are Penguins Jim, Joe, Jay, and Gary, a barbershop-style quartet, singing the praises of the program to an audience of Frontier's well-known characters from the "a whole different animal" campaign.
Confusion with Frontier Flying Service
Frontier Airlines is occasionally confused with Fairbanks, Alaska-based Frontier Flying Service, because of the similarity in name. Passengers at Anchorage International Airport are especially prone to this confusion, because both Frontiers fly out of the airport, albeit from different terminals.
Frontier Airlines and Frontier JetExpress Destinations
External links
de:Frontier Airlines