First Intermediate Period of Egypt
From Academic Kids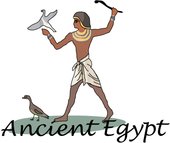 The
First Intermediate Period
is the name
conventionally
given by
Egyptologists
to that period in
Ancient Egyptian
history between the end of the
Old Kingdom
and the advent of the
Middle Kingdom
. As such, depending on when individual historians place the 'downfall' of the Old Kingdom - with the end of either the
Sixth
or the
Eighth Dynasties
- the First Intermediate period (sometimes abbreviated as 'FIP') can be considered to embrace the
Seventh
, Eighth,
Ninth
,
Tenth
and most of the
Eleventh
Dynasties.
The Old Kingdom was weakened by famine and weak leadership. One theory holds that a sudden, unanticipated, catastrophic reduction in the Nile floods over two or three decades, caused by a global climatic cooling which reduced the amount of rainfall in Egypt, Ethiopia and East Africa, contributed to the great famine and the subsequent downfall of the Old Kingdom.
The last Pharaoh of the 6th dynasty was Pepi II (or possibly Nitocris). He was 6 when he ascended the throne and believed to have been 100 years old when he died, for a reign of 94 years, longer than any monarch in history. The latter years of his reign were marked by inefficiency because of Pepy's advanced age.
A dark time marked by unrest followed. The Union of the Two Kingdoms fell apart and regional leaders had to cope with the famine.
Around 2160 BC a new line of Pharaohs (the 9th and 10th Dynasties) consolidated Lower Egypt from their capital in Herakleopolis Magna, descended from a Pharaoh named Akhtoy. In the meantime, however, a rival line (the 11th Dynasty) based at Thebes reunited Upper Egypt and a clash between the two rival dynasties was inevitable.
Around 2055 BC a descendant of Inyotef defeated the Heracleopolitan Pharaohs, reunited the Two Lands, and ruled as Mentuhotep II thereby ending the First Intermediate Period.
Ancient Egypt Clipart and Pictures