F/A-22 Raptor
From Academic Kids
Missing image
F22_Raptor_large.jpg
The F/A-22 Raptor is a highly maneuverable stealthy fighter aircraft built by Lockheed Martin Aeronautics and Boeing Integrated Defense Systems. It was originally envisioned as an air-superiority aircraft, but is equipped for ground attack, electronic attack, and signals-intelligence roles as well.
Development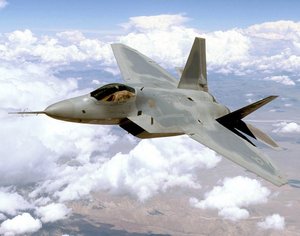 Intended to be the leading United States advanced tactical fighter in the early part of the 21st century, the Raptor is certainly the most expensive fighter ever. The Pentagon concluded in 2004 that the total development and production cost of the currently planned 279 aircraft will come to $71.7 billion, or $256.9 million per plane.[1] (http://www.fas.org/man/crs/RL31673.pdf) (Some say the estimate should be somewhat lower because some research and development support the F-35 Joint Strike Fighter as well.)

The prototype YF-22 Lightning II won a fly-off competition against the Northrop/McDonnell-Douglas YF-23 for the Advanced Tactical Fighter contract. In April 1992, during flight testing after contract award, the first YF-22A prototype crashed while landing at Edwards Air Force Base in California. The test pilot, who was blamed for the crash, was not injured. The name "Lightning II" persisted until the mid-1990s, and for a short while, the plane was also dubbed "Rapier".
The F-22 became the "Raptor" when the first production-representative plane was unveiled on April 9, 1997, at Lockheed-Georgia Co., Marietta, Georgia. First flight occurred on September 7. In 2002, Air Force leaders changed the Raptor's designation to F/A-22. The new designation, which mimicked that of the Navy's F/A-18 Hornet, indicated that the Raptor would have some capability for ground strikes.
The first production F/A-22 was delivered to Nellis Air Force Base, Nevada, on January 14, 2003. As of late 2004, 51 Raptors are in service, with 22 more ordered under fiscal year 2004 funding. F/A-22 DIOT&E (Dedicated Initial Operational Test and Evaluation) occurred on October 27, 2004. The first production F/A-22 crash occurred at Nellis Air Force Base on December 20, 2004, during takeoff. The pilot ejected safely moments before impact. As of April 2005, the accident is still under investigation but investigators are pointing to a software malfunction, not pilot error. Initial Operational Capability (IOC) is scheduled to occur around December of 2005.
The dual Pratt & Whitney F119-PW-100 turbofans with afterburners incorporate supercruise and thrust vectoring. Thrust vectoring is in the pitch axis only, with a range of ± 20 degrees. The maximum thrust is classified, though most sources place it at about 39,000 lbf (173 kN). Maximum speed is estimated to be Mach 1.72 in supercruise mode; with afterburners, "greater than Mach 2.0" (2,120 km/h) according to Lockheed Martin. Gen. John P. Jumper CSAF flew the Raptor to speeds in excess of 1.7 Mach without afterburners on January 13th 2005. The absence of variable intake ramps may make speeds greater than Mach 2.0 unreachable; although there is no solid evidence to back this claim up. According to Paul Metz, former Raptor chief test pilot for LM, although the Raptor is a fixed inlet design the overall airframe and engine design are optimized for the high supersonic speeds. The Raptor can easily exceed its design speed limits, particularly at low altitudes. Max speed cues and alerts have been incorporated to prevent the pilot from exceeding the limits. Avionics include Raytheon and Northrop Grumman AN/APG-77 Active Electronically Scanned Array (AESA) radar.
General information
Procurement
The United States Air Force originally planned to order 750 ATFs, with production beginning in 1994. The 1990 Major Aircraft Review altered the plan to 648 aircraft beginning in 1996. The goal changed again in 1994, when it became 442 planes entering service in 2003 or 2004. A 1997 DoD report put the purchase at 339. In 2003, the Air Force said that the existing congressional cost cap limited the purchase to 277. In 2005, the Pentagon is saying it will buy 180 aircraft, which would save $15 billion but raise the cost of each plane. This plan, which has yet to receive Congress' approval, would deliver the final aircraft in 2008 and hold open the possibility for new orders up to that point.
Unlike past tactical fighters, the opportunity for export is virtually non-existent. Very few allies would even be allowed to import such a high-tech weapon; fewer could afford it.
Variants
Based on the F/A-22, the swing-wing NATF was proposed for the U.S. Navy to replace the F-14 Tomcat, though the program was subsequently cancelled in 1993. Another more recent proposal is the FB-22, which would be used as a deep strike bomber for the USAF. There has yet to be any word on whether the USAF plans further development of the program.
Combat systems
The Raptor's combat computer systems and power are unmatched by any other fighter planned to be developed by 2020. The AN/APG-77 AESA radar, designed for air-superiority and strike operations, features a low-observable, active-aperture, electronically-scanned array that can track multiple targets in all kinds of weather. The AN/APG-77 changes frequencies more than 1,000 times a second to reduce the chance of being intercepted. The radar can also focus its emissions to overload enemy sensors, giving the plane an electronic-attack capability.[2] (http://www.defensenews.com/story.php?F=876380&C=airwar)
The radar's information is processed by the two Hughes-built Common Integrated Processor (CIP)s. Each CIP operates at 10.5 billion instructions per second and has 300 megabytes of memory. Unprecedented amounts of information can be gathered from the radar and other onboard and offboard systems, filtered by the CIP, and offered in easy-to-digest ways on several cockpit displays, enabling the pilot to remain on top of complicated situations. The Raptor's software is composed of over 1.7 million lines of code, most of which concerns processing data from the radar [3] (http://www.globalsecurity.org/military/systems/aircraft/f-22-avionics.htm).
Weapons
The Raptor is designed to carry its air-to-air missiles in internal bays to avoid disrupting its stealthiness. The missiles are launched by hydraulic arms that hurl them away from the jet so quickly that the weapons-bay doors pop open for less than one second. The plane can also carry bombs such as the large JDAM and the new Small Diameter Bomb. It can carry non-stealthy weapons on four external hardpoints, but this vastly increases the plane's radar signature.
Comparisons
The F-22 is generally thought to be the world's most effective air-superiority fighter, but government secrecy makes comparisons with other aircraft difficult. Among its advantages are its sustained high speed, sensors, low radar signature, advanced avionics, and ability to exchange data with other U.S. systems.
It is not known whether USAF claims about Raptor's superior maneuverability are accurate; many argue that, in any case, today's antiair missiles make maneuverability less important.
Its rising cost has forced the USAF to buy fewer F-22s than planned, and has likely slowed or curtailed other programs, such as air-superiority unmanned combat air vehicles.
See comparison of 21st century fighter aircraft for a more extensive discussion.
External links
Specifications (F/A-22 Raptor)
General characteristics
Crew: 1
Length: 62 ft 1 in (18.90 m)
Wingspan: 44 ft 6 in (13.56 m)
Height: 16 ft 5 in (5.08 m)
Wing area: 840 ft² 78.04 m²
Empty: 31,670 lb (14,365 kg)
Loaded: 60,000 lb (27,216 kg)
Maximum takeoff: 80,000 lb (36,500 kg)
Powerplant: 2x Pratt & Whitney F119-PW-100 turbofans, 35,000 lbf (156 kN) thrust each
Performance
Maximum speed: Mach 1.8+ (USAF [5] (http://www.af.mil/airpower/features.asp)), 2+ (Lockheed [6] (http://www.f22-raptor.com/technology/data.html))
Cruising Speed: Mach 1.5 (USAF [7] (http://www.af.mil/airpower/features.asp)), 1.72 (Lockheed [8] (http://www.f22-raptor.com/technology/data.html))
Range: miles ( km)
Service ceiling: 60,000 ft (18,288 m)
Rate of climb: ft/min ( m/min)
Wing loading: lb/ft² ( kg/m²)
Thrust/weight:
Armament
Related content
Template:Commons Related development: X-44 MANTA - FB-22
Comparable aircraft: None
Designation series: F/A-18 - F-20 - F-21 - F/A-22 - YF-23 - F-35
See also:
de:Lockheed F/A-22
fr:Lockheed F-22 Raptor ms:F/A-22 Raptor nl:F/A-22 Raptor pt:F/A-22 Raptor ja:F/A-22 (戦闘機) fi:F/A-22 Raptor it:F/A-22 zh:F/A-22猛禽战斗机
Films
The F/A-22 Raptor made an appearance in the 2003 Marvel comic based movie Hulk.