Eugene, Oregon
From Academic Kids
Eugene redirects here. For the professional wrestler "Eugene", see Nick Dinsmore.
Eugene is the third largest city [1] (http://www.ci.eugene.or.us/local/euggov.htm#Facts:Cite_sources) and boasts the second largest metropolitan population [2] (http://www.world-gazetteer.com/wg.php?x=1119225167&men=gcis&lng=en&gln=xx&dat=32&geo=-223&srt=pnan&col=aohdq&pt=a&va=x&geo=-3793) in the state of Oregon, and is also the county seat of Lane County, Oregon. It is located at the south end of the Willamette Valley, at the confluence of the McKenzie River and the Willamette River, about 60 miles (97 km) east of the Oregon Coast. According to the 2000 census, it has a total population of 137,893. As of July 1, 2003 the US Census Bureau estimated the population of Eugene to be 142,185. The city's population is expected to further grow to 228,400 within the next 10 years.
Eugene's mean annual temperature is 52.1°F (11.2°C) [3] (http://www.ncdc.noaa.gov/oa/climate/online/ccd/nrmavg.txt); its annual rainfall is 50.9 inches (129.3 cm) [4] (http://www.ncdc.noaa.gov/oa/climate/online/ccd/nrmpcp.txt).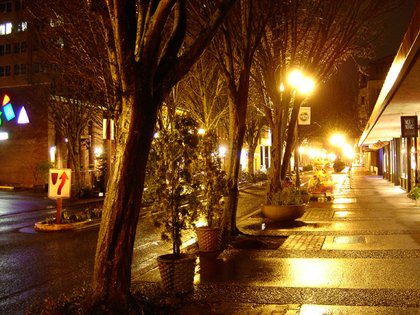 Attractions
Oregon's largest school, the University of Oregon is located in Eugene. Other institutions of higher learning include Northwest Christian College (http://www.nwcc.edu), Lane Community College (http://www.lanecc.edu) and Eugene Bible College.
Cultural attractions in Eugene include the Hult Center for the Performing Arts, resident ballet, theater, opera and symphony, Bach Festival, Historic District, walking tours, 23 art galleries and museums,and the Willamette Science and Technology Center (now called "The Science Factory") . The Three Sisters Wilderness and The Oregon Dunes are just a short drive away. Local events include: Eugene Celebration, Lane County Fair, Asian Celebration, and the Oregon Country Fair.
The largest library in Oregon is in Eugene, the Knight Library (http://libweb.uoregon.edu/), at the University. The Eugene Public Library (http://www.ci.eugene.or.us/library/) recently moved into a new, larger building downtown. It uses state-of-the-art technology such as an automated checking system, which sorts the books using RFID chips.
To the north of downtown is Skinner Butte park. Forested Hendricks Park is famous for its Rhododendron Garden. Alton Baker park, along the Willamette river, attracts visitirs to jog its running paths, bike its endless bike paths & bike bridges, swim the wild Willamette, canoe the millrace, sit at the duck ponds, and visit the Rose Garden. A climb up Spencer's Butte offers a lovely look at Eugene and the headwaters of the Willamette. Mount Pisgah arboretum (http://www.efn.org/~mtpisgah/), to the east, is another large & special park, and host to the annual mushroom festival.
Eugene is a tree city, with an especially dense urban forest.
The nearest ski resort, Willamette Pass (http://www.willamettepass.com/), is one hour by car. On the way, along highway 57, is Eugene's reservoir and lake district, the Oakridge mountain bike trails, hot springs, and the spectacular Fall Creek falls.
Politics
Government
At the City Council level, the liberal wing of local politics has been gaining strength, mostly on a reform platform calling for greater transparency and accountability in local government. The recent election of Kitty Piercy was widely considered to be a turning point. There has traditionally been a strong backing of conservative pro-developement council members and mayors, but a swing has occured caused by grassroots organizations to back strong progressive candidates for local office.
Developers
Still, as in most US cities, money and activity on the local scene is dominated by development interests, who maintain their power & privilege through public expenditure. Given the poor local economy, it isn't surpising that local officials spend most of their time fishing for big federal projects, corporate relocations, etc., despite the detriment to the quality of life and economic independence. Eugeneans are quite laid-back, and with a few notable exceptions, they tend to do little more than complain when a park is developed, a wetland is subdivided, or a tree is cut down.
Community
Eugene is possibly most famous for its "community inventiveness." Many University students remain after, or instead of, graduating. However, there are very few jobs. So the town is full of people searching for life's meaning. That usually leads to community projects; many US trends in community development originated here.
The non-profit Saturday Market (http://www.eugenesaturdaymarket.org/) was the first "Saturday Market" in the US, starting in 1970, and since recreated in cities around the country. It is still the most radical in the country; only the farmers and craftspeople themselves can sell there.
The annual non-profit Oregon Country Fair (http://www.oregoncountryfair.org/) is one of the largest volunteer events in the US, and one of the most successful. Its primitive ecotopian atmosphere is stunning.
The University of Oregon's participatory planning process, known as 'The Oregon Experiment', was the result of student protests in the early 1970's. The process, now in disuse, was famous in planning & architectural circles, and the book of the same name is a major document in modern enlightenment thinking. The plan & process was created, in Eugene, by Christopher Alexander, whose works directly inspired the creation of the Wiki. Much of the research for the book A Pattern Language, which inspired the Design Patterns movement and Extreme Programming, was done by Alexander in Eugene. Not coincidentally, those engineering movements also had origins here. A Pattern Language is the best-selling book on architecture & planning of all time.
Perhaps the single event in the US that most resembles the World Social Forum, is the Environmental Law Conference (http://www.pielc.org/), an annual gathering of people's advocates from around the world.
In the 1970's, Eugene was packed with co-operative & community projects. It still has small natural food stores in almost every neighborhood, and alternative schools have been part of the school district for years. And the old Grower's Market, downtown near the train depot, is the only food co-operative in the US with no employees. It is possible to see Eugene's trend-setting non-profit tendencies in much newer projects, such as the Tango Center (http://www.tangocenter.org), and the Center for Appropriate Transport (http://www.catoregon.org/).
Culture
Performing Arts
Eugene is home to numerous cultural organizations, including the
Eugene Symphony
(http://www.eugenesymphony.org/)
(Giancarlo Guerrero, Conductor), the
Eugene Ballet
(http://www.eugeneballet.org/)
(Toni Pimble, Artistic Director), and the
Eugene Opera
(http://www.eugeneopera.com/)
.
Missing image
Eugenehotel.jpg
Eugene is also home to a number of cultural events, including the world renowned
Oregon Bach Fesitval
(http://www.oregonbachfestival.com/)
(
Helmuth Rilling
, artistic director) and the
Oregon Festival of American Music
(http://www.ofam.org/)
("OFAM"). Eugene has a number of performing arts venues, including the Hult Center for the Performing Arts, The American Music Institute (also known as "The Shedd"), Beall Concert Hall on the University of Oregon campus, the
McDonald Theater
(http://www.mcdonaldtheatre.com/)
, and
WOW Hall
(http://www.wowhall.org/)
, which is primarily a venue for alternative music.
Fine Arts
Eugene has over a dozen private art galleries, and is home to the recently renovated Jordan Schnitzer Museum of Art (http://uoma.uoregon.edu/) on the University of Oregon campus. Arts advocacy organizations include DIVA (http://www.divanow.org), Maude Kerns Art Center (http://www.mkartcenter.org/) with its non-profit summer Art & the Vinyeard festival (http://www.artandthevineyard.org/), and the Lane Arts Council (http://www.lanearts.org/).
Cinema
The film Animal House was filmed in Eugene and Cottage Grove. John Belushi had the idea for the film The Blues Brothers during filming of Animal House when he happened to meet Curtis Salgado at the then Eugene Hotel. The "Chicken Salad on Toast" scene in the Jack Nicholson movie "Five Easy Pieces" was filmed at the Denny's restaurant at the southern I-5 freeway interchange (Glenwood exit). In addition, Eugene is home to the Bijou Art Cinemas, an independent movie theater located in a building modeled after Spanish Colonial Style Architecture by the first dean of the University of Oregon School of Architecture in 1925.
Live Theatre
A surprising number of dedicated live theatres, all non-profit or governmental, are busy in Eugene: Lord Leebrick Theatre (http://www.lordleebrick.com/), The Very Little Theatre (http://www.thevlt.com/), Actors Caberet (http://actorscabaret.org/), LCC Theatre (http://www.lanecc.edu/perarts/theatre/), University Theatre (http://darkwing.uoregon.edu/~theatre/) etc.
Radio
Some of the most familiar names in Public Radio come from the local NPR affiliate KLCC (http://www.klcc.org/). The community supports two other radio stations: KWAX (http://www.kwax.com/) (classical) and KRVM (http://www.krvm.org/) (alternative).
History
Eugene is named after its founder, Eugene Franklin Skinner. In 1846, Skinner erected the first cabin in the area. It was used as a trading post and was dubbed as a post office in 1850. Skinner founded Eugene in 1862.
The University of Oregon's History
The town raised the initial funding to start a public University, which later became the University of Oregon, with the hope of turning the small town into a cultural center of learning. In 1872 The Oregon legislature passed a bill ratifying the University. In 1873 community member J. H. D. Henderson donated the hilltop land for the campus, overlooking the city. The University first opened in 1876 with regents electing first faculty and naming John Wesley Johnson as president with the first students registering on Oct. 16, 1876. It would not be until 1877, later known as Deady Hall (for the first Board of Regents President and community leader Judge Matthew Deady) that the first building would be completed.
In 1878 the school held its first graduation ceremony, five members receiving diplomas. In 1881 Henry Villard gives financial aid to University, and in 1886 Villard Hall, the second campus building, was completed.
The Nike corporation had its beginnings in Eugene.
The film Animal House was filmed almost entirely on campus.
Government
Eugene City Council:
Mayor: Kitty Piercy
Ward 1 - Bonny Bettman
Ward 2 - Betty Taylor
Ward 3 - David Kelly
Ward 4 - George Poling
Ward 5 - Gary Pape'.
Ward 6 - Jennifer Solomon
Ward 7 - Andrea Ortiz
Ward 8 - Chris Pryor
City Manager: Dennis M. Taylor
Geography
Missing image
ORMap-doton-Eugene.png
Location of Eugene, Oregon


Eugene is located at 44°3'28" North, 123°6'37" West (44.057663, -123.110345) (see
Geographic references
) at an elevation of 426 feet.
According to the United States Census Bureau, the city has a total area of 105.0 km² (40.6 mi²)Template:GR. 104.9 km² (40.5 mi²) of it is land and 0.1 km² (0.04 mi² or 0.10%) of it is water.
The Willamette and McKenzie rivers run through Eugene and its sister city Springfield.
Environment
Eugene has a striking urban forest. The town is packed with trees, and its citizens are very proud and protective of them. The University of Oregon campus is itself a world-class arboretum, with over 500 species of trees, and its own tourbook.
Transportation
Eugene is the headquarters of the Lane Transit District (LTD), a public transportation agency formed in 1970. LTD covers 240 square miles (620 km²) of Lane County, including Creswell, Junction City and Veneta. Operating more than 90 buses at the high activity time, LTD carries riders on 3.7 million trips every year. LTD's Eugene Station, downtown, covers nearly a city block, and is easily the busiest public plaza outside of the University.
The train depot downtown was recently restored.
The Eugene Airport, also known as Mahlon Sweet Field, is the fifth largest airport in the northwest.
Bicycles
On Earth Day, 1970, the major street bisecting the University of Oregon was closed by student protest. In consequence, an avenue where students formerly dodged log trucks, became a permanent bike and pedestrian path.
Since then, Eugene has built 89 miles of on-street bike lanes, and 30 miles of dedicated bike paths, including 5 bike bridges in one of the country's most extensive and beautiful riverside bicycle systems. Eugene is a valley city, mostly flat, and apart from the northwest rain, a perfect place to bicycle.
Eugene is also home to a thriving bicycle industry, for example Co-motion bicycles (http://www.co-motion.com/), Burley Design Co-operative (http://www.burley.com/) and Human-Powered Machines (http://www.catoregon.org/hpm/hpmproducts.htm).
Oregon Cycling (http://www.catoregon.org/ocycling/) magazine is published in Eugene as part of the non-profit Center for Appropriate Transport (http://www.catoregon.org).
Highways
Highways traveling within and through Eugene include:
Hospitals
The Eugene/Springfield area is home to two major hospitals:
Mckenzie/Willamette recently filed a lawsuit angainst PeaceHealth, claiming anti-trust violations on the part of the latter. PeaceHealth, who at the time was based in Eugene, lost the lawsuit. Mckenzie/Willamette, who was at the time a small hospital based in Springfield, has gained thousands from the case.
Economy
Eugene's largest industries are wood products manufacturing and recreational vehicle manufacturing. The largest employers are the University of Oregon, local government, and Sacred Heart Hospital.
Eugene currently has one of the highest unemployment rates for a city in the entire nation (6.4% as of July 2004. 257 out of 331 for all U.S. MSAs).
Eugene is the site for the corporate headquarters of employee-owned Bi-Mart. Monaco Coach Corporation has its headquarters in nearby Coburg, Oregon. Hynix Semiconductor America has a large semiconductor plant in west Eugene, producing DRAM (Dynamic Random Access Memory) for use in computers.
Like most of town governments, Eugene's solicits outside business investment. But it's also partial to locally-developed small businesses, some of whom have formed a coalition called Unique Eugene (http://www.uniqueeugene.com).
Many businesses were launched in Eugene: some of the most famous include Nike, Taco Time and Broderbund Software.
Demographics
Eugene has a significant population of people in pursuit of alternative ideas, including anarchism, and a strong aging hippie population. Eugene's trainyard and welcoming valley climate used to be the center of this, though now more recent liberal welfare social policies are likely the cause. There is also a significant population of outdoor enthusiasts and young retirees from California and elsewhere.
Demographic statistics
As of the censusTemplate:GR of 2000, there are 137,893 people, 58,110 households, and 31,321 families residing in the city. The population density is 1,313.9/km² (3,403.2/mi²). There are 61,444 housing units at an average density of 585.5/km² (1,516.4/mi²). The racial makeup of the city is 88.15% White, 3.57% Asian, 1.25% Black or African American, 0.93% Native American, 0.21% Pacific Islander, 2.18% from other races, and 3.72% from two or more races. 4.96% of the population are Hispanic or Latino of any race. There are 58,110 households out of which 25.8% have children under the age of 18 living with them, 40.6% are married couples living together, 9.7% have a female householder with no husband present, and 46.1% are non-families. 31.7% of all households are made up of individuals and 9.4% have someone living alone who is 65 years of age or older. The average household size is 2.27 and the average family size is 2.87.
In the city the population is spread out with 20.3% under the age of 18, 17.3% from 18 to 24, 28.5% from 25 to 44, 21.8% from 45 to 64, and 12.1% who are 65 years of age or older. The median age is 33 years. For every 100 females there are 96.0 males. For every 100 females age 18 and over, there are 94.0 males. The median income for a household in the city is $35,850, and the median income for a family is $48,527. Males have a median income of $35,549 versus $26,721 for females. The per capita income for the city is $21,315. 17.1% of the population and 8.7% of families are below the poverty line. Out of the total population, 14.8% of those under the age of 18 and 7.1% of those 65 and older are living below the poverty line.
Colleges and universities
Sports
The Track Capital
For nearly 40 years, on and off, Eugene has been the "Track Capital of the World". Jogging was introduced to the US first in Eugene, in the sixties, by Bill Bowerman, who coached the champion University of Oregon track team here. Bowerman also invented the waffle running shoe in Eugene, and with U of O alumni Phil Knight founded shoe giant Nike, Inc. The Nike Store in Eugene includes a museum of this slice of track history. Eugene's miles of running trails, through its unusually large park system, are the most extensive in the US. There are dozens of running clubs here. The climate is cool temperate, good both for jogging and record-setting. Eugene is home to the University of Oregon's Hayward Field track, which hosts numerous collegiate and amateur track and field meets throughout the year — such as the Prefontaine Classic, the 2004 Junior Olympics, and the US Olympic Track & Field trials. A few feet from hayward field, the earth's oldest pairs of running shoes is on display, at the Museum of Natural History.
Famous athletes
Notable citizens of Eugene
External links