Egyptair
From Academic Kids
EgyptAir is the national airline of Egypt, is based in Cairo and is wholly owned by the Egyptian government. It operates scheduled services to over 50 destinations in Europe, Africa, the Middle East, the Far East, Australia and the USA, as well as domestic services. Its main base is Cairo International Airport (CAI).
Code Data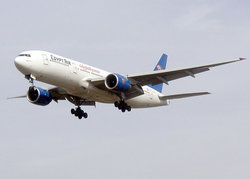 History
The airline was established on 7 June 1932 and started operations in July 1933. It was founded in association with the Airwork Company under the name of Misr Airwork. During the Second World War the Egyptian government took charge of the airline and its name was changed to Misr Air in 1949. In January 1961 Misr Air joined Syrian Airways to form United Arab Airlines (UAA) as a result of new political links between Egypt and Syria, but this accord was shortlived. It retained the name for a time until it changed to EgyptAir in October 1971.
EgyptAir was the first airline in the Middle East to operate jet liners. It employs about 22,000 people and claimed total worldwide revenues in fiscal 2000 of US $1,000 M, with profits of US $35 M. The airline was restructured in 2002 to improve efficiency. A new take-off? (http://weekly.ahram.org.eg/2003/640/eg9.htm)
EgyptAir wholly owns Air Sinai and has a stake in Shorouk Air (51%) and Air Cairo (40%).
Incidents and Accidents
Notable fatal events include:
Services
EgyptAir operates the following services (at January 2005):
International scheduled destinations: Abidjan, Abu Dhabi, Accra, Addis Ababa, Al Ain, Aleppo, Algiers, Amman, Amsterdam, Asmara, Athens, Bahrain, Bangkok, Barcelona, Beirut, Benghazi, Berlin, Brussels, Budapest, Casablanca, Copenhagen, Damascus, Dammam, Doha, Dubai, Dusseldorf, Entebbe/Kampala, Frankfurt, Geneva, Istanbul, Jeddah, Johannesburg, Kano, Kuwait, Lagos, Larnaca, London, Madrid, Milan, Moscow, Mumbai, Munich, Muscat, Nairobi, New York, Osaka, Paphos, Paris, Riyadh, Rome, Sanaa, Sharjah, Tokyo, Tripoli, Tunis and Vienna.
Fleet
The Egyptair fleet consists of the following aircraft (at June 2005):
External Links