Dumfries
From Academic Kids
Missing image
Dumfries_(location).png
Dumfries (Dłn Phris in Scottish Gaelic) is a Royal Burgh and town of about 45,000 people on the River Nith in Dumfries and Galloway in the south west of Scotland.
It has many associations with Robert Burns who lived there in the 1790s. The Robert Burns Centre is situated in an 18th century watermill on the west bank of the River Nith. It tells the story of Burns' last years in the town.
Above the mill there is an 18th century windmill tower which houses Dumfries Museum and the Camera Obscura Observatory. The Museum has exhibits about prehistoric times, the wildlife of the Solway saltmarshes, stone carvings of Scotland's early Christians, and the Victorian farm. The Camera Obscura, originally an astronomical instrument installed in 1836, has a table top screen with panoramic views of Dumfries and the surrounding countryside.
Across the 15th century Devorgilla Bridge there is Old Bridge House, Dumfries' oldest house, dating from 1660 and built into the sandstone of the bridge itself.
A number of well-known people were educated at Dumfries Academy, among them James Matthew Barrie (the author of Peter Pan), John Laurie, actor (Private Frazer in Dad's Army), and Jane Haining. Dumfries is also the hometown of former F1 racer Alan McNish. The golfer Andrew Coltart is also from the region.
Dumfries Lieutenancy Area
Dumfries Lieutenancy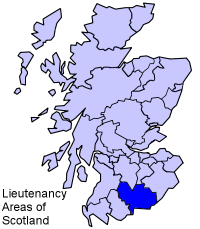 The name Dumfries is given to a Lieutenancy Area of Scotland comprising the former (1975-96) districts of Nithsdale and Annandale and Eskdale.