Croatia Airlines
From Academic Kids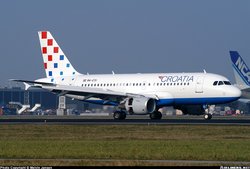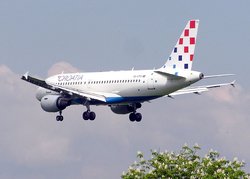 Missing image
Croatia.a320.arp.750pix.jpg
Croatia Airlines is the flag carrier of Croatia. The company's head office is in Zagreb.
Code Data
History
The airline started on August 7 of 1989 as Zagal - Zagreb Airlines, using Cessna 402 planes on cargo missions for the cargo airline UPS. The company used the name Zagal for short. In 1990, after the first democratic elections held in Croatia, Zagal changed its name in July 23 to Croatia Airlines.
In 1991 the airline signed an agreement with Adria Airways and then was able to lease a McDonell Douglas MD-82 to start domestic jet services. This year they first realized the route Zagreb-Split, between these two largest cities in the country.
1992 was a tough year for the company when the Yugoslav wars forced the airline to stop flying. As soon as flights restarted, Croatia Airlines bought three Boeing 737's from Lufthansa and became a member of the IATA (the International Air Transport Association). That year also saw the airline's first international route.
In 1993 two ATR 42's and two more 737's joined the fleet, offices were opened in several European cities and the company bought a travel agency, Obzor, to organize travel for groups and individuals.
By 1994, Croatia Airlines had welcomed its one millionth passenger. Later that year, Pope John Paul II flew the airline on a trip to Croatia.
In 1995, another ATR 42 was welcomed, as was the two millionth passenger. In 1996, Croatia Airlines became the first airline to fly to Sarajevo.
In 1997 the airline's first Airbus A320 arrived and was nicknamed Rijeka. In 1998, another first plane of a new type arrived when the airline's first Airbus A319 joined the fleet. This airplane was nicknamed Zadar. Also that year, Croatia Airlines became a member of the Association of European Airlines (AEA).
By 1999, two more Airbus jets had arrived and Croatia Airlines started selling the Boeing part of their fleet. Another important event occurred when the airline flew its five millionth passenger.
In 2000 two more Airbus planes arrived and an Automated Ticketing System inaugurated.
2001 saw Croatia Airlines get maintenance and technical performing certificates from the German aviation authority Luftfahrt-Bundesamt.
On November 18, 2004, Croatia Airlines joined the Star Alliance as a regional member, sponsored by Lufthansa.
Fleet
The Croatia Airlines fleet consists of the following aircraft (at April 2005):
External links
fr:Croatia Airlines