Connex
From Academic Kids
This page refers to Connex, an international public transport company. For the Romanian mobile telephony operator, see Connex GSM.
---
Connex is Europe's largest private public transport company. It is owned by Veolia Environnement, formerly known as Vivendi Environmental, which was the former French water department.
In Britain, it ran passenger train services in South London, Kent, Surrey, Sussex and parts of Hampshire, and many bus routes in London.
Once part of the old Southern Region and Network SouthEast, the dense South Eastern network of train services runs into Victoria, and to Charing Cross and Cannon Street via London Bridge. The company became known for promising 12-coach trains over a network with indequate electric power supplies, for gating and fencing stations to reduce freeloaders and vandalism, and for seeking to overcome capacity limitations by commissioning new trains with no on-board toilets.
The franchise to operate the South Central and South Eastern routes was due to run until 2006, but Connex South Central lost its franchise in October 2000, and in June 2003 the Strategic Rail Authority decided to cut the South Eastern franchise short at the end of 2003 due to what it called "poor financial management". Connex South Eastern lost its franchise at midnight on 8 November 2003 when train services were taken over by South Eastern Trains, a wholly-owned subsidiary of the Strategic Rail Authority.
Connex is free to bid for future franchises, including the trans-Pennine franchise currently held by Arriva, which is due for renewal in September 2004.
Countries of operation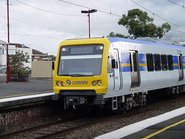 In Australia Connex operates the Melbourne suburban train network. It previously operated only half the system, but recently won the whole-system contract. It also operates Sydney's light rail and monorail networks under a contract from Metro Transport Sydney, and a large bus network (previously Southtrans) in the southern suburbs. This includes 34 routes and special services to primary and secondary schools. In Perth Connex operates the Southern Coast Transit bus line, and in Brisbane operates as Connex Brisbane, using the former National Bus Company's fleet.
---
---
In Colombia Connex, in conjunction with three other operators, runs a 35-km right-of-way bus line called the Transmilenio system.
---
Missing image
Hesburgerbussi.jpg
In the Czech Republic Connex is the largest bus operator, after a 2002 take-over of the Slezsko regional network in Silesia. Connex runs 12 urban transport networks and three travel agencies. In also runs an international train service between the Czech Republic and Germany
---
---
---
Missing image
Integral_am_Bahnhof_Geitau.jpg
---
---
In Germany Connex offers some train services, several of a regional character such as the Bayerische Oberlandbahn from Munich, and two long-distance services. A number of bus companies, mostly in rural areas, are also owned.
---
---
---
---
---
---
In New Zealand Connex operates Auckland's MAXX commuter rail service in partnership with the Auckland Regional Transport Authority.
---
---
In Poland Connex owns a number of bus companies.
---
---
External links