Chuck Yeager
From Academic Kids
Brigadier General Charles Elwood "Chuck" Yeager (born February 13, 1923 in Myra, Lincoln County, West Virginia) is a former World War II ace and test pilot. He is most famous for being the first human to undeniably travel faster than sound.
Yeager was born into a poor family in West Virginia and joined the army in 1939, serving as an aircraft mechanic. He was selected for flight training in 1942 and soon showed outstanding natural talent as a pilot. Posted to the United Kingdom in 1944, Yeager flew P-51 Mustangs in combat, gaining one victory before he was shot down over France. He escaped to Spain without being captured and was soon flying with the 363rd Fighter Squadron once more, despite a strict policy that no escaped pilot should fly over enemy territory again.
Yeager demonstrated outstanding eyesight, flying skills, and combat leadership; he distinguished himself by becoming the first American pilot to make "ace in a day"—he shot down five enemy aircraft in one mission, finishing the war with 12.5 recognised victories.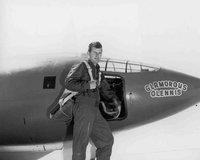 Yeager remained in the Air Force (USAF) after the war, becoming a test pilot and eventually being selected to fly the rocket-powered Bell X-1 in a NACA program to research high-speed flight. Yeager broke the sound barrier on October 14, 1947, flying the experimental X-1 at Mach 1 at an altitude of 45,000 feet/13,700 m. Two nights before the scheduled date for the flight, he broke two ribs while riding a horse. He was so afraid of being removed from the mission that he went to a vet in a near by town for treatment and only told his friend Jack Ridley about it. Ridley then worked up a device (really just the end of a broom handle) to allow Yeager to seal the hatch of the airplane. Yeager's X-1 is on display at the Smithsonian Institution's National Air and Space Museum.
He later went on to break many other speed and altitude records. He also was the first American pilot to fly a MiG-15 after its pilot defected to Japan with it. During the latter half of 1953, Yeager was involved with the USAF team that was working on the X-1A, an aircraft designed to surpass Mach 2 in level flight. The first ones to reach double the speed of sound, however, were NACA's Douglas Skyrocket team and its pilot Scott Crossfield. After they were bested, Ridley and Yeager decided that they were going to beat Crossfield's speed record in a flight series that they dubbed "Operation NACA Weep." Not only did they beat Crossfield, but they did it in time to spoil some celebrations planned for the 50th anniversary of flight that were going to call him the fastest man alive.
In 1962, he started the USAF Aerospace Research Pilot School, which produced astronauts for NASA and the USAF. It was an accident (http://www.check-six.com/Crash_Sites/NF-104A_crash_site.htm) in one of the school's NF-104s that put an end to his record attempts. Between December, 1963 and January, 1964, Yeager completed five flights in the NASA M2-F1 lifting body. In 1966, he took command of the 405th Fighter Wing, whose units were deployed in South Vietnam and elsewhere in Southeast Asia. There he racked up another 414 hours of combat time, mostly in a B-57 light bomber. In 1969, he was promoted to brigadier general, and was assigned as the vice-commander of the Seventeenth Air Force.
In 1975, he retired from the Air Force at Norton Air Force Base, but still spent time flying for the USAF and NASA as a consulting test pilot at Edwards Air Force Base.
On October 14, 1997, on the 50th anniversary of his historic flight past Mach 1, he flew a new Glamorous Glennis, an F-15D past Mach 1, with Lt. Col. Troy Fontaine. He was chased by a F-16 piloted by Bob Hoover, famous air show pilot and the chase pilot for the first Mach 1 flight, who flew with Col. Jimmy Doolittle. This was Yeager's last official flight with the Air Force. At the end of his speech to the crowd he concluded, "All that I am...I owe to the Air Force."
Yeager, who never attended college and was often modest about his background, is considered to be one of the great pilots of all time. Despite his lack of higher education, he has been supportive of educational efforts in his home state. Marshall University has named its highest academic scholarship in his honor, the Society of Yeager Scholars. Additionally,Yeager Airport in Charleston, West Virginia, is named after him. He was the chairman of EAA's Young Eagle Program. Yeager served on the presidential commission that investigated the explosion of the Space Shuttle Challenger on STS-51-L.
Yeager was a primary subject of Tom Wolfe's book, The Right Stuff, and of the movie made from it. He has a short cameo in a scene as bartender who—as an in-joke because NASA didn't recruit him as an astronaut because he lacked a college education—wants to serve the NASA recruiters some Scotch and is puzzled when they only want a Coke. He was the prototype flier with the "right stuff", although the modest Yeager denied any such attribute, saying it was just a combination of "luck" and "knowing the airplane". Romantic as his character appears to be, his portrayal in the movie is somewhat skewed; Yeager was actually partially responsible for the design of the X-1. In addition, when he crashed the F-104 Starfighter, he did not take the plane without authorization, as seen in the motion picture; he simply did not have authorization to attempt breaking the Russian record. He did, however, receive 3rd-degree burns on his head and hands from the rocket lava of the ejector seat.
On February 26, 1945, Yeager married Glennis Dickhouse. They had 4 children. Nearly 13 years after her death, he married sometimes-actress Victoria Scott D'Angelo, 36 years his junior. Three of his children are currently suing for control of his holdings, claiming that D'Angelo married Yeager for his fortune. Yeager contends they simply want more money.
There is a disputed claim by German pilot Hans Guido Mutke to be the first person to break the sound barrier, on April 9, 1945, in a Messerschmitt Me 262. As well, many contend that American pilot George Welch broke the sound barrier while diving an XP-86 Sabre two weeks before Yeager and again just 30 minutes before. In a period documentary, the USAF said that Yeager and the X-1 were the first to break the sound barrier "in level flight". This leaves the door open for claims of breaking the sound barrier in a dive before Yeager broke it in the X-1.
Just south of Charleston, West Virginia, the Interstate 77 bridge over the Kanawha River is named for General Chuck Yeager.
Template:Multi-video start Template:Multi-video item Template:Multi-video end
Further reading
External links
de:Chuck Yeager fr:Charles Elwood Yeager pl:Chuck Yeager sv:Chuck Yeager zh:查克·葉格