Changsha
From Academic Kids
Changsha (Template:Zh-stpw) is the capital of Hunan, a province of Southcentral China, located on the lower reaches of Xiangjiang river, a branch of the Yangtze River. It covers an area of 11,819 sq. kilometers and has a population of 6,017,600 (2003 population census).
<tr><td>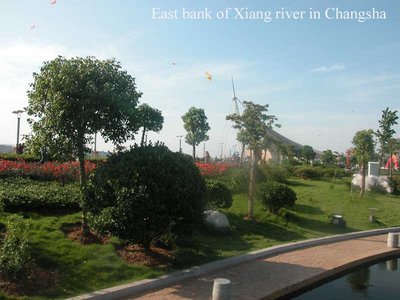 the west bank of Xiang river in Changsha</table>
Administration
Changsha has jurisdiction over five districts (Furong, Tianxin, Yuelu, Kaifu, Yuhua districts), three counties (Changsha, Wangcheng, Ningxiang counties) and Liuyang city.
History
The earliest settlement was probably founded in the first millennium BC. By 202 BC it was already a fortified city. During the Han Dynasty it was also the capital of Changsha kingdom.
The celebrated Ma-Wang-Dui (馬王堆) Tombs of the Han Dynasty were constructed between 186 and 165 BC. The earliest tomb (no. 2), when excavated in the 1970s, had preserved the corpse of Lady Xin-Zhui in a surprisingly good condition. Also found in the tomb were the earliest versions of Dao-De-Jing written by Lao Zi, and many other historical documents.
During the Sui Dynasty, Changsha was a county.
Yuelu Academy (岳麓书院) was founded in AD 976 (Song Dynasty), destroyed by war in 1127, and rebuilt in 1165 (Southern Song Dynasty). The celebrated philosopher Zhu Xi (朱熹) taught in this school in 1165. The school was destroyed by the Mongols but restored again in the late 15th century (Ming Dynasty). In 1903 it became Hunan High School. The architecture of some of the buildings was restored from 1981–1986, presumably according to the Song design.
The 1903 Treaty of Shanghai between China and Japan opened the city to foreign trade. Consequently, factories, churches and schools were built. A college built by Yale University later became a medical center and a middle school named Yali.
Mao Zedong, founder of the People's Republic of China began his political career in Changsha. He was a student at the Hunan Number 1 Teachers' Training School from 1913 to 1918. He later returned as a teacher and principal from 1920 to 1922. The school was destroyed during the civil war but has since been restored. The Former Office of the Hunan Communist Party Central Committee where Mao Zedong once lived is now a museum that includes Mao's living quarters, photographs and other historical items from the 1920s.
Geography and climate
Changsha is located at 111°53'–114°5' east longitude and 27°51'–28°40' north latitude, situated in the east central Hunan. Its terrain is high in the west and low in the east. There are many mountainous areas in the west and in the north. The Xiangjiang River flows south to northwest; 296 m high Mt. Yuelushan is in the west; and Liuyanghe River (Liuyang River) and Ladaohe River (Laodao River) east.
Changsha has a monsoon climate within the sub-tropical zone, with annual average temperature being 16.8°C–17.2°C, 4.6°C in January and 28.6°C in July. Average annual precipitation is 1422 mm., and the yearly frost-free period is 275 days.
The four seasons are distinct. Summer is long and broiling, with heavy rainfall, and autumn is comfortable with abundant sunlight. In winter, it is nearly rainless and not very cold, changing to rainy and wet weather with rapidly increasing temperatures in the spring.
Neighboring Areas:
Missing image
Changsha-view3.jpg



the west bank of Xiang river in Changsha
Jiangxi province, cities and counties of Hunan, such as Tonggu county, Wanzai county, Yichun city, Pingxiang city of Jiangxi province. Pingjiang county, Miluo city, Xiangyin County of Yueyang; Heshan District, Taojiang county, Anhua County of Yiyang; Lianyuan city of Loudi; Zhuzhou county, Liling City of Zhuzhou; Xiangtan county, Xiangxiang city of Xiangtan.
Economy
The GDP per capita was ¥23,942 (€2,490, $2,890) in 2003, ranked 42nd among 659 Chinese cities.
Colleges and Universities
[National]
[Public]
Changsha University of Science and Technology (长沙理工大学)
Hunan Agricultural University (湖南农业大学)
Hunan Normal University (湖南师范大学)
Hunan College of Traditional Chinese Medicine (湖南中医学院)
Hunan Business College (湖南商学院)
Note: Institutions without full-time bachelor programs are not listed.
Miscellaneous
Changsha was the birthplace of:
Template:Hunanda:Changsha de:Changsha fr:Changsha ja:長沙 nl:Changsha zh:长沙