Beatrix of the Netherlands
From Academic Kids
Missing image
Beatrix_van_Oranje-Nassau.jpg
Her Majesty, Beatrix Wilhelmina Armgard of Orange-Nassau (born January 31, 1938) is the Queen of the Kingdom of the Netherlands, having acceded to the throne in 1980. Beatrix is the daughter of the late Queen Juliana of the Netherlands and the late Prince Bernhard of the Netherlands, Prince of Lippe-Biesterfeld. When Beatrix was a young girl, the Dutch royal family fled the German invasion of the Netherlands in World War II, moving to Britain in May 1940 and then to Ottawa, Canada. They returned home in 1945.
In Canada, Princess Beatrix had attended nursery and primary school. On her return to the Netherlands, she continued her primary education at The Workshop (De Werkplaats), Kees Boeke's progressive school in Bilthoven. In April 1950, Princess Beatrix entered the Incrementum, part of Baarnsch Lyceum, where she passed her school-leaving examinations in arts subjects and classics in 1956.
On January 31, 1956, Princess Beatrix celebrated her 18th birthday. From that date, under the Constitution of the Netherlands, she was entitled to assume the royal prerogative. At that time, her mother installed her in the Council of State.
Beatrix began her university studies the same year, at Leiden University. In her first years at university, she attended lectures in sociology, jurisprudence, economics, parliamentary history and constitutional law. In the course of her studies she also attended lectures on the cultures of Suriname and the Netherlands Antilles, the Charter of the Kingdom of the Netherlands, international affairs, international law, history and European law.
While at university, the Princess visited various European and international organisations in Geneva, Strasbourg, Paris, and Brussels. She was also an active member of the Leiden Women Students' Association. In the summer of 1959, she passed her preliminary examination in law, and she obtained her law degree in July 1961.
Her appearance on political scene was almost immediately marked with controversy. Her marriage to German diplomat Claus von Amsberg who was associated with Hitlerjugend, the Nazi youth organization and hence with German Nazism by some Dutch radicals, caused a massive protest during her wedding day at Amsterdam on March 10, 1966. Ironically protests included the memorable slogan "I want my bicycle back," a reference to the memory of occupying German soldiers confiscating Dutch bicycles. On a less peaceful note, a smoke bomb was thrown at the wedding carriage by a group of Provos causing a violent street battle with the police. An even more violent riot occurred on April 30, 1980, during her coronation as Queen Beatrix. Anarchist squatters and other radicals used the occasion to protest against poor housing conditions in Netherlands and against the monarchy in general; clashes with the police and security forces turn brutal and violent. As time went on, however Claus became one of the most popular members of the Dutch monarchy and his 2002 death was widely mourned. Both events are reflected in contemporary Dutch literature: the 1966 affair in the classic "Aanslaag" by Harry Mulisch, and the riot of 1980 in the books of A.F.Th. van der Heijden.
Dutch Royal Family
On
April 30
,
1980
, Beatrix became Queen of the
Kingdom of the Netherlands
when her mother abdicated. She approaches her role as Queen with more formality than
Queen Juliana
, and many admire her professionalism. While the Dutch Monarchy remains extremely popular, in recent times the Dutch media have openly criticized the royal family. The Dutch media has also published many "tabloid" stories, similar to the stories that have plagued the
House of Windsor
for decades. This change in attitude have some Dutch subjects viewing the monarchy as an ongoing "soap opera," rather than an institution that plays an important role in Dutch society. As a result, Beatrix's current challenge is to keep the Dutch monarchy modern, efficient, and most of all in tune with the wishes of the Dutch people.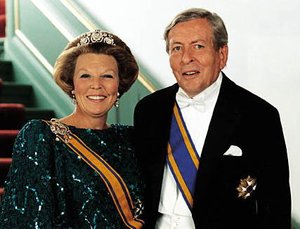 As Queen, Beatrix wields more power than most of Europe's reigning monarchs. In domestic matters, she has little political say; however, in international relations, the Queen has much more latitude. It was once reported that she threatened to dismiss a cabinet minister if he turned down her request to open a Dutch embassy in Jordan.
On October 6, 2002, Queen Beatrix's husband died after a long illness. A year and a half later, her mother passed away after a long battle with senile dementia, while her father succumbed to cancer in December 2004. These deaths garnered a massive outpouring of national grief.
Beatrix is rarely quoted directly in the press, since the government information service (Rijksvoorlichtingsdienst) makes it a condition of interviews that she not be quoted. This rule was introduced shortly after her inauguration, reportedly to protect her from political complications that may arise from "off-the-cuff" remarks. It does not apply to her son Prince Willem-Alexander.
On February 8, 2005, Beatrix received a rare honorary doctorate from Leiden University. In her acceptance speech she reflected on the monarchy and her own 25 years as Queen. [1] (http://www.koninklijkhuis.nl/NL/nieuws/nieuws.html?Toespraken/2223.html) The speech was broadcast live.[2] (http://cgi.omroep.nl/cgi-bin/streams?/nos/nieuws/2005/februari/video/080205/beatrix_toespraak.wmv)
It is not known if Beatrix will follow the example of her mother and grandmother and abdicate. Those closest to her have stated that she has never seriously talked about abdication.
She has been a long-time member of the Club of Rome.
On April 29 and April 30, 2005, she celebrated the 25th anniversary of her reign. She was interviewed on Dutch television, was offered a concert on Dam Square by the city of Amsterdam, and a celebration took place in The Hague, the country's seat of government.
The Queen has three children, all sons:
Hereditary titles of Queen Beatrix
Prime Ministers of the Netherlands during The Queen's reign
Queen Beatrix International Airport in Oranjestad, Aruba is named after Queen Beatrix.
See also List of Succession to the Dutch Throne
de:Beatrix (Niederlande)
es:Beatriz de los Países Bajos eo:Beatrix fr:Beatrix des Pays-Bas gl:Beatriz dos Países Baixos la:Beatrix (regina Nederlandiae) li:Beatrix nl:Beatrix van Nederland ja:ベアトリクス (オランダ女王) no:Beatrix av Nederland pl:Beatrix (królowa Holandii) pt:Beatriz dos Países Baixos ro:Beatrix a Olandei sv:Beatrix av Nederländerna