From Academic Kids
Bahá'u'lláh (1817–1892) (Persian: Mírzá Husayn-'Alí (میرزا حسینعلی)) was the founder and prophet of the Bahá'í Faith. He was also known as Bahá'u'lláh ("The Glory of God" in Arabic), as "He whom God shall make manifest" (from the Báb's writings), and as "Father of the Poor". Bahá'u'lláh's also authored many religious works, including the Kitáb-i-Aqdas (Most Holy Book) and the Kitáb-i-Íqán (Book of Certitude). He died in Bahji, Palestine (outside 'Akká;, Acre and now a part of Israel) and is buried at the Shrine of Bahá'u'lláh nearby.
Because Bahá'ís have special concerns about images of Manifestations of God, a photograph of Baha'u'llah can be found at the end of this article, to allow for this sensitivity.
Bahá'u'lláh's Life
Early years
Bahá'u'lláh was born on 12 November 1817 in Tehran, Persia, now a part of Iran. His father was Mirza Buzurg of Nur (in the province of Mazandaran), a distinguished nobleman from the court of Fath Ali Shah, the king of Persia.
Bahá'í biographers state that, as a young child, Bahá'u'lláh was privately tutored and was known for his intelligence.
Bahá'u'lláh's father, Mirza Buzurg served as vizier to Imam-Virdi Mirza, the twelfth son of Fath-'Ali Shah who was the Ilkhani' (chief of the clans) of the Qajar tribe. Mirza Burzurg was later appointed governor of Burujird and Lorestan. (Balyuzi) He was stripped of those positions during a government purge when Muhammad Shah came to power. After his father died, Bahá'u'lláh was reportedly asked to take a government post by the new vizier Haji Mirza Aqasi, but declined. [1] (http://www-personal.umich.edu/~jrcole/bahabio.htm) Baha'i biographers sometimes report this as " He was asked to take his father's position " but that is an oversimplification.
Bahá'u'lláh and his wife Navvab were known as the Father of the Poor and the Mother of Consolation for their extraordinary generosity and regard for the impoverished. (Blomfield)
Marriages and family
See main article: Bahá'u'lláh's family
Bahá'u'lláh had three concurrent wives by the names of Asiyih, Fatimih and Gawhar. His second wife was his cousin who was married to his brother until he died. At the time when he married his third wife Gawhar, she was one of the maids of his first wife Asiyih. In all Bahá'u'lláh had fourteen children of which only eight lived to adulthood. The fact that Bahá'u'lláh had three wives concurrently has been a subject of controversy which is covered in detail in the article on Bahá'u'lláh's family.
Revelation in the Síyáh-Chál
Missing image
Bahaullah-passport.jpg
It is generally believed that Bahá'u'lláh had accepted the Báb's new religion in his late twenties. Before his martyrdom in 1850, the Báb had appointed Bahá'u'lláh's younger half-brother Mirza Yahya Nuri (known as Subh-i Azal,) as the leader of the Bábís. This same Mirza Yahya was also "...appointed by the Báb to finish the Persian Bayan, the great revelation of the Babi movement." (Quoted from "History and Doctrines of the Babi Movement")
In 1852 a group of Bábís attempted to assassinate the King of Persia, Nasser-al-Din Shah. Bábí sources claim this was done as a result of continued persecutions, although non-Bábí sources claim it was due to the Bábís attempting to overthrow the government. Although Bahá'u'lláh had no connection to the failed assassination attempt, he was arrested and imprisoned in the Síyáh-Chál (the Black Pit), an underground dungeon. Numerous sources, both Bahá'í and non-Bahá'í state that he was imprisoned there for four months.
According to Bahá'u'lláh, it was during his imprisonment in the Síyáh-Chál that he received a vision of a Maiden from God, through whom he received his mission as a Messenger of God and as the One whose coming the Báb had prophesized. After four months in the Síyáh-Chál, and after the person who tried to kill the Shah confessed and exonerated the Bábi leaders, the authorities banished Bahá'u'lláh from Persia. Bahá'u'lláh chose to go to Baghdad, then a city in the Ottoman Empire. Bahá'ís believe that he was "banished" or "exiled" out of Persia whilst some sources believe that Bahá'u'lláh fled for fear of more persecution [Maulana, 1933]. The passport that Bahá'u'lláh has, shows that he had permission to travel to the Shi'a holy shrines in then Ottoman land, modern day Iraq.
Baghdad
In 1853, with limited supplies and food, and through the cold of winter, Bahá'u'lláh and his family (including his two wives, his siblings, and his children) travelled from Persia to Baghdad. In Baghdad, an increasing number of Bábí's would come to Bahá'u'lláh for guidance, instead of Mirza Yahya. Mirza Yahya, as the leader of the Bábís, started to sow doubt within the Bábí community about Bahá'u'lláh's intentions. The Bábí community started to become disunited. On April 10 1854 Bahá'u'lláh, without telling anyone his purpose or destination left to the mountains of Kurdistan, northeast of Baghdad, near the city Sulaymaniyah. He later wrote that he left so as to avoid becoming the source of disagreement within the Bábí community.
Mountains of Kurdistan
For two years Bahá'u'lláh lived alone in the mountains of Kurdistan. He occasionally visited the surrounding towns and villages and news of a man living in the mountains spread to neighbouring areas. When the news of such a man reached Baghdad, Bahá'u'lláh's family realized who the man was and pleaded with him to come back to Baghdad, and Bahá'u'lláh accepted.
Return to Baghdad
When Bahá'u'lláh returned to Baghdad he saw that the Bábi community had become disheartened and divided. According to `Abdu'l-Bahá, 25 people had claimed to be the One promised by the Báb during Bahá'u'lláh's absence and beforehand. Bahá'u'lláh remained in Baghdad for seven more years. During this time, while keeping his perceived station as the Manifestation of God hidden, he taught the Báb's teachings. He published many books and verses, which he claimed to be revelations, including the Kitáb-i-Íqán (Book of Certitude) and the Hidden Words. He married his third wife in Baghdad. According to the Bahá'ís, due to Bahá'u'lláh's rising prestige in the city, the clergy tried to have the Persian and Ottoman governments condemn Bahá'u'lláh. They were eventually successful in having the Ottoman government exile Bahá'u'lláh from Baghdad to Constantinople.
On this last point, part of the letter from the Persian government to the Turkish authorities indicating that the Babi headquarters may be removed to a more distant place states:
"...From that time [his exile to Baghdad] until now, as your excellency is aware, he [Baha U'llah] is in Baghdad, and at no time hath he ceased from secretly corrupting and misleading foolish persons and ignorant weaklings. Sometimes, moreover, he hath put his hand to sedition and incitements to murder, as in the case of his most accomplished Revered Mulla Aqa of Darband whom they greviously wounded with intent to kill...."
"For the character and nature of this misguided sect in the dominions of the Persian Government, and their boldness and audacity in the most perilous enterprises, have been repeatedly put to the proof, and it is clear that the principles of this new, false and detestable creed are based on two horrible things, first an extraordinary hostility and enmity toward this Islamic State [Persia], and secondly an incredible pitilessness and ruthlessness towards all individuals of this nation, and a readiness to lose their own lives in order to achieve this sinister object."
(Quoted from "History and Doctrines of the Babi Movement" which itself quotes this from Browne's Persian Introduction to Nuqtatul Qaf.)
The Persian ambassador, Mírzá Husayn Khán, while participating in this exile at the time, taking advantage of Bahá'u'lláh's lack of solicitations to the authorities, later paid tribute to Bahá'u'lláh for the example he was seen by him to have set in contrast to that of other Persian exiles who had come to be known there for their offering of bribes and favor-seeking.
Declaration in the Garden of Ridvan
On April 22 1863, Bahá'u'lláh left Baghdad and entered the Garden of Ridván near Baghdad. Bahá'u'lláh and those accompanying him would stay in the garden for twelve days before departing for Constantinople. It was during his time in the Garden of Ridván that Bahá'u'lláh declared to his companions his perceived mission and station as a Messenger of God. Some of the Bábí community, including Mirza Yahya who was his half-brother and also successor to the Bab, did not accept Bahá'u'lláh's declaration and became known as "Azali Bábís." Today Bahá'ís celebrate the twelve days that Bahá'u'lláh and his companions spent in the Garden of Ridván as the festival of Ridván.
The eleven years of messianic secrecy that passed between when Bahá'u'lláh claimed to have seen the Maiden of Heaven in the Síyáh-Chál and this declaration are referred to by Baha'i chroniclers and by Bahá'u'lláh himself as ayyam-i butun ("Days of Concealment"). Bahá'u'lláh stated that this period was a "set time of concealment". It was during this period that Bahá'u'lláh wrote his primary eschatological work the Kitab-i-Iqan. (Buck, 1998)
Exile in Constantinople
Bahá'u'lláh and his family, along with a small group of Bábís, stayed in Constantinople for only four months. During this time the Persian Ambassador in the court of the Sultan mounted a systematic campaign against Bahá'u'lláh. Bahá'u'lláh was thus exiled to Adrianople. Before Bahá'u'lláh left for Adrianople he wrote a Tablet to the Sultan, rebuking him for his and his minister's immaturity and incompetence.
Exile in Adrianople
During the month of December, Bahá'u'lláh and his family embarked on a twelve-day journey to Adrianople. Bahá'u'lláh stayed in Adrianople for four and a half years. Mirza Yahya upon hearing Bahá'u'lláh's in a Tablet read to him, challenging him to accept Bahá'u'lláh's Revelation, offered a counter-claim that he was the one whom the Báb had prophesized about. This caused disunity within and harm to the Bahá'í community. It is said this included trying to poison Bahá'u'lláh. (The Hasht Bihisht version is that it was Bahá'u'lláh who tried to poison Mirza Yahya, and accidently took the poison himself.) While Bahá'u'lláh recovered, his hand was left shaking until the end of his life.
Also, while in Adrianople, Bahá'u'lláh proclaimed the Bahá'í Faith further by addressing Tablets to the kings and rulers of the world including:
Imprisonment in Akka
The disagreements between the Bahá'ís and the Azali Bábis allowed the Ottoman and Persian authorities to exile Bahá'u'lláh once again. One morning, without any notice, soldiers surrounded Bahá'u'lláh's house and told everyone to get ready to depart to the prison-city of Akka, Palestine. Bahá'u'lláh and his family left Adrianople on August 12 1868 and after a journey by land and sea arrived in Akka on August 31. The inhabitants of Akka were told that the new prisoners were enemies of the state, of God and his religion, and that association with them was strictly forbidden.
The first years in Akka were a period of great suffering for Bahá'u'lláh; Mirzá Mihdí, Bahá'u'lláh's son, was suddenly killed at the age of twenty-two when he fell through a skylight while pacing back and forth in prayer and meditation. Bahá'u'lláh claimed this untimely death was a sacrifice. Yet after some time, the people and officials of the city recognized Bahá'u'lláh's wisdom, and thus the conditions of the imprisonment were eased and eventually, after the Sultan Abd-ul-Aziz's death, he was allowed to leave the city and visit nearby places.
Final Years
Missing image
Shrine_of_bahaullah.jpeg
The final years of Bahá'u'lláh's life were spent in the Mansion of Bahji, just outside Akka, even though he was still formally a prisoner of the Ottoman Empire. During his years in Akka and Bahji, Bahá'u'lláh produced many volumes of work including the Kitáb-i-Aqdas. On May 9 1892 Bahá'u'lláh contracted a slight fever which grew steadily over the following days, abated, and then finally took his life on May 29 1892.
Legitimacy of Bahá'u'lláh's claim
Opponents of the Baha'i Faith reject Bahá'u'lláh's explanation and claim that the story of the revelation of the Iqan puts Bahá'u'lláh's claim of being "He whom God shall make manifest" in doubt. These opponents note that the Kitab-i-Iqan was written to prove the Báb's "legitimacy" to those who had raised doubts about the Bab and the Bábi Faith. But Bahá'u'lláh's new religion and its holiest book, Kitáb-i-Aqdas, essentially retires Bábism and its book the Persian Bayan, and declares a new "religion".
These opponents then question the reasonableness of the historical sequence. Why would a messenger of God, inspired by God about his mission, kept it secret for eleven years, and in that time wrote an extensive book in support of something, then only a decade later cancel it and send it into retirement?
The Bahá'í historical story is not different, but the Bahá'ís accept the explanation that the Bahá'í Writings maintain that while the Báb's short Dispensation is to be considered a "mystery", the successive appearance of two independent Manifestations of God, called the "Twin Manifestations of God", testifies to the uniqueness and potency of this new age of prophetic fulfillment. They also argue that the Báb's Writings and prayers are to still be included among the Writings used by the believers (even while its social laws were abrogated), that the mission of the Báb served to provide a necessary abrupt break from the past (in its institution of its dramatic laws), and that the Báb prepared a sufficient number of people spiritually for the coming of Bahá'u'lláh, so it is argued that the Báb's mission was far from being without utility.
Similarly, the Bahá'í writings are clearly depended on Bahá'u'lláh's claim of being Him whom God shall make manifest. Therefore, it was nessesary to establish the legitimacy of that prophecy before revealing to the community of belivers how Bahá'u'lláh was the fulfillment of it.
Succession
After Bahá'u'lláh's death two of his sons fought for control of the group. "His eldest son by his first wife was `Abdu'l-Bahá, while his eldest son by his second wife was Mírzá Muhammad `Alí. On the former Bahá'u'lláh conferred the title of Ghusn-i-Azam, or the "most mighty Branch", and on the latter that of Ghusn-i-Akbar or the "most great Branch". On the strength of the will of Bahá'u'lláh, Abbas Effendi assumed the headship of the movement, but Muhammad Ali and many other prominent followers of Bahá'u'lláh repudiated his claims." (Quoted from "History and Doctrines of the Babi Movement")
Bahá'u'lláh's Works
Bahá'u'lláh wrote many books, tablets and prayers. Below are some that have been translated to English:
Some feel that his writings in Persian and in Arabic are of excellent literary quality [2] (http://www.h-net.org/~bahai/notes/vol3/scripture.lit.htm), while e.g. Ahmad Kasravi, a renowned, but not uncontroversial, Iranian scholar and linguist feels Bahá'u'lláh has poor grammar and style in his Arabic writings.
See also
References
External links
Photograph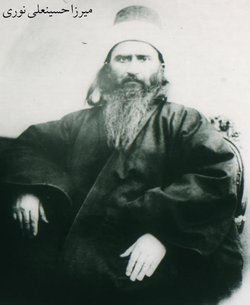 This photograph of Baha'u'llah's is a copy of one of two taken in while he was in Adrianople taken from William Miller's book on the Baha'i Faith. Baha'is prefer to not view this photo, except under conditions of respect and reverence that cannot be met here. Therefore the photo is shown here where it can be avoided by observant Baha'is. A copy of one of the photos taken in Adrianople is on display in the Baha'i World Centre where the Baha'i religious authorites feel that the image can be handled and viewed with due reverence and respect[4] (http://bahai-library.com/uhj/photo.bahaullah.html).de:Baha'u'llah es:Bahá'u'lláh eo:Bahá'u'lláh fr:Mirza Husayn io:Bahá'u'lláh it:Bahá'u'lláh nl:Bahá'u'lláh ja:バハーウッラー no:Bahaullah nn:Bahá'u'lláh ru:Бахаулла fi:Baha'u'llah sv:Bahaullah pt:Bahá'u'lláh zh:米尔扎·侯赛因·阿里