The Walt Disney Company
From Academic Kids
Template:Infobox Company The Walt Disney Company (also known as "Disney") Template:Nyse is one of the largest media and entertainment corporations in the world. Founded on October 16, 1923 by Walt Disney and his brother Roy Oliver Disney as the Disney Brothers Cartoon Studio, it is today the number two media company in the United States. The company's corporate headquarters are located in Burbank, California. Disney had revenues of $30.8 billion in 2004, and it is a component of the Dow Jones Industrial Average. For much of its history, the company was known as Walt Disney Productions, Ltd., until February 6, 1986, when it was rechristened with its current name. Disney Enterprises, Inc., commonly seen in company legal notices, is a subsidiary of The Walt Disney Company.
Overview
Disney's main operating units are Studio Entertainment, Parks and Resorts, Media Networks, and Consumer Products.
Studio Entertainment
Its Studio Entertainment unit, also known as The Walt Disney Studios, is headed by Chairman Dick Cook. It includes the Buena Vista Motion Pictures Group, a collection of movie studios including Walt Disney Pictures, Touchstone Pictures, and Hollywood Pictures. The Miramax Films and Dimension Films studios are also a part of the unit, but operate autonomously in New York. Disney's Buena Vista Music Group, which includes Walt Disney Records, Mammoth Records, Lyric Street Records, and Hollywood Records, also falls under the umbrella of The Walt Disney Studios. The unit also includes Buena Vista Theatrical Productions and Disney's distribution companies: Buena Vista International, Buena Vista Home Entertainment, and Buena Vista Home Entertainment International.
One of the company's most successful subsidiaries is its animation studio,
Walt Disney Feature Animation
, responsible for producing a
number
of successful and influential
traditionally animated
features. After witnessing the box office failures of some of its recent animated films and the stellar successes of computer-animated films from
Pixar
, Disney has decided to shift its production from "traditional" hand-drawn animated films (which in recent years have incorporated much work done on computer) entirely to computer-animated films. The last traditionally-animated film produced by Disney was
Home on the Range.
Its first computer-animated film will be
Chicken Little.
Disney has fallen under much criticism for this change in direction, especially as fans see the strength of a movie as its plot and its characters and not as the technology used to make it.
Missing image
Stamps_USPS_disney.jpg
Disney is becoming a direct competitor to Pixar in a market dominated by the latter. Disney has failed to renew its contract with Pixar to release Pixar's films under the Disney name, an arrangement which had been extremely profitable to Disney and whose termination means that Pixar is now free to pair up with a competing studio.
Walt Disney Studios , the company's main film and television production facility as well as corporate headquarters, in Burbank, California, is the only major Hollywood film studio that has never offered tours to the public. A partial tour of the Orlando, Florida feature animation satellite studio was available to attendees of Disney-MGM Studios until 2003.
Parks and Resorts
Main article: Walt Disney Parks and Resorts.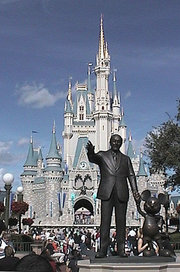 Disney operates eight
theme parks
at the
Disneyland Resort
, the
Walt Disney World Resort
, and the
Disneyland Resort Paris
. A ninth is under construction at the
Hong Kong Disneyland Resort
, which is set to open in
2005
.
Tokyo Disney Resort
in
Japan
is operated and owned by the Oriental Land Company with licenses from Disney.
The company also owns through Anaheim Sports, Inc. the Mighty Ducks of Anaheim hockey club, which it recently agreed to sell to Broadcom executive Henry Samueli, and owned the Anaheim Angels baseball team, which was later sold to advertising magnate Arturo Moreno. The Disney Cruise Line, Disney Vacation Club, and the chain of ESPN Zone sports-themed restaurants also operate as a part of the Parks & Resorts unit.
Media Networks
Its Media Networks unit is centered around the American Broadcasting Company (ABC) television network, which it acquired through a merger with Capital Cities/ABC in 1996. Disney also owns a group of cable networks including The Disney Channel, ABC Family, Toon Disney, the ESPN group and SOAPnet. Disney also holds substantial interest in Lifetime (50%), A&E (37.5%), and E! (40%).
Through ABC, Disney also owns local 10 television stations, 26 local radio stations, and ESPN Radio, Radio Disney, and ABC Radio News, which carries such radio personalities as Sean Hannity and Paul Harvey. Buena Vista Television, which also is a part of the Media Networks unit, produces such syndicated television programs as Who Wants to Be a Millionaire?, Live with Regis and Kelly, and Ebert & Roeper.
Disney also operates its Hyperion publishing company and Walt Disney Internet Group (WDIC) through Media Networks. Hyperion has recently published books by comedian-author Steve Martin and bestselling author Mitch Albom. WDIC includes the Go.com web portal, based on the old Infoseek search engine which it purchased in 1998, and leading websites such as Disney.com, ESPN.com, and ABCNews.com.
Consumer Products
Its Consumer Products unit includes Disney's merchandising and licensing business and its Disney Publishing Worldwide group, whose imprints include Disney Editions, Hyperion Books for Children, Disney Press. It also published the Disney Adventures children's magazine.
The unit once included the Disney Store chain of shopping mall locations, which it sold in 2004. It does now include Jim Henson's Muppets characters, which it purchased from The Jim Henson Company in 2004.
History
1923-1936
Missing image
Waltdisneymickey.jpg
1937-1954
Missing image
Royoliverdisney.jpg
1955-1983
1984-present
Missing image
Michaeleisner.jpg
Financial
Highlights (Fiscal year ended September 30) ($ in millions)
Business
Revenue
Operating income
Operating profit margin %
2004
Media Networks
11,778
2,169
18.4
Parks and Resorts
7,750
1,123
14.4
Studio Entertainment
8,713
662
7.6
Consumer Products
2,511
534
2.1
Total
30,752
4,488
14.6
Most Recent Financial Statements Income Statement (http://finance.yahoo.com/q/is?s=DIS&annual) Balance Sheet (http://finance.yahoo.com/q/bs?s=DIS&annual) Cash Flow (http://finance.yahoo.com/q/cf?s=DIS&annual)
Annual Reports 1996-2004 (http://www.sec.gov/cgi-bin/browse-edgar?type=10-k&dateb=&owner=include&action=getcompany&CIK=0001001039)
Management, 1923-present
Current senior management
Chairman of the Board - George J. Mitchell
Chief Executive Officer - Michael Eisner
President and Chief Operating Officer - Robert Iger
Chief Financial Officer - Thomas O. Staggs
Adviser to Robert Iger - Peter E. Murphy
Current division heads
Disney Chairmen of the Board
Disney CEOs
Disney Presidents
See also
External links
SEC
ar:والت ديزني (شركة) de:The Walt Disney Company es:The Walt Disney Company fr:Walt Disney Company id:The Walt Disney Company it:The Walt Disney Company nl:The Walt Disney Company ja:ウォルト・ディズニー・カンパニー no:The Walt Disney Company pt:Disney sv:Disney zh:華特·迪士尼公司