Karl Renner
From Academic Kids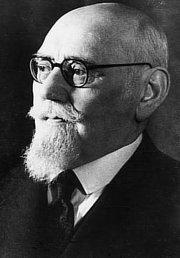 Karl Renner (December 14, 1870 - December 31, 1950) was an Austrian politician. He was born in Unter-Tannowitz (Dolní Dunajovice) (Moravia) and died in Vienna.
Renner was born as the 18th child of a poor farmer's family but because of his talents he was allowed to go to high school, and later study law at the University of Vienna from 1890 to 1896. In 1895 he was one of the founding members of the Naturefriends, and invented their logo.
Renner was always interested in politics and became librarian in parliament and member of the Austrian social democrats party (SPÖ) in 1896. He started to represent the party in the Reichsrat in 1907. Afterwards, Renner was Chancellor of Austria and Minister of Foreign Affairs from 1918 until 1920.
The peace treaty of St. Germain was signed in 1919 between Austria, under the leadership of Karl Renner, and the victorious Allies of World War I, and declared Austria a republic. From 1931 to 1933 Renner was President of the Representative Assembly. He always pleaded for the annexation of Austria with Germany but distanced himself from politics during the war.
After the collapse of the Third Reich, Renner tried to build up a Provisional Government and stood up for Austria to be acknowledged as an independent republic. He was the first Chancellor after World War II. In 1945 he became the first President of the Second Republic.
Karl Renner died in 1950 was buried in the Zentralfriedhof in Vienna.
de:Karl Renner