HMX-1
From Academic Kids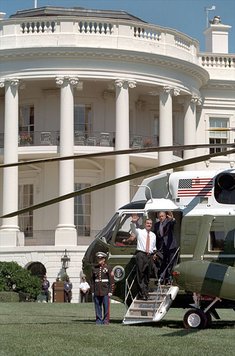 Marine Helicopter Squadron One (HMX-1), "The Nighthawks", based in Quantico, Virginia, is responsible for the helicopter transportation of the president of the United States, vice president, Cabinet members and VIPs. When the President is aboard, the helicoptor uses the call sign "Marine One."
The first official presidential helicopter was the VH-34, beginning operations in September 1957. Since 1976 the U.S. Marine Corps has had sole responsibility for presidential helicopter transportation. The current fleet is made up of the VH-3D Sea King and the VH-60N Blackhawk which entered service with the squadron in 1962 and 1988, respectively.
HMX-1 is scheduled to receive 23 new Lockheed Martin's US-101 helicopters to replace the current fleet by 2008.
The presidential and VIP flights fall under "whiteside." "Greenside" operations include support of Marine Corps Combat Development and operational test and evaluation, such as with the V-22 Osprey, a vertical take-off and landing aircraft.
See also
Reference
Article on HMX-1 by GlobalSecurity.org (http://www.globalsecurity.org/military/agency/usmc/hmx-1.htm)