Marine One
From Academic Kids
Missing image
Marine_One_Whitehouse.jpg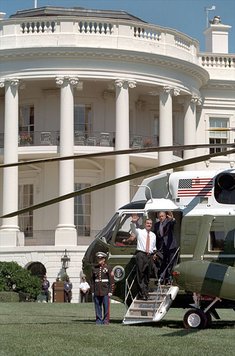 Marine One
is the call sign of any
United States Marine Corps
aircraft carrying the
President of the United States
. It usually denotes one of 19
helicopters
operated by the
HMX-1 "Nighthawks"
squadron, either the large
H-3 Sea King
or the newer, smaller
UH-60 Black Hawk
. Both are due to be replaced by the US101, a derivative of the
AgustaWestland EH101
.
The first Presidential helicopter was used during the term of Dwight D. Eisenhower. In 1957, Eisenhower traveled on a H-13 Sioux military aircraft that lacked the air conditioning and lavatory accommodations of its modern equivalent. It was replaced by the H-34 one year later in 1958; the Sea King first flew as Marine One in 1961. Prior to 1976, the US Army shared the responsibility of helicopter transportation for the President with the Marine Corps, with the call sign of Army One while the President was on board.
Today, Marine One is sometimes the preferred alternative to motorcades, which can be expensive and logistically difficult. The controlled environment of a helicopter also adds greatly to the safety factor.
More than 800 Marines supervise the operation of the Marine One fleet, which is based in Quantico, Virginia, but is more often seen in action on the South Lawn of the White House, or at Andrews Air Force Base in Maryland. At Andrews, it is sometimes used to connect to Air Force One for longer journeys.
Wherever Marine One flies, it is met on the ground by at least one Marine in full dress uniform. (Bill Clinton flew across the Grand Canyon in Marine One shortly before leaving office, and upon landing, was surprised to find a single Marine standing on the edge of the canyon.)
As a security measure, Marine One always travels in pairs: One helicopter carries the President, while the other serves as a decoy for would-be assassins on the ground. To add to the tightness of Marine One, every member of HMX-1 is required to receive a top secret "Yankee White" security clearance before touching any of the helicopters used for Presidential travel.
HMX replacement
Although the VH-3 looks brand new, due to the meticulous Special Paint and Rework (SPAR) program, it is an aging airframe, having entered service with HMX-1 in 1962. Consequently, the procurement of a new helicopter is underway. Initial operational capabilty is required by 2008 and full operational capability is desired no later than 2014.
Lockheed and Sikorsky (with major contractors) bid for the contract. It was announced on January 28 2005 that Lockheed Martin's US101 team had won. The contractor teams were:

Template:PresidentialCallsigns