EasyJet
From Academic Kids
The title of this article is incorrect because of technical limitations. The correct title is easyJet.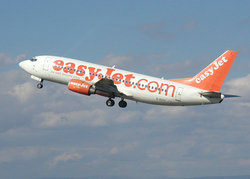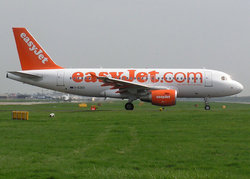 Missing image
EJ20030502020.jpg
easyJet is a low cost airline officially known as easyJet Airline Company PLC and is based at London Luton Airport. It operates frequent scheduled services for leisure and business passengers and is now serving more than 188 routes between 57 key European cities.
Code Data
History
The airline was established on 18 October 1995 and started operations on 10 November 1995. It was launched by Stelios Haji-Ioannou with two leased aircraft operating two routes: London Luton to Glasgow and Edinburgh. In March 1998 it purchased a 40% stake in TEA Switzerland, renamed EasyJet Switzerland. EasyJet was floated on the London stock exchange in October 2000. Operations were boosted in 2002 with the acquistion of rival airline, London Stansted based Go. In December 2003 easyJet announced it would open a new hub in Berlin, at Schönefeld Airport, from which it started flying on 11 routes from May 2004. EasyJet's main shareholders include Stelios Haji-Ioannou (27.6%), Polys Haji-Ioannou (15.5%) and Icelandair (10.1%). It also holds a 49% stake in EasyJet Switzerland.
EasyJet is claimed to be a more business-orientated airline than Ryanair, since it flies to major airports (as opposed to secondary airports) and has recently removed limits on hand luggage weight (within reason).
Hubs
easyJet's main base is London Luton (LTN). It also has hubs at Berlin Schönefeld (SXF), Amsterdam Schiphol Airport (AMS), Liverpool John Lennon Airport (LPL), Newcastle Airport (NCL), London Stansted (STN), Belfast International Airport (BFS), Dortmund Airport (DTM), Nottingham East Midlands Airport (EMA), Geneva Cointrin International Airport (GVA), London Gatwick (LGW), Orly Airport Paris (ORY), and Bristol International Airport (BRS).
Services
A detailed list of destinations served can be found in easyJet destinations.
Fleet
The easyJet fleet consists of the following aircraft (at 15 April 2005): [1] (http://www.easyjet.com/EN/News/20050418_02.html)
Like most low cost carriers easyJet initially operated exclusively Boeing 737 aircraft. In September 2003 it broke with its previous philosophy of operating just one aircraft type by ordering 120 Airbus A319s. These were first introduced to easyJet's Geneva base, UK bases followed in 2004. When the last of the A319s has been delivered in 2007 easyJet still expects to be operating 44 737s. [2] (http://www.easyjet.com/EN/About/Information/infopack_fleetinfo.html)
Missing image
First_easyjet-Flight_at_Berlin.jpg
Booking
Initially booking was by telephone only, all the planes were painted with the booking telephone number. There is no incentive for travel agents to sell easyJet bookings because there is no commission, a standard practice for the low cost carriers. When asked about the possibility of Internet sales, Stelios had replied that the Internet was "just for geeks". Later he changed his mind, and easyJet became the first UK airline to offer online booking in April 1998. Internet bookings were priced cheaper than booking over the phone, to reflect the reduced call centre costs. The planes were repainted with the web address. Within a year 15% of bookings were made using the web site, by April 2004 the figure had jumped to 98%. Now, flights can only be booked over the Internet except during the 2 weeks immediately before the flight when telephone booking is also available.
Passenger numbers
easyJet has published the following passenger numbers:
These are "earned seat" numbers. Earned seats is a method of counting passenger numbers which includes all seats sold whether the passenger turns up or not, and also seats used for promotional purposes and staff business travel.
easyJet said it carried 2.08m people in January 2005 (up 23.8% on same month the previous year) and 6.7m in the three month period to December 2004 (up 26%) (ref: Guardian 8 February 2005).
Other facts of interest
easyJet is consistently a popular search query [3] (http://www.google.co.uk/press/zeitgeist.html) in the airline category on Google UK.
On 14 December 2004, easyJet and Hotelopia, a subsidiary of First Choice Holidays, launched a co-branded easyJetHotels accommodation booking service.
Due to higher density passenger seating and the enforced extra safety requirement, easyJet's Airbus A319 aircraft have two pairs of overwing exits instead of standard one-pair exits found on all other Airbus A319.
easyJet's "earned seats" total for the year to 30 November 2004 was 25,249,936. This was an increase of 21% over the year earlier period.
The UK television station ITV runs a series called "Airline" featuring easyJet and its staff at work at Luton airport.
In the UK the airline is colloquially known as "sleazyJet".
External links
Template:Airlines of the United Kingdomde:EasyJet fr:easyJet nl:EasyJet