Chesty Puller
From Academic Kids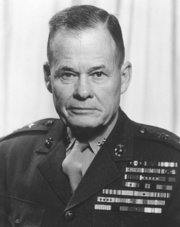 Lieutenant General Lewis Burwell "Chesty" Puller (June 26, 1898 – October 11, 1971) was a United States Marine officer, notable as the most decorated Marine in history.
Biography
Puller, whose nickname was inspired by his barrel chest, was born in West Point, Virginia. He resigned from the Virginia Military Institute after his freshman year to enlist as a Private in the Marine Corps in August, 1918 (serial number 135517). American involvement in World War I was intensifying at the time; his reasoning for his enlistment is summed up in the (possibly apocryphal) quote, "I want to go where the guns are."
Puller was unable to reach an overseas theater during the First World War, but remained on duty with the Marine Corps for the next 37 years. He was appointed to the rank of Second Lieutenant in the reserves on June 16, 1919, but reduction in force following the war led to his being put on inactive status on the 26th of that month.
Puller re-enlisted in the Marine Corps the same year. As an enlisted man, he saw action in Haiti with the Gendarmerie d'Haiti, which was working under a treaty with the United States, and participated in over forty engagements during the ensuing five years against the Caco rebels. In March 1924 he returned stateside and was again commissioned as a Second Lieutenant, afterward completing assignments at the Marine Barracks in Norfolk, Virginia, Basic School in Philadelphia, Pennsylvania, and with the 10th Regiment in Quantico, Virginia. He was assigned to the Marine Barracks at Pearl Harbor, Hawaii in July of 1926 and in San Diego, California in 1928.
In December 1928, Puller was assigned to the Nicaraguan National Guard detachment, where he earned his first Navy Cross. He returned stateside in July 1931 and completed the year-long Company Officers' Course at Fort Benning, Georgia, thereafter returning to Nicaragua to earn a second Navy Cross for leading "five successive engagements against superior numbers of armed bandit forces".
After his service in Nicaragua, Puller was assigned to the Marine detachment at the American Legation in Beijing, China commanding a unit of China Marines. He then went on to serve on the USS Augusta, a cruiser in the Asiatic Fleet, and returned in June 1936 as an instructor at the Basic School in Philadelphia.
In May 1939 he returned to the Augusta as commander of the onboard Marine detachment, and thence back to China, disembarking in Shanghai in May 1940 to serve as the executive officer of 2nd Battalion, 4th Marine Regiment. He later served as its commanding officer.
Returning to the U.S. in August 1941, Puller was given command of 1st Battalion, 7th Regiment (known as 1/7) of the 1st Marine Division, stationed at MCB Camp Lejeune, North Carolina. This unit was briefly attached to the 3rd Marine Regiment for transport to the Pacific theater, and rejoined the 1st Division on Guadalcanal. While on Guadalcanal, Puller earned his third Navy Cross for action at was later known as the "Battle of Henderson Field", in which the 1/7 battalion was the only American unit defending the airfield against a regiment-strength Japanese force. In a firefight on the night of October 24–25, 1942 lasting about three hours, 1/7 sustained 70 casualties; the Japanese force suffered over 1,400 killed in action, and the airfield was held by the battalion.
Following this action Puller was made executive officer of the 1st Marine Regiment. While serving in this capacity at Cape Gloucester, he earned his fourth Navy Cross for overall performance in December and January of 1944, and was later (February 1944) made regimental commander, leading the regiment in numerous engagements on Peleliu during September and October of 1944.
Puller returned to the United States in November 1944, and was named executive of the Infantry Training Regiment at Camp Lejeune. After the war, he was made Director of the 8th Reserve District at New Orleans, Louisiana, and later commanded the Marine Barracks at Pearl Harbor.
At the outbreak of the Korean conflict, Puller was once again assigned as commander of the 1st Marine Regiment, with which he made a landing at Inchon on September 15, 1950. In November of that year, Puller earned an unprecedented fifth Navy Cross for action at Chosin Reservoir. Promoted to Brigadier General and made assistant division commander in January 1951, he completed his tour in Korea in May of that year.
General Puller subsequently achieved promotions to Major General and Lieutenant General, and served in various command capacities until his retirement due to health reasons on November 1, 1955. In 1966, he requested to be reinstated in the Corps in order to see action in the Vietnam War, but the request was denied on account of his age. He died in 1971, at the age of 73, in Saluda, Virginia.
Decorations
Puller was the most decorated U.S. Marine in history, and the only one to be awarded five Navy Crosses. His other decorations included the Distinguished Service Cross, the Silver Star, two Legions of Merit (with Valor device), Bronze Star (with Valor Device), Air Medal, Purple Heart, and awards given by non-U.S. governments. The frigate Lewis B. Puller (FFG-23) was named after him.
A common incantation in the tradition of the Marine Corps is to end one's day with the declaration, "Good night Chesty, wherever you are!"
Also, to this day in boot camp and OCS (at Quantico, VA), Marines still chant "It was good enough for Chesty Puller/It is good enough for me" Chesty represents the esprit de corps of the Corps, what the United States Marines are really about.
Lewis Puller
His son, Lewis Burwell Puller, Jr. followed him into the Marines, but fared much differently, losing both legs and a hand in Vietnam, running for Congress in opposition to the war and losing, then writing an autobiography that won the Pulitzer Prize in 1992. He committed suicide on May 11, 1994. His wife said at the time "To the list of names of victims of the Vietnam War, add the name of Lewis Puller ... He suffered terrible wounds that never really healed."
Quotes
"All right, they're on our left, they're on our right, they're in front of us, they're behind us...they can't get away this time."
"We're surrounded...That simplifies our problems."
At Koto-Ri in Korea, when an Army captain asked him for the direction of the line of retreat, Col. Puller called his tank commander, gave them the Army position, and ordered: "If they start to pull back from that line, even one foot, I want you to open fire on them." Turning to the captain, he replied, "Does that answer your question? We're here to fight."
References
External link
See also