Yokosuka, Kanagawa
From Academic Kids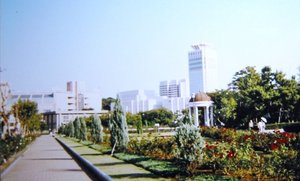 Yokosuka (Japanese: 横須賀市; -shi) is a city located in Kanagawa, Japan.
It is located at the mouth of Tokyo Bay on the Miura Peninsula, and stretches across the peninsula to Sagami Bay. Its neighbors are Yokohama, Miura, Hayama, and Zushi.
History
William Adams
In 1612, the adventurer William Adams, the first Briton to set foot in Japan, was granted the title of samurai and a fief in Hemi within the boundaries of present-day Yokosuka City, due to his services to the Shogun. There he founded a familly with Oyuki, the daughter of Magome Kageyu, a noble samurai and official of Edo Castle. William and Oyuki had a son called Joseph, and a daughter, Susanna. A monument to Williams Adams, called Miura Anjin in Japanese, is still visible in Yokosuka.
Commodore Perry
In 1853, United States naval officer Matthew Perry arrived in Tokyo Bay with his fleet of black ships and came ashore near present day Yokosuka, leading to the opening of diplomatic and trade relations between Japan and the United States.
The Yokosuka arsenal
The Yokosuka Iron Foundry was established on the site of the city in 1865, and the French engineer Léonce Verny spent the next ten years supervising the development of shipbuilding facilities.
Yokosuka became the first modern arsenal to be created in Japan. The construction of the arsenal was the central point of a global modern infrastructure, that was to prove an important first step for the modernization of Japan's industry. Modern buildings, the Hashirimizu waterway, foundries, brick factories, technical schools to train Japanese technicians were established.
Missing image
YokosukaConstruction.jpg
The city itself was incorporated in 1907.
Yokosuka was to become one of the main arsenals of the Imperial Japanese Navy into the 20th century, in which were built battleships such as Yamashiro, and aircraft carriers such as Hiryu and Shokaku. Major Naval aircraft were also designed at the Yokosuka Naval Air Technical Arsenal.
Yokosuka today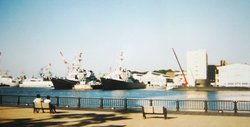 Missing image
Yokosuka_parade.jpg
Yokosuka now is home to one of the biggest military seaports shared by the United States Navy and the Maritime Self-Defense Force of Japan.
Current prime minister Junichiro Koizumi was born in Yokosuka and attended Yokosuka High School.
As of 2003, the city has an estimated population of 431,332 and a density of 4,286.74 persons per km². It covers an area of 100.62 km².
Yokosuka in popular culture
Yokosuka is well-known as the setting of the Sega video game, Shenmue.
External links
See also
Template:Kanagawade:Yokosuka eo:Jokosuka fr:Yokosuka ko:요코스카 시 id:Yokosuka ja:横須賀市 zh:橫須賀市