Japanese aircraft carrier Shokaku
Missing image
Japanese.aircraft.carrier.shokaku.jpg



Career
Ordered:
Laid down:
December 12 1937
Launched:
June 1 1939
Commissioned:
August 8 1941
Fate:
Sunk by US submarine Cavalla on 19 June 1944
Struck:
General Characteristics
Displacement:
25,675 tons (standard), 32,105 (fully loaded)
Length:
257.5 m
Beam:
26 m
Draught:
8.8 m
Propulsion:
Kanpon geared turbines, 4 screws, 160,000 hp (119 MW)
Speed:
34.2 knots (63.3 km/h)
Range:
9,700 nautical miles at 18 knots (18000 km at 33 km/h)
Complement:
1,660
Armament:
Sixteen 5 inch (100 mm) guns
Up to 96 25 mm guns
Aircraft:
84
Shokaku (Japanese: 翔鶴 shōkaku meaning "flying crane") was an aircraft carrier of the Imperial Japanese Navy, the lead ship of her class. She is most famous for taking part in the battles of Pearl Harbor and the Coral Sea.
Shokaku was laid down at Yokosuka Dockyard on December 12 1937, launched on June 1 1939, and commissioned on August 8 1941. With an efficient modern design, a displacement of about 30,000 tons, and a top speed of 34 knots (63 km/h), Shokaku could carry 70 to 80 aircraft and exceeded any other aircraft carrier in the world in performance and capability, until the wartime development of the American Essex-class aircraft carrier.
She and her sister ship Zuikaku forming the Japanese 5th Carrier Division, acquired their aircraft shortly before the Pearl Harbor attack and were ready just in time for it.
With Zuikaku, Shokaku joined the Pearl Harbor attack fleet, and then participated in Japan's series of early wartime naval offensives, including an attack on Rabaul in January 1942, and the Battle of the Coral Sea in May.
In the Indian Ocean raid of March 1942, she joined the aircraft carriers Akagi, Zuikaku, Soryu, and Hiryu in raiding Colombo. There Admiral Chuichi Nagumo succeeded in extensively damaging support facilities.
That task completed, the task force found and sank the British carrier Hermes, and two cruisers (Cornwall and Dorsetshire), prior to moving on to the Coral Sea. Here she helped to sink USS Lexington, but was herself severely damaged by USS Yorktown's aircraft in return.
After repairs, Shokaku took part in two further 1942 battles, both in concert with her sistership: the battle of the Eastern Solomons, where they damaged USS Enterprise, and the battle of the Santa Cruz Islands, where they sank USS Hornet but Shokaku was once again seriously damaged by dive bombers.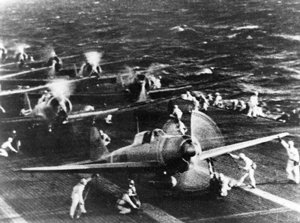 In 1943 under the command of Captain Matsubara Hiroshi she resumed her role as one of the Japanese Navy's most important fleet carriers. She was assigned to a counter-attack against the Aleutian Islands, but the operation was cancelled after the Allied victory at Attu. For the remainder of 1943 she was based at Truk.
In 1944 she was based at Lingga near Singapore. On 15 June 1944 she departed with the Mobile Fleet for Operation A-Go, a counterattack against allied forces in the Mariana Islands. During the Battle of the Philippine Sea on 19 June 1944 she was hit at 11:23 by three torpedoes (or possibly four) from the US submarine Cavalla. The torpedoes started fires that proved impossible to control. At 14:08 an aerial bomb exploded, detonating aviation fuel. Shokaku sank quickly, killing 1,272 men. The cruisers Yahagi, Urakaze, Wakatsuki, and Hatsuzuki rescued Captain Matsubara and 570 men.
External links