Woodie
From Academic Kids
---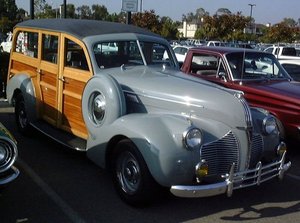 A woodie is a type of car, more specifically an early station wagon (US) or estate car/shooting brake (UK), in which the rear portion of the car's bodywork is made of wood. Frequently this wood is visible, since it is covered in a clear finish, either over the entire wooden area or sometimes just on the framework with the interior panels painted.
The vast majority of woodies were produced before the end of the 1950s at which time safety regulations and changing automotive fashions meant the effective end of the style. Woodies were generally not produced by the original car manufacturer, but were third-party conversions of regular vehicles. Some were done by large, reputable coachbuilding firms, while others were built by local carpenters and craftsmen for individual customers.
It is a derivative of the body-on-frame method of car construction. Earlier cars generally had aluminium or steel panels bolted on top of the wood framing. Woodies were originally cheaper because they didn't need these panels and their fitment and painting. So railway stations used them for hackwork of luggage and petty shipments; hence the name, station wagon. The tradition of the woodie remains in the woodgrain decals and plastic beams attached to a structural steel body of many station wagons. These imitations are considered deceitful for the same reasons that modern architects maintain Adolf Loos's statement, "Ornament is Crime."
This car body style was popular both in the United States and the United Kingdom. Woodies were produced from all kinds of cars, from basic to luxury, but the most popular conversions were large, powerful but not highly luxurious models.
In the 1960s and to some degree the 1970s woodies were considered undesirable, unfashionable old vehicles. California surfers, among others, realised the potential of these cars; they were cheap, large enough to carry a good number of people, surfboards and equipment, and could be fixed up with woodworking skills. Thus, the woodie became the archetypal vehicle of the surfer; there is probably a higher population of surviving woodies in California than anywhere else, aided by the area's ideal climate for preserving the vehicles; warm, dry but not desiccating, with rare rainfall.
These days, woodies are highly collectible antique cars and a good example can fetch a very large amount of money. The wooden bodywork has often not survived all that well, increasing the rarity.