Station wagon
From Academic Kids
A station wagon (United States usage), wagon (Australian usage, though station wagon is widely used) or estate car (United Kingdom usage) is a car body style similar to a sedan car but with an extended rear cargo area.
The first station wagons were a product of the age of train travel. They were originally called 'depot hacks' because they worked around train depots as hacks (short for hackney carriage, an old name for taxis). They also came to be known as 'carryalls' and 'suburbans'. The name 'station wagon' is a derivative of 'depot hack'; it was a wagon that carried people and luggage from the train station to various local destinations.
Most station wagons are modified sedan-type car bodies, having the passenger area extended to the rear window (over the normal trunk area of the vehicle). Unlike a hatchback car, which otherwise meets this description, a station wagon is the full height of the passenger cabin all the way to the back; the rear glass is not sloped too far from vertical. A station wagon is distinguished from a minivan (MPV) or SUV by still being a car, sharing its forward bodywork with other cars in a manufacturer's range.
Station wagons were originally considered commercial vehicles and were built on truck platforms. They became more consumer-oriented and enjoyed their greatest popularity and highest production levels in the United States during the 1950s and 1960s. This was also the period of greatest variation in bodystyles, with pillared two and four door and hardtop (no "B" pillar) four door wagons offered during the 1950s and the early 1960s.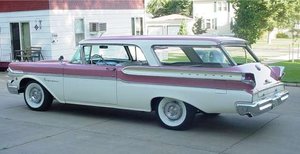 Mercury, a division of the Ford Motor Company produced a two door hardtop wagon from 1957 to 1960. Production only reached 2,300 units for 1957.
Traditionally, full sized American station wagons were usually configured for 6 (three passengers front / three passengers rear seat) or 9 seats, which added a passenger seat in the rear cargo area that faced either forward or rearward. In Ford and Mercury brand wagons built after 1964, the configuration was changed to two seats facing each other, which according to the manufacturer accommodated four people.
European manufacturers often built three-door station wagons in the post-war period for the compact class, and not five-door models, a practice that continued at Ford with its Escort Mk III in the early 1980s. Usually, by that time, manufacturers created five-door models.
Japanese manufacturers did not value station wagons highly until very recently. For many years, models sold as well appointed station wagons in export markets were sold as utilitarian "van" models in the home market. This explains why station wagons were not updated for consecutive generations in a model's life in Japan: for instance, while a sedan might have a model life of four years, the wagon was expected to serve eight—the 1979 Toyota Corolla Wagon is an example (it was built until 1987). The Nissan Avenir is an example of a model that began its life as a utility vehicle, and became a well equipped passenger car in the 1990s.
Australian station wagons, such as the Ford Falcon and Holden Commodore, are usually built on a longer wheelbase compared to their sedan counterparts, though they share the same door skins. This leads to a slightly unusual appearance with the rear door not reaching all the way to the rear wheel arch.
Newer models are usually built on smaller platforms and accommodate four or five passengers. Because of size and safety concerns, seating is no longer permitted in the rear of new passenger car-based station wagons.
Tailgate Evolution
The vast majority of modern station wagons have an upward-swinging, full-width full-height rear door supported on gas struts, and a few also have a rear window that can be swung upward independently to load small items without opening the whole liftgate. Historically, however, many different designs have been used for access to the rear of car; the following summary concentrates on U.S. models.
The earliest common style was an upward-swinging window combined with a downward swinging tailgate. Both were manually operated. This configuration generally prevailed from the earliest origins of the wagon bodystyle in the 1920s through the 1940s. It remained in use through 1960 on several models offered by Ford.
In the early 1950s, tailgates with hand-cranked roll-down rear windows began to appear. Chrysler is generally credited with the first of these in 1950. Later in the decade, electric power was applied to the tailgate window--it could be operated from the drivers seat, as well as by the key in the rear door. By the early 1960s, this arrangement was becoming common on both full-size and the new compact wagons.
Missing image
Studewagonaire63.jpg
The Studebaker Wagonaire station wagon (1963 - 1966) had a unique retractable rear roof section as well as a conventional rear tailgate which folded down. This allowed it to carry tall objects that wouldn't fit otherwise. Water leaks, body flex and noise prevented the innovation from being adopted by other manufacturers. The concept was reintroduced in 2003 on GMC's mid-sized Envoy XUV SUV.
Ford's full-size wagon models for 1965 took the conventional tailgate and disappearing window a step further. The rear section was made to open either downwards like a regular tailgate, or like a door, outward from the curb side. The window had to be retracted for either operation. This was called the Magic Doorgate. For 1969, Ford made another innovation by allowing the glass to stay up when the door was opened sideways, thus creating the Three-Way Magic Doorgate. This versatile style quickly caught on and became a fixture on full-size and intermediate wagons from GM, Ford, and Chrysler. General Motors also offered this style of gate on various models between 1968 and 1972. GM however added a notched rear bumped that acted as a step plate; to fill the gap, a small portion of bumper was attached to the doorgate. When opened as a swinging door, the depression in the bumper provided a "step" to ease entry; when the gate was opened by being lowered or raised to a closed position, the chrome section remained in place making the bumper "whole". Chrysler also offered a door gate system through 1977 on its full sized wagons.
Full-size GM wagons (Buick,Chevrolet,Oldsmobile, and Pontiac) of the early 1970s brought a completely new design to market. They had a rear window that would slide upwards into the roof as the tailgate dropped down below the load floor. This was referred to as a "clamshell" arrangement. On all fullsized GM wagons, the window for the clam shell door was power operated, however the gate door itself could be had in either manual on Chevrolet models or power assist in Pontiac, Oldsmobile or Buick brand cars. The manual style door quickly lost favor because of the effort required to lift and swing the heavy door up from is storage area; sales tapered off after the 1972 model year and electric assist all but became standard. This was the first power tailgate in station wagon history. This system was large, heavy, and complex, and was never adopted for any other car manufacturer --its production years were 1971-1976. After that, GM reverted to the doorgate style for its full-size line.
As the 1970s progressed, the need for lighter weight to meet fuel economy standards led to a simplified, one-piece liftgate on several models, particularly smaller wagons, such as is commonly seen on SUVs today. On the same principle, and quite ironically, the last generation of GM's full-size wagons returned to the upward-lifting rear window as had been used in the 40s.
The Woodie Wagon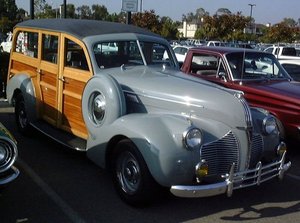 Until the end of World War II, station wagon production in the USA combined a steel front assembly with a wooden passenger compartment. These vehicles are called woodies and these days are highly collectible. Vestiges of this style survived for a long while on the American market (but never elsewhere) in the form of attached, non-structural wood grained panels attached to the sides of some station wagons. Originally, these were real wood but more often they are artificial "fake wood".
Ford owned and operated several lumber mills with the express intent of supplying hardwoods for their station wagon bodies. General Motors employed independent companies such as Iona Body to build the station wagon sections (firewall to tail gate) and then assemble them into Buick and Oldsmobile products through 1964. In 1947, Willys Jeep introduced an all steel station wagon based upon the Jeep line of trucks.
In 1949, Plymouth introduced the first all steel station wagon, the two door Suburban, that was based on an automotive platform. In 1950 Plymouth discontinued the woody station wagon in its line and converted to all steel bodies. Buick was the last automobile manufacturer to produce a station wagon with a true wooden structure in 1953. By 1955, only Ford and Mercury offered a woody model; however the look was accomplished with steel, plastics and various materials, such as DiNoc (a vinyl product) to simulate broad expanses of wood. Known as the Ford Country Squire, this heavily-trimmed full-size wagon was a staple of the Ford line from the 1940s to the 1990s.
Reintroduction of woody decorated station wagons by other makers in America began in 1966 when Dodge offered the look for the first time in fifteen years. By 1967, simulated "wood" decoration was used exclusivly on top line models, with unadored vehicles denoting lower price and status models. In many suburban communities, owning a current year woody station wagon was a sign of affluence and good taste. In the 1980's and early 1990's, the idea of "fake wood" became archaic and manufacturers dropped the option. With the introduction of the retro designed Chrysler PT Cruiser, aftermarket firms began selling faux woodie kits designed to invoke a sense of nostalgia.
Declining Popularity in North America
Missing image
VW_Jetta_A4.jpg
Sales of station wagons in the United States and Canada remained strong through 1984 when Chrysler Corporation introduced the first minivans, built on the new "K" platform, which, ironically, also had a wagon built on it. The emergence and popularity of SUVs which closely approximate the traditional wagon bodystyle was a further blow. After struggling sales, the last full-size wagons (
Chevrolet
Caprice
,
Buick
Roadmaster
, and
Oldsmobile
Custom Cruiser) in U.S. production (until
2005
with
Chrysler
's
Dodge Magnum
) were discontinued in
1996
. Since then, small wagons (such as
Subaru
's "Outback" line) have enjoyed an increase in popularity in the U.S., as safer, sportier and (in most cases) much less expensive alternatives to SUVs and minivans. Domestic wagons also remained in the Ford, Mercury, and Saturn lines through 2004 when the bodies began a phase-out, replaced by car-based SUV's known as "crossovers" and minivans designed to look like station wagons.
Wagons Around the World
Missing image
A6-All-Road.jpg
In Europe, Australasia and South Africa, these vehicles remain popular and in volume production, although minivans (MPVs) and the like have had some impact. Indeed, the absence of a station wagon in a model range is considered detrimental to its success by manufacturers in Australasia. Station wagons are lower in profile than a minivan or SUV and thus have less air resistance when driving on the highway.
As in North America, early station wagons were aftermarket conversions and had their new bodywork built with a wooden frame, sometimes with wooden panels, sometimes steel. Station wagons were the originators of fold down seats to accommodate passengers or cargo.
In the United Kingdom, a very specific type, rare these days, is known as a shooting brake. These are modifications of luxury coupés with an estate car-like back fitted. They generally remain with two side doors. The purpose of them, historically, is obvious from the name; they were vehicles for the well-off shooter and hunter, giving space to carry shotguns and other equipment. They have rarely been made by the factory and are generally aftermarket conversions; some are still made. Up through the early 1960s many of them were built as woodies, making them some of the most exclusive and luxurious woodies ever built.
The word 'brake' in 'shooting brake' may come from the French term for station wagon, break.
Sources
The Standard Catalogue of American Cars 1946-1975, John Gunnell, Editor. Kraus Publications, 1987. ISBN 0873410963
External links