William Hyde Wollaston
From Academic Kids
For the English philosophical writer, see William Wollaston.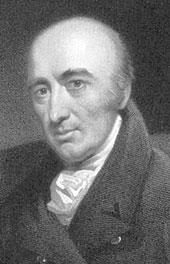 William Hyde Wollaston (August 6, 1766 – December 22, 1828) was an English chemist who is famous for discovering two chemical elements and for developing a way to process platinum ore.
He was born in East Dereham, Norfolk and in 1793 obtained a doctorate in medicine from Cambridge University. During his studies there he became interested in chemistry, crystallography, metallurgy and physics. The mineral Wollastonite is named after him. In 1800 he left medicine and concentrated on pursing these interests instead of his trained vocation.
Wollaston is perhaps best known as a chemist. He became wealthy by developing the first physico-chemical method for processing platinum ore in practical quantities, and in the process of testing the device he discovered the elements palladium in 1803 and rhodium in 1804. In 1809, he showed that niobium and titanium were elements (rather than compounds).
He also performed important work in electricity. In 1801, he performed an experiment showing that the electricity from friction was identical to that produced by voltaic piles. During the last years of his life he performed electrical experiments that would pave the way to the eventual design of the electric motor. However, controversy erupted when Michael Faraday, who was undoubtedly the first to construct a working electrical motor, refused to grant Wollaston credit for his earlier work.
His optical work was important as well, where he is remembered for his observations of dark Fraunhofer lines in the solar spectrum (1802) which eventually led to the discovery of the elements in the Sun. He also invented the camera lucida (1807), the reflecting goniometer (1809), and the Wollaston prism.
In 1793 he was elected to the Royal Society and served as the Society's Secretary from 1804 to 1816. He also served on a royal commission that opposed adoption of the metric system (1819), and one that created the imperial gallon.
See also
External links
nl:William Hyde Wollaston ja:ウイリアム・ウォラストン pl:William Hyde Wollaston pt:William Hyde Wollaston sv:William Hyde Wollaston