World Boxing Organization
From Academic Kids
The World Boxing Organization (WBO) is one of the sanctioning organizations currently recognizing world boxing champions. Its offices are located in San Juan, Puerto Rico.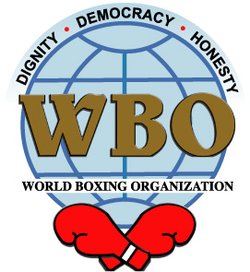 The WBO started after a group of Puerto Rican and Dominican businessmen broke out of the World Boxing Association's 1988 annual convention in Isla Margarita, Venezuela, disgusted by the WBA's rules and ratings systems.
The WBO's first president was Ramon Pina Acevedo of the Dominican Republic. Soon after its beginning, the WBO was staging world championship bouts all over the world. Their first title fight was for the super middleweight title, between former world champion Thomas Hearns and James Kinchen . Hearns won by decision. In order to gain respectability, the WBO next elected former world light heavyweight champion José Torres of Ponce, Puerto Rico. Torres achieved his goal and left in 1996, giving way to Puerto Rican lawyer Francisco Varcarcel to succeed him as President. Varcarcel has been there since.
Nowadays, WBO world champions can unify their crowns against WBA and International Boxing Federation champions. The World Boxing Council refused for years to have their world champions take part in unification bouts with WBO champions, but recently they are allowing this kind of bouts between selected champions. WBO champions generally struggle to be respected by the international media, specially with the The Ring Magazine editors. The major boxing outlet in the United States, HBO refused to recognize WBO champions as real champions until recently.
The WBO gained notoriety in 2001 after it twice moved Darrin Morris up in its super middleweight (168 lb) rankings despite the fact that he was dead. Morris was #7 at the time of his death and #5 when the WBO discovered the error. Varcarcel said "we obviously missed the fact that Darrin was dead. It is regrettable." One week after British newspaper The Independent broke the story, one of the three men ranking the boxers, Gordon Volkman, still hadn't heard that Morris was dead. In addition, Morris had only fought once in three years, beating a boxer with 15 wins in 78 fights. [1] (http://espn.go.com/boxing/columns/graham/1097210.html)
Champions
WBO world champions have included:
See also