Vistula
Vistula (Polish Wisła, German Weichsel) is the longest river in Poland. It is 1,047 kilometers (678 miles) long and drains about 192,000 square kilometers (74,000 sq. miles), or almost two thirds of Poland's surface.
The Vistula has its source in the south of the country, at Barania Góra (1220m high) in the Beskidy Mountains where it starts with White Little Vistula (Biała Wisełka) and Black Little Vistula (Czarna Wisełka). It then continues to flow over the vast Polish plains, passing several large Polish cities along its way, including Cracow, Sandomierz, Warsaw, Płock, Włocławek, Toruń, Świecie, Tczew and Gdańsk. With a delta and several branches (Leniwka, Przekop, Śmiała Wisła, Martwa Wisła, Nogat and Szkarpawa) it empties into the Vistula Lagoon and Gdansk Bay of the Baltic Sea.
History
It is not known whether the name Vistula is Indo-European or pre-Indo-European. The name was first recorded by Tacitus in AD 98 in his Germania. During that time the Vistula River ran into the Mare Suebicum, which was later called Baltic Sea. According to him, near the delta lived the East Germanic tribes of the Suebi and Burgundians, on both banks the Goths (see also Gothiscandza and Wielbark culture) and east of them the Aesti, Galindi, Sudauer, Borusci, Veneti, and more. There he described people on the most eastern part of the Mare Suebicum, the Fenni.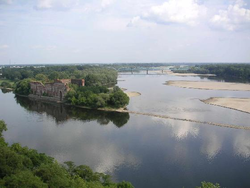 However, Tacitus' knowledge of the different peoples was second-hand at best; as such, it should be taken with a grain of salt. He also used the term "Germans" not for describing ethnicity, for example when describing Wenets (Veneds, Venets), Peucyns and Fenns he wrote, that he isn't sure if he should call them Germans, since they have settlements and they fight on foot, or rather Sarmats since they have some similar customs to them.
Ptolemy also recorded the Germanic(?) tribes at the Vistula River.
The Vistula river is only a short portage from the Dnieper River, and thence to the Black Sea. Boats could be rolled from one river to the next there. What later became the city of Kiev in Ukraine was earlier known by its Gothic name of Danapirstadir "City on the Dnieper". The Baltic Sea-Vistula-Dnieper-Black Sea water route was one of the most ancient trade-routes, the Amber Road, on which amber and other items were traded from Northern Europe to Greece, Asia, Egypt, and elsewhere.
Towns and tributaries
Missing image
Wisla-kolo-Torunia.jpg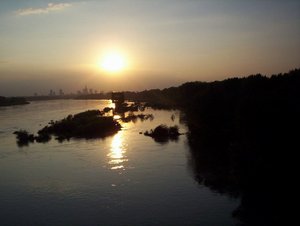 Right tributaries
List of right tributaries with a nearby city
Left tributaries
List of left tributaries with a nearby city
See also
de:Weichsel et:Wisła he:ויסלה ja:ヴィスワ川 lv:Visla nl:Wisla pl:Wisła pt:Vķstula ru:Висла (река)